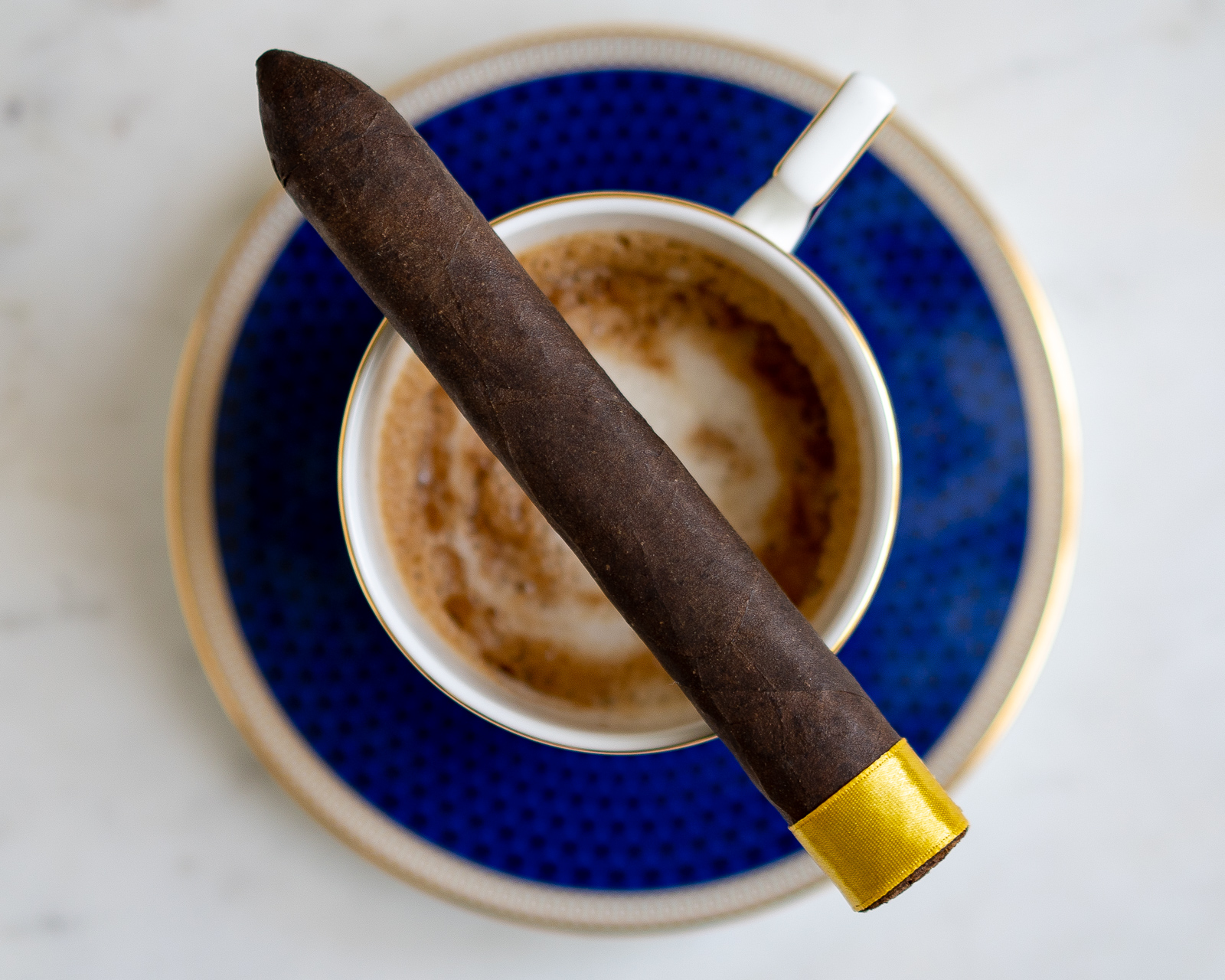 Up for review today is Yellow Rose from Crowned Heads. Following on the heels of Hawaii-exclusive and Tennessee-exclusive releases,the Yellow Rose was blended and released specifically for the Texas market. The name "Yellow Rose" fittingly refers to an old Texan folk song called "The Yellow Rose of Texas" that dates back to the early 1800's. It's actually quite a romantic song and worth listening to. Here are the lyrics to the first two verses:
There's a yellow rose of Texas
That I am going to see
No other fellow knows her
No other, only me
She cried so when I left her
It like to broke my heart
And if I ever find her
We never more will part
She's the sweetest rose of color
This soldier ever knew
Her eyes are bright as diamonds
They sparkle like the dew
You may talk about your dearest May
And sing of Rosa Lee
But the Yellow Rose of Texas
Is the only girl for me
Product Specifics
Cigar Reviewed: Crowned Heads Yellow Rose
Wrapper: Connecticut Broadleaf
Binder: Nicaragua
Filler: Nicaragua
Size: 6 1/4 x 54 (torpedo)
Appearance & Construction
Obviously, there's not much to say about the branding, but the extremely dark Connecticut Broadleaf wrapper is one of the most perfect wrappers I've seen in a long time. Zero major veins, and a light crystallization dusting the cigar from top to bottom. The cigar also has a great weight in the hand, which is a nice touch, though I'm sure not an aesthetically-driven decision.
Approaching the cigar, there are heavy aromas wafting up off of the foot. Barnyard, burnt toast, sweet wood, and some mild spices. The draw is a bit tight, about an 8/10 in terms of restrictiveness, with a cold draw consisting of granola, oats, some light white pepper, and wood.
Flavor and Smoke Characteristics
The Crowned Heads Yellow Rose doesn't open up as strong as I was expecting, instead delivering measured, medium bodied smoke on the first few puffs. The profile is decently complex, with flavors striking a balance between sweet, bitter, and slightly salty categories. On the palate, there's a heavy charred oak note layered on top of bitter earthiness, light pepper, coffee and some metallic notes. The aroma is a different story, with black coffee, cocoa powder, and a slightly bitter, almost yeasty note. Smoke production is well below average, and I'm worried the flavor experience will suffer as a result.
First impression: the Yellow Rose kicks off like a real after-dinner cigar, with sweet, creamy, and bitter flavors that suit desert well. The low smoke production, is a problem.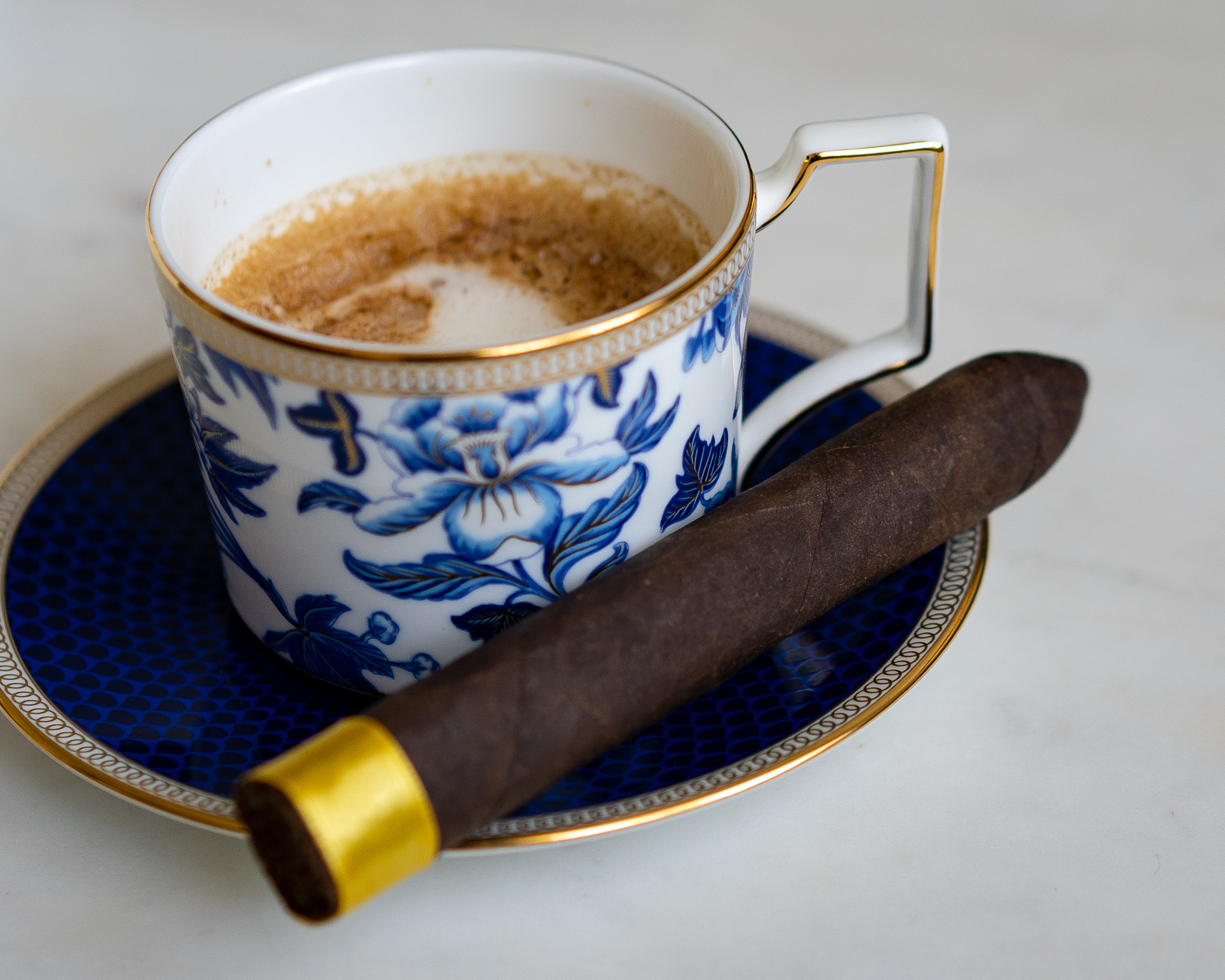 About 15 minutes in to the smoke, the ash comprises roughly an inch of the cigar. Although the smoke production is still insufficient, the profile morphs considerably. Body and strength are now in medium plus territory, moving quickly toward full. Flavors too are more concentrated and aggressive than before. Bitterness is the most prevalent flavor category, with plenty of coffee, leather, and bittersweet dark chocolate. There's also a marked increase in spiciness, a kind of vegetal pepper that activates the middle of the tongue and is strong on the retrohale. Construction throughout the first third is good, with a bit of curving on the burn that's easily fixed with a couple of purges.
In the second third, the pesky smoke production issue finally starts to level off, and smoke production increases. The palate is now dominated by assertive black pepper, hot peppers and charred wood, though there is a bit of sweetness to the peppers that balances the bitterness (though not completely). Body and strength are now firmly in full territory, and I'm surprised to already be feeling the nicotine. The retrohale simplifies a bit, taking on more of a charcoal flavor which doesn't do much for the overall experience. I'm hoping the final third will offer more by way of complexity, because as enjoyable as the smoke is, it's become a bit one sided.
Unfortunately, another 25 minutes reveals an almost identical experience to the second third, though with more smoke production issues. A shame really because otherwise the Yellow Rose would clearly have a compelling story to tell.
Conclusion
Yellow Rose from Crowned Heads is a good cigar but I've got to say I think it was more enjoyable to look at than it was to smoke, largely due to the overly tight draw which compromised some of the flavors. Otherwise, it deals up some seriously flavorful smoke that's mostly balanced between bitter, sweet, and salty.
It's not my cup of tea, but if you see it in your local humidor, I'd say why not, give it a try.
Final Rating: 86