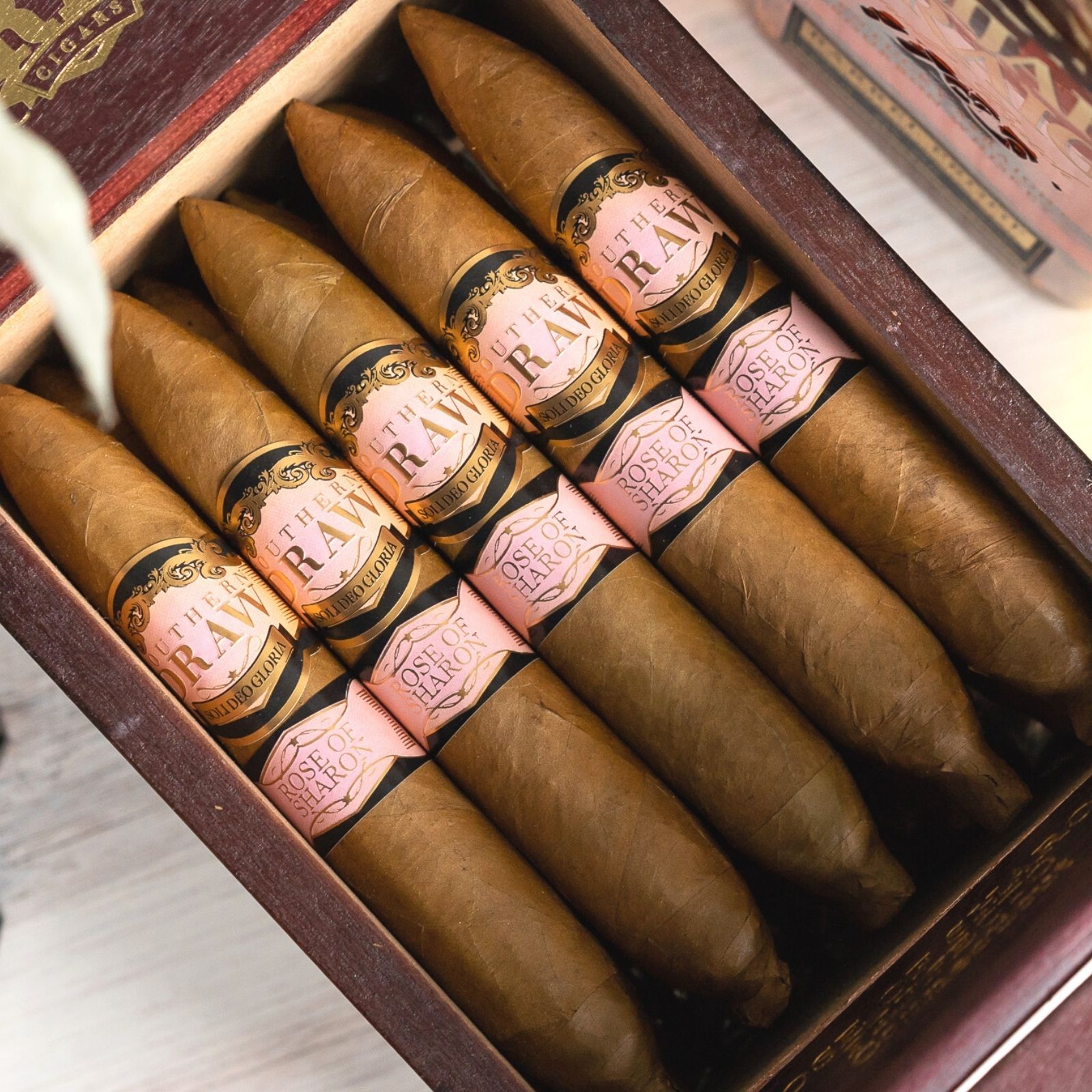 Southern Draw is a brand of cigar makers based out of Texas. In addition they are military veterans that formed a cigar company and have achieved success with various lines they've put forth. The ones I've smoked have been impressive with their different flavor profiles in each brand. The Rose of Sharon line is a tribute to Robert Holt who is the founder of Southern Draw's wife. This particular cigar in its perfecto form takes a skilled hand to work and the vitola is a limited edition created for certain retailers. The most gracious part of this release is that Southern Draw is taking a percentage of the profits and donating them to aid veterans in need. Not knowing what I was smoking save for it being a perfecto vitola I was surprised with the outcome.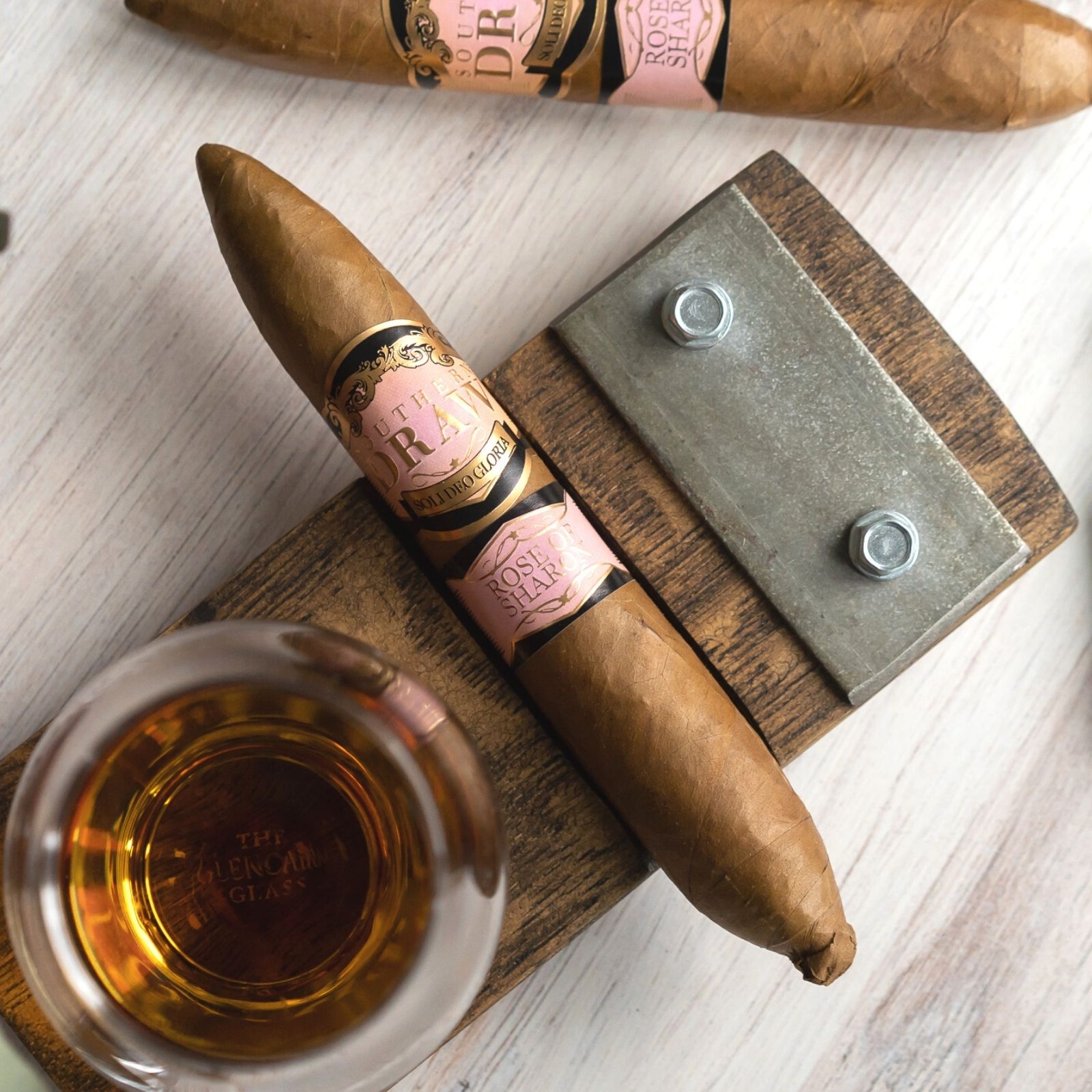 Blend Specifics
Cigar Reviewed : Southern Draw Rose of Sharon Perfecto
Wrapper: Ecuadorian Connecticut
Binder: Nicaraguan Habano
Filler: Dominican and Nicaraguan
Size: 6 x 56 Perfecto
Appearance and Construction
The Rose of Sharon is a well rolled shapely perfecto and as such has tapered pointed ends on both the head and foot. I notice there are minimal veins on the café au lait colored wrapper. I also observe that there is a slightly lighter shade of tobacco leaf at the foot where the cigar tapers off. I'm not sure if this is intentional to the vitola or not. With the exception of a soft spot at the foot the Rose of Sharon is packed full of tobacco.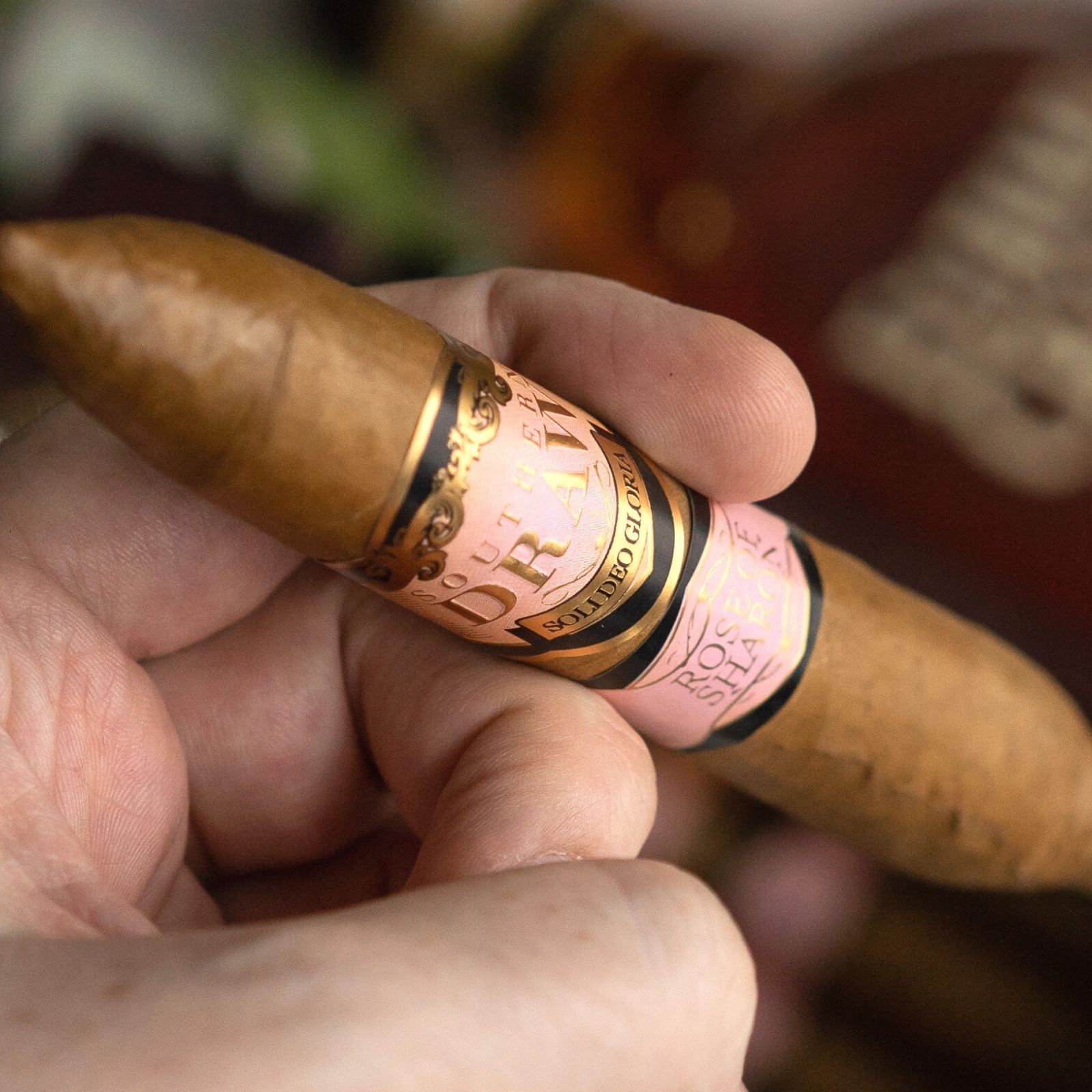 Flavor and Smoke Characteristics
After a swift straight clip with my Lamborghini guillotine cutter, I take a dry draw that is airy and delivers wood and raisinated flavors. Using my single flame lighter I gently torch the foot and the draw catches immediately with toast and soggy graham cracker coming through. As the cigar burns past the taper, some grittiness and earth hit my lips and the smoke comes off rather mild in these notes. As the ember progresses, the burn runs slightly off which doesn't seem to affect the flavors as floral accents of rose petal emerge with an underlying woodiness on the finish. The Rose of Sharon continues with an overall mild profile with all these flavors more subtle than pronounced.
The ash on the Rose of Sharon Perfecto at midway is a lovely dark/gray and the burn line straightens out rather nicely. The cigar produces ample smoke which brings forth some sweetness intermixed with oak in a seamless balance. The retrohale is of pencil lead and oak notes which linger in the nose. Then, on a surprising turn, the cigar picks up a bit with a medium body and in your face graphite and cedar. The Rose of Sharon shifts between mild and medium with a nuttiness hitting my palate on the finish. Overall the blend still maintains an average mildness to the smoke.
Towards the final third, the mild profile offers toasted almond and butterscotch and a steady stream of smoke with a continuously easy draw. The body once again dances around a medium profile with some black pepper and an oaky finish. But that doesn't not last long as the mildness and floral notes enter with wood in the background. At its end, nuttiness along with clotted cream wafted through the cigar in a delicate fashion that needs to be concentrated on in order to appreciate.
As I take my last few puffs, the wood and nuts became the main flavor that accent the profile. A mild easy-smoking perfecto.
Conclusion
I've smoked several Southern Draw lines and I give the company a lot of credit, especially for bringing so many different flavor profiles to their lines. This was my first Rose of Sharon I've smoked and now knowing they were going for a milder profile I'd say they certainly achieved it. I enjoyed the wood, pencil lead, nuttiness and the floral notes that came through and the craftsmanship was top notch. It can be a challenge to create a mild cigar that delivers nuanced flavors and although I wish the Rose of Sharon had more of it, for the novice and aficionado its worth picking up a stick especially to support a great cause.
Final Rating: 89