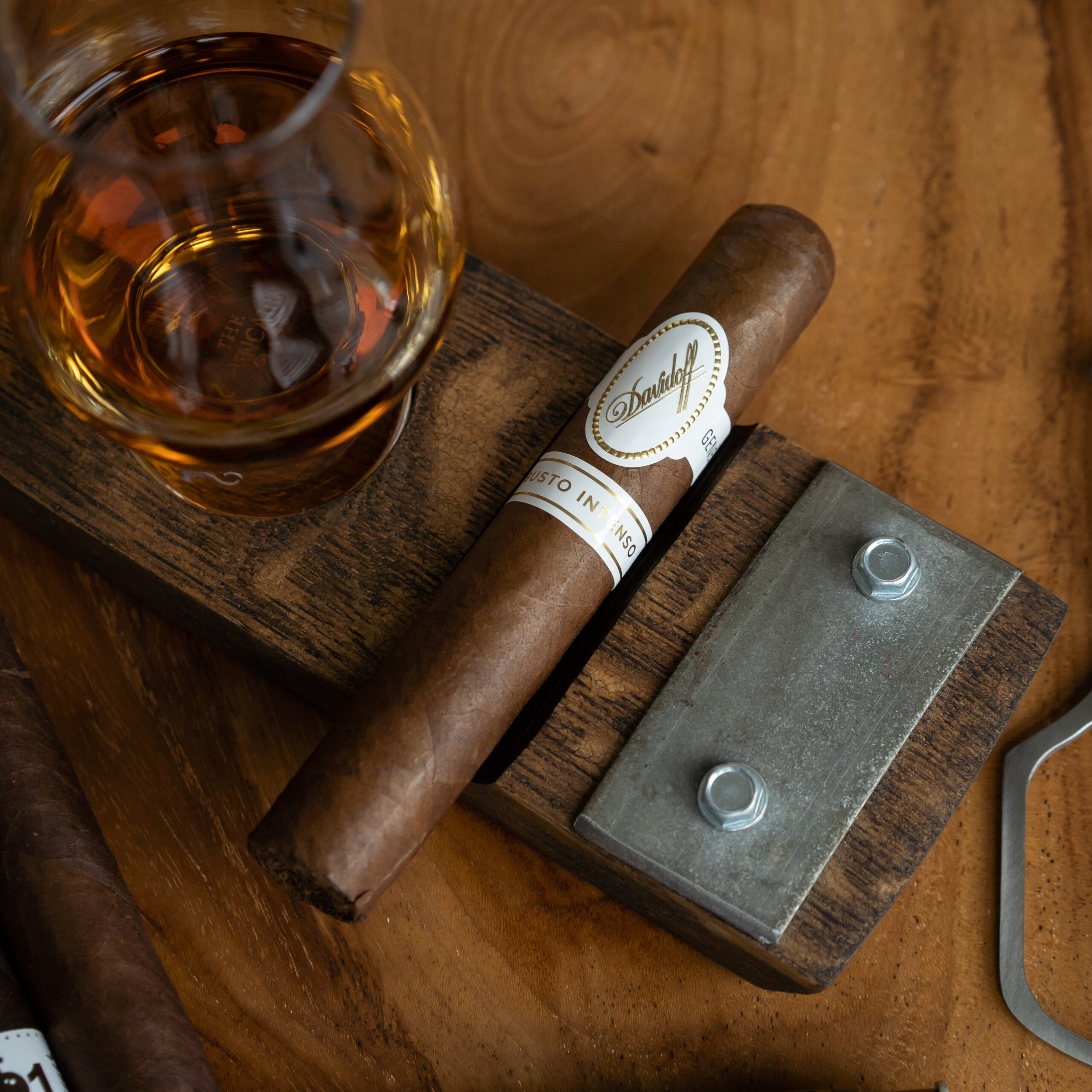 In 2005 Davidoff released what is now the original Davidoff Robusto Intenso in a limited run. That cigar was touted as providing intense flavor while maintaining balance and complexity. What I recall from smoking a few was that the power was indeed evident and stronger than most Davidoff releases, though at times I felt it overshadowed the flavors.
This year, one of Davidoff's numerous limited re-releases is Davidoff Robusto Intenso Limited Edition 2020. Built on the same premise of providing a fuller bodied cigar balanced by nuanced flavors, this blend is intended to deliver the experience of the original Robusto Intenso.
Blend Specifics
Cigar Review: Davidoff Robusto Intenso Limited Edition 2020
Wrapper: Ecuador Habano
Binder: Dominican Republic
Fillers: Dominican
Length: 5 1/8″ x 52 (Robusto)
Appearance and Construction
When inspected, the David Robusto Intenso wears an attractive chocolate wrapper with few veins and is silky and smooth. A squeeze shows it is filled solid with tobacco and has a nice weighty feel to it. The foot smells of hay, a bit of mushroom and mustiness like an old wine cellar.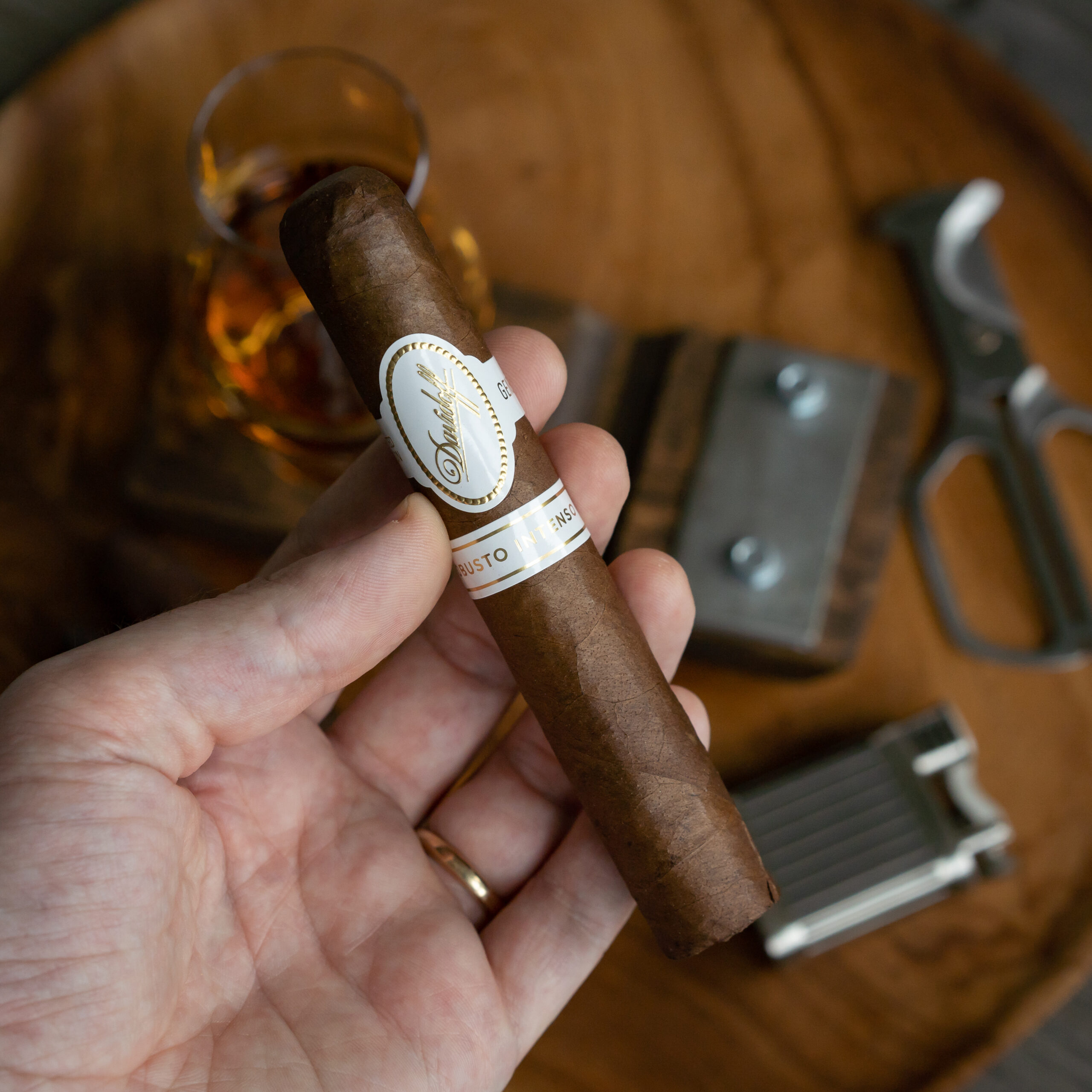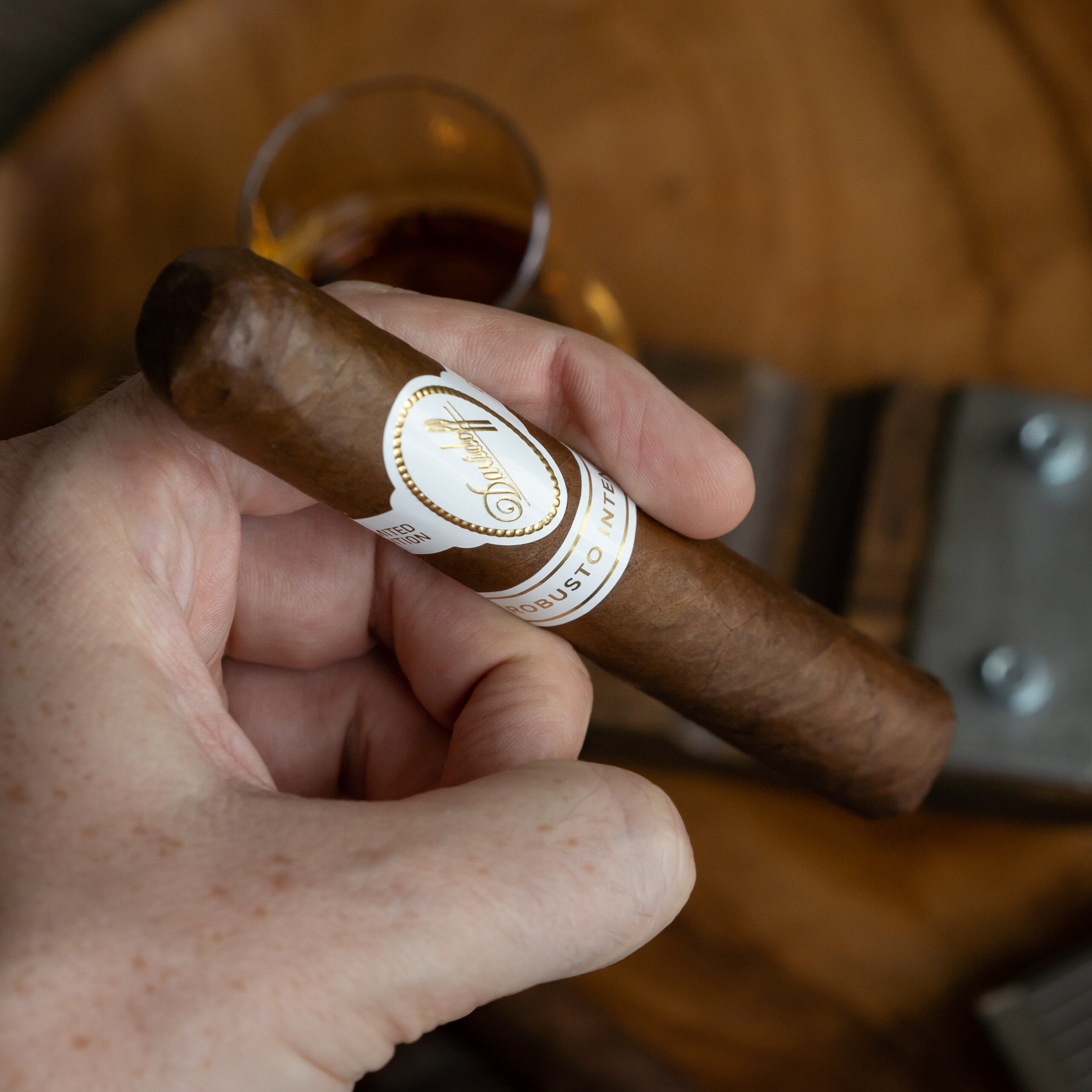 Flavor & Smoke Characteristics
Using my Lamborghini guillotine cutter I draw a quick straight cut. The dry draw gives off raisins, mushroom and mustiness. Using a short taper, the first dry puff starts off chary which quickly transitions into graham cracker and nutmeg on the tongue. Once lit, the Robusto Intenso comes off full bodied with earth, almond paste and baking spices in large amounts. On the retrohale I get more mushroom, truffle and oak which then coats the palate with an unexpected creaminess.
At midway, the Robusto Intenso becomes slightly sweeter on the lips with cedar and a blast of oak. The burn line wavers slightly, but it doesn't burn hot and sports a beautiful white ash. Lots more spice comes through almost touching on Asian spices with some pepper and cedar on the retrohale. The profile settles in to a more medium-full style with some dusty cocoa, oak and forest floor on the long finish. Some nuttiness returns but is overshadowed by peppery notes.
As the final third approachs, the Robusto Intenso's sweetness and some tropical fruit push forward in an unexpected fashion. Another retrohale sorts out truffle, oak and a hit of pepper which offers additional power, with pepper and oak interplaying into a long finish. Much like its beginning, the final stages of the Davidoff Intenso bring back some raisins and mushroom along with cream and wood. An easy smoking robusto.
Conclusion
It goes almost without saying that with Davidoff you can count on the quality of the cigar. The Robusto Intenso lives up to its moniker as it starts off fuller flavored and even when it dipped into a medium body it always bordered on some intensity. Although the flavors were easy to note and the finish was long I do think it could use a bit more complexity. Overall, I enjoyed the Robusto Intenso throughout and would certainly recommend picking up a few to keep in the humidor. Just do it quick because with only a few thousand boxes produced, these won't be around long.
Final Rating: 90