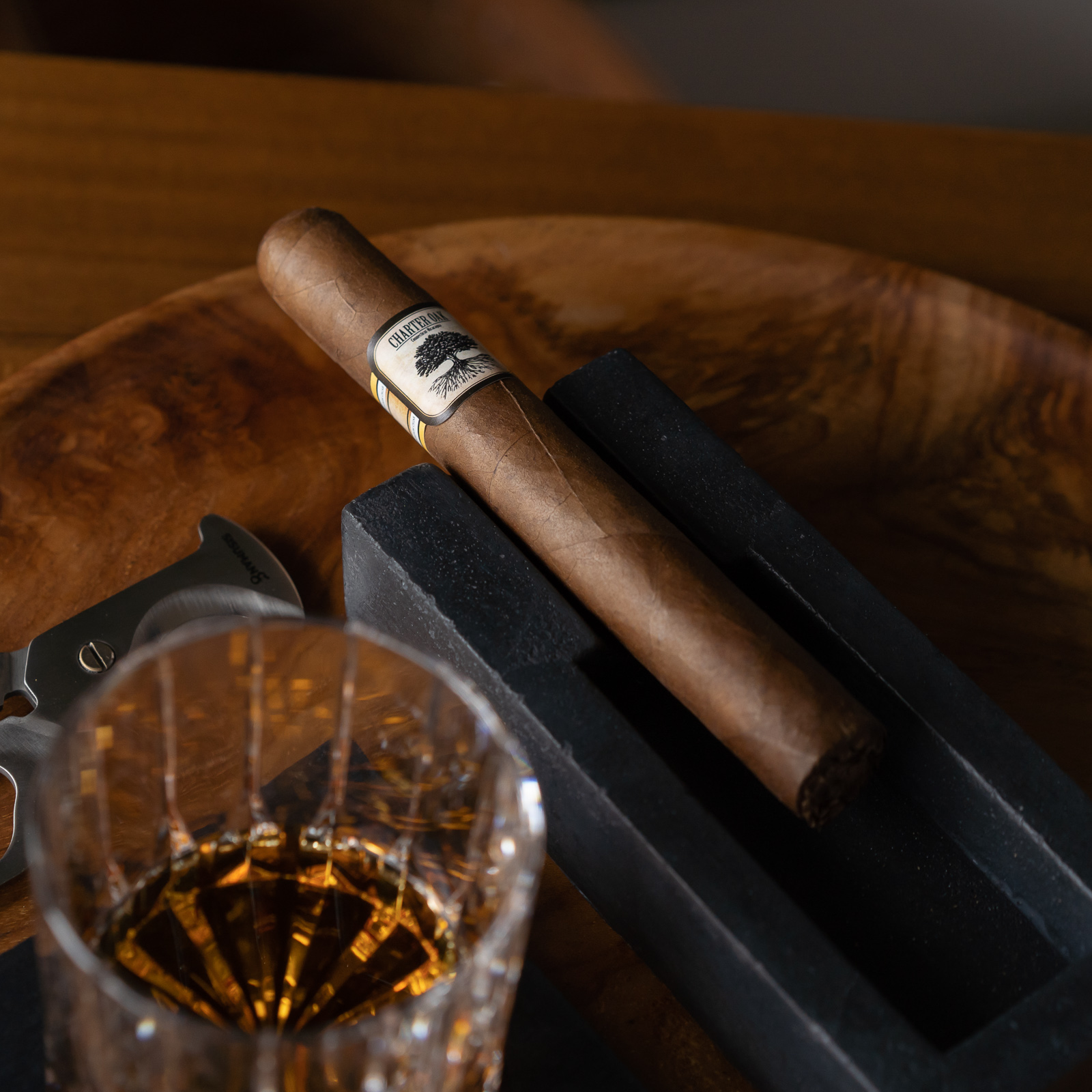 Foundation Cigar Company owner Nick Melillo (whose Tabernacle brand has been a favorite smoke of mine for a while) has added a third blend to his Charter Oak line. The first two releases of Charter Oak (Connecticut shade and Broadleaf) are, to me, very well balanced blends. The Charter Oak Habano is the newest wrapper addition to the brand, using an Ecuadorian Habano wrapper with Dominican fillers. The cigar is a sight to behold and I after one look I was ready to begin smoking.
Blend Specifics
Cigar Reviewed: Charter Oak HabanoToro
Wrapper: Ecuador Habano
Binder: Nicaragua
Filler: Nicaragua
Size  6″x 52 (Toro)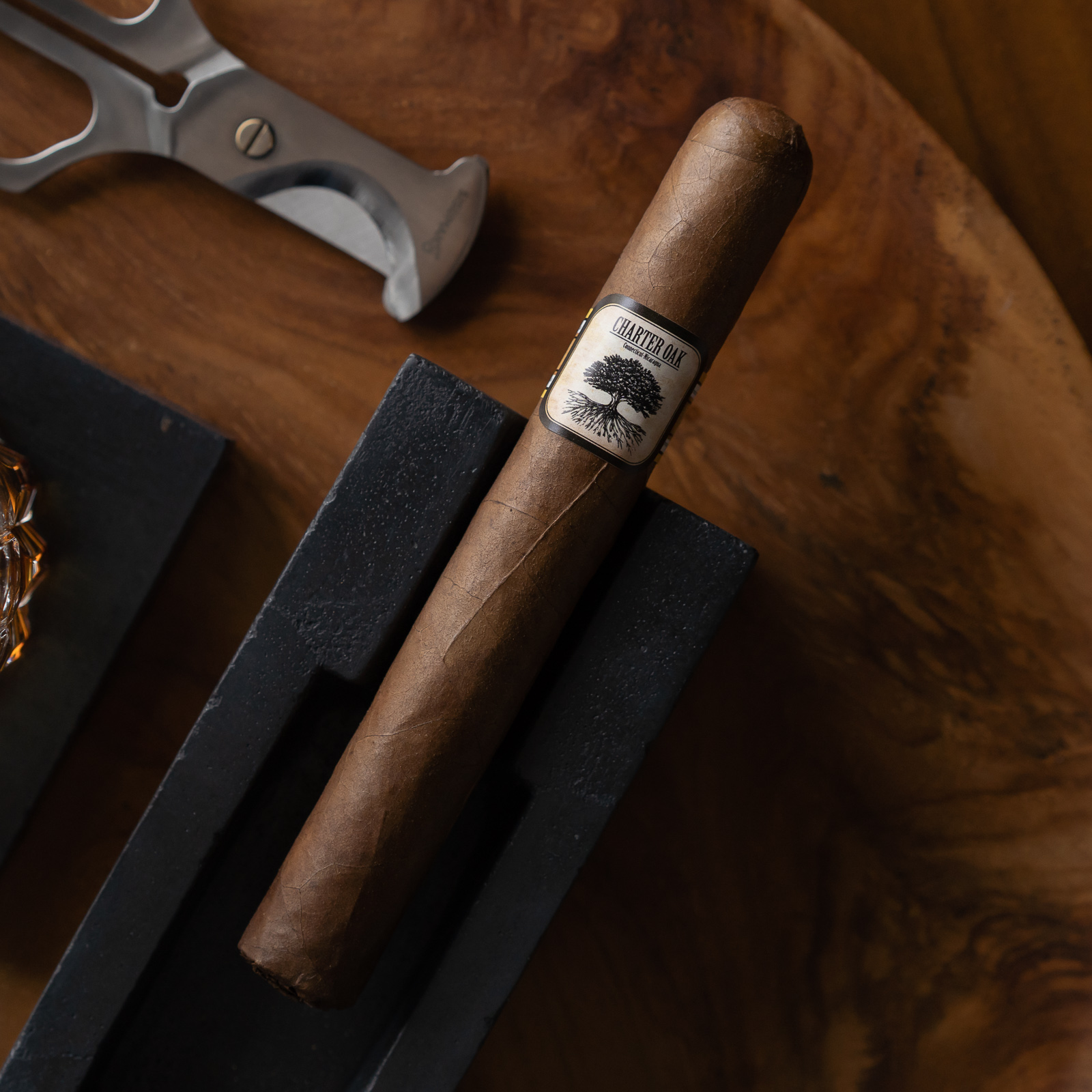 Appearance and Construction
The cigar has a claro wrapper with two long veins running along its sides. As I squeeze the cigar, it is packed rather tightly with filler tobaccos. The foot is closed and when I give it a smell some cedar and spice come through albeit slightly. I roll the cigar in hand and it is quite well constructed.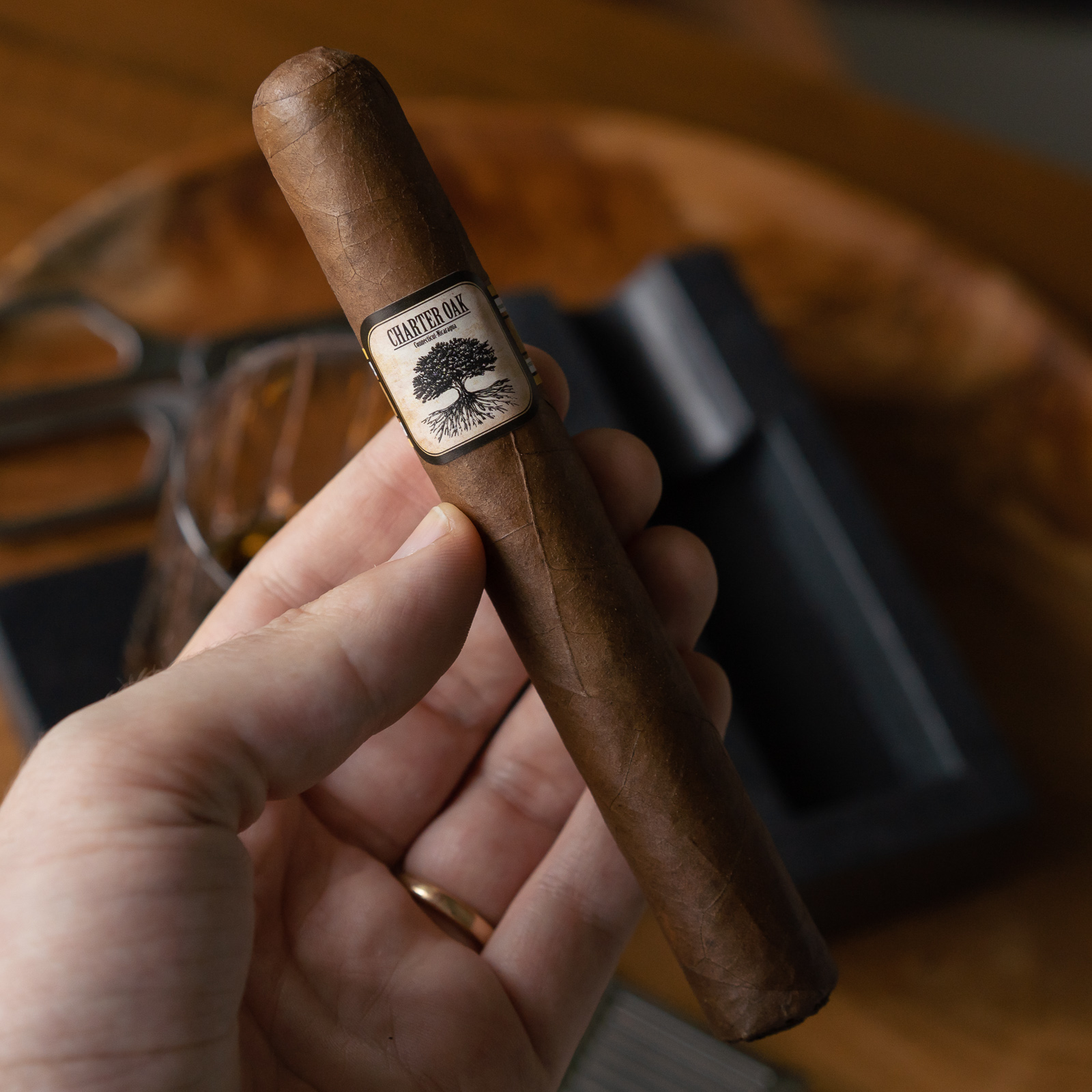 Flavor & Smoke Characteristics
First things first: I grab my Wooly Mammoth Xikar cutter and make a straight cut. The dry draw is airy and sweet. Using a long match (which I picked up from my visit to the Graycliff Hotel in the Bahamas) I light the closed foot which opens up quickly.  The first puffs are peppery and hit me with a full blast of tobacco that surprises me with its strength. Another draw and I'm picking up nutty notes with a bready finish. I take a retrohale and get cinnamon and allspice through the sinus. The strength at this point is medium to full.
Heading into the middle of the cigar, I notice the bold white ash is standing firm. The toast of the smoke starts to really come through along with almonds and mocha.  What was initially just almonds transitions into peanuts with a cedar finish. This stick gives off generous amounts of smoke swirling around my study and creates a wonderful bready aroma in the air and my mouth. Another retrohale and cinnamon rushes through with black pepper on the tail end. The body continues on its medium to full course.
In the final third, the bready notes I tasted earlier become more biscuity and cereal-like as I take draws. Pepper, specifically black pepper takes hold with a bit of a sharp finish. Around this time the white ash falls off showing an impressive burn line. With that a sweetness emerges which is balanced by leather and cashews. I'm finding the last of this cigar is in the medium range with plenty of nuanced flavors. The final few puffs bring leather and toast with a medium finish. A choice cigar.
Conclusion
Finding out this was a Nick Melillo cigar was not surprising given the flavors and style of the blend. The Ecuadorian wrapper gave off a sweet character with nuts and cinnamon while maintaining a pleasing medium body. While there wasn't a myriad of different flavors in the profile, all of them were refined, and for me that is one of the best things you can get out of a cigar. I would easily recommend picking up a box as they are smoking well now and I think time will be more than kind to them.
Final Rating: 92