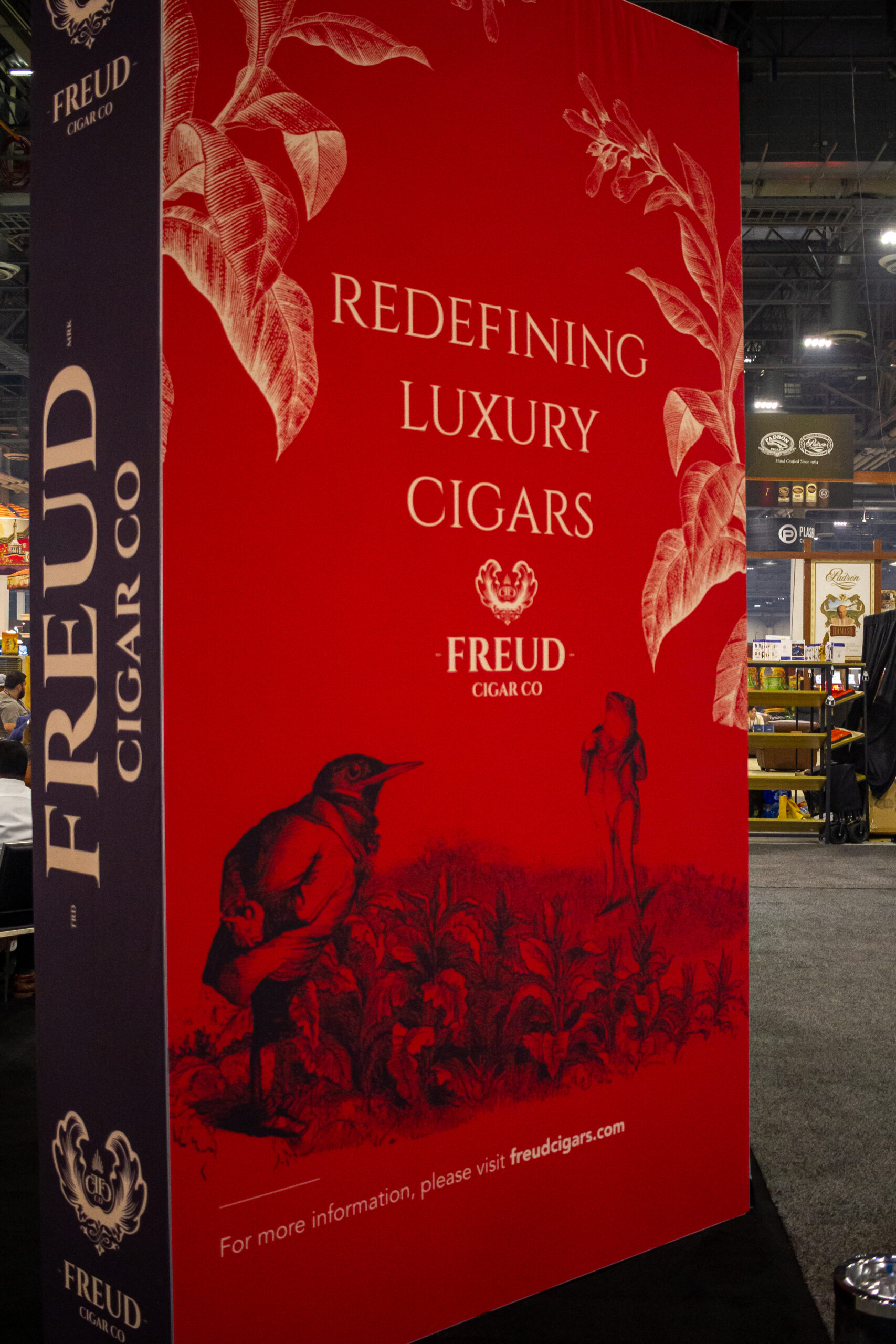 It's mid-afternoon on the third day of the 2023 Premium Cigar Association Tradeshow and Expo, and the tradeshow floor is still abuzz with retailers hustling for last-minute deals in a sea of booths. The permeate haze of cigar smoke is still thick in the air.
At the heart of the Freud Cigar Company booth, the distinct clattering of shuffling dominoes accompanied by a lively conversation breaks the drone of the tradeshow. Eladio Diaz, cigar master blender and the former Head of Production and Quality Control at Davidoff of Geneva, moves the dominoes around the one-of-a-kind Freud Cigar Co. table with the tenderness of a man who has rolled tens of thousands of cigars in his lifetime. At that moment, you'd first notice the genuine love the entire team has for each other and the unifying power of tobacco.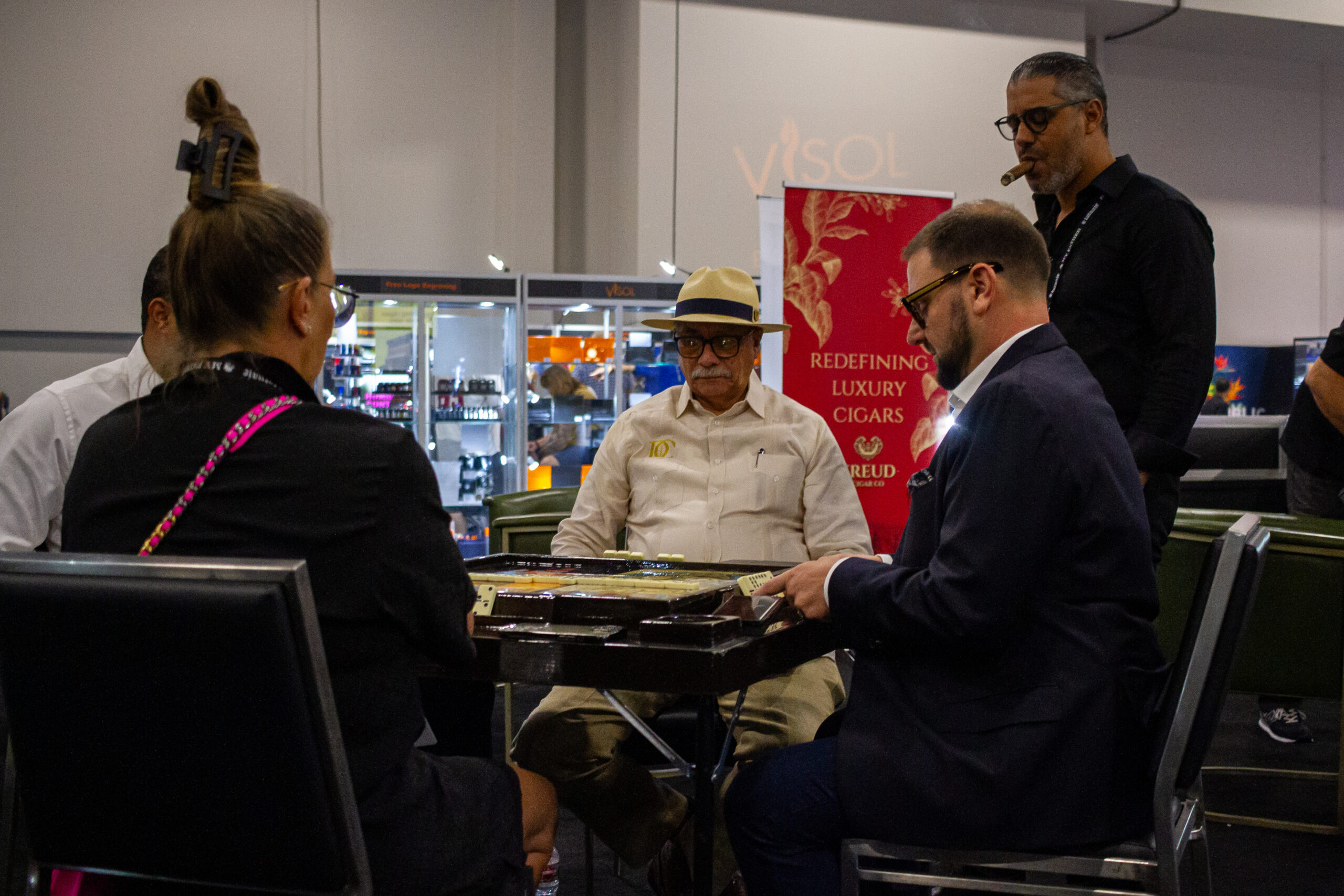 "Eladio Díaz is as fierce a competitor at Dominoes as he is a skilled, renowned, and singularly talented master blender. The trash talk and laughs are unforgettable," said Luis Miguel Torres, co-founder of Freud Cigar Co. Luis gracious steps away from the lively game to share about the new Freud cigar, their core line, and the soft launch of a new line, Carlos & Maria.
"Well, we've got the Sigmund: Chapter One — The Disruptor we launched about five weeks ago or the latest limited edition, double Corona, blended by the Eladio Díaz. It comes in a Beautiful Tiffany blue, commemorating the birthday, May 6, of Sigmund Freud. Our core collection is Super Ego, Alter Ego, and Agape. And for the first time, we're talking about Carlos and Maria, a new brand that we very soft launched here at the show, blended by Wiber Ventura of Tabacalera William Ventura, and we're really proud of that. The first line is called Amorío and will come in four sizes, Corona Gorda, Robusto, Churchill, and Toro. Amorío is blended by my dear friend Wiber, and we are having a good show," said Torres.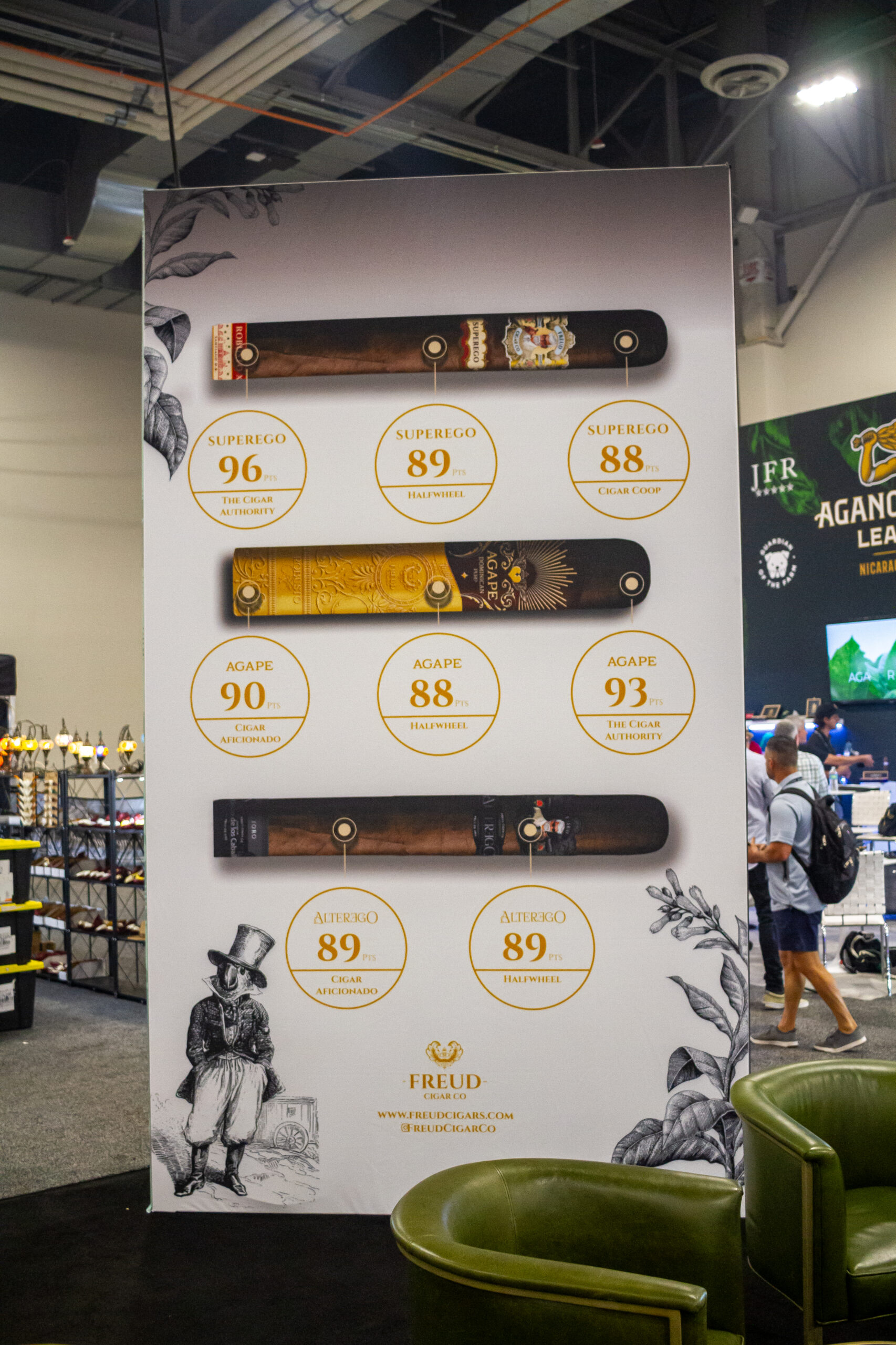 Freud Cigar Co. has created a compelling narrative over the past couple of years, with Master Blenders Eladio Diaz and Wiber Venture crafting their cigars, impactful packaging, and the Sigmund Freud namesake that has captived consumers. The brand is currently working on AGAPE 2023, which will launch in December and will be limited to 3,000 boxes. Freud Cigar Co. also announced at PCA 2023 that Sigmund would be a yearly limited release with 3,5000 10-count boxes.
"What I love most about our newest blend, Sigmund: Chapter One — The Disruptor, is it a journey. It's a medium-bodied blend that is complex, harmonious, and easy to smoke. It has notes of cocoa, walnut, and leather. It's simply a delightful blend, and we are so proud of it," said Torres.