46% ABV
Distiller Rating: 92
Suggested Retail Price: $150+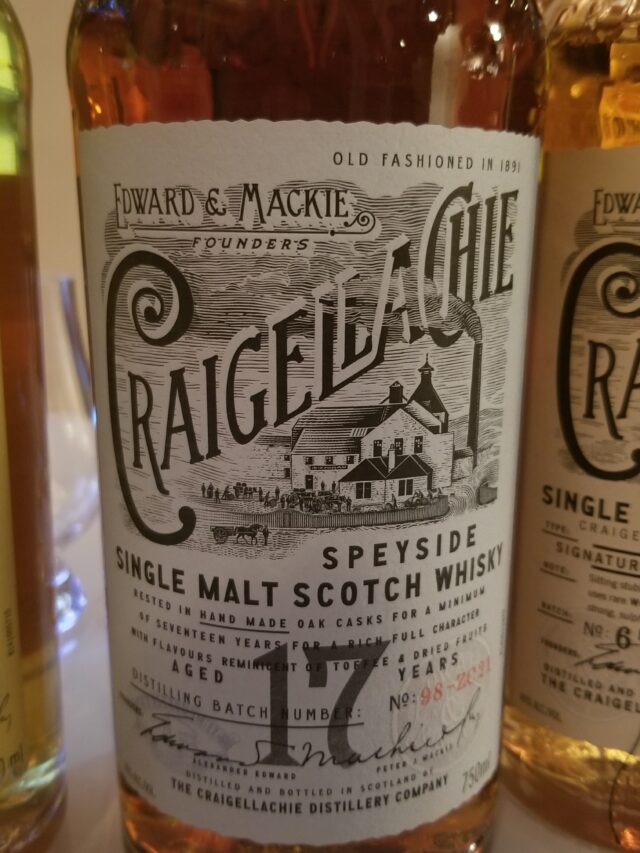 Mark Garbin's Review:
Wow! Did whisky aromas ever jump out at you straight from the glass as you wait the customary twenty pre-nosing seconds?
Well, this one did in a contest for dominance between honey, malt, alcohol, cream and dirt. Yes, those scents attacked from a Glencairn with no need to extend my nostrils into the receptacle.
But, after a long period of continuous inhales, I tempted the fates of taste.
The palate's initial sweet sensation gave way to bitterness reminiscent of the Craigellachie 13. But it was short-lived as burnt almonds and vanilla rose to the fore only then replaced by a stronger level of hot spice. Adding water diminished the sweetness resulting in rising pepper.
The smooth yet brief finish left a nice acrid afterburn as I reminisced the power of warring flavors.
Not for the faint of heart, the Adventurer tries this, by itself, before or with a meal of similar tones. Try an arugula salad with balsamic vinaigrette followed by mustard paprika crusted lamb or pork chops. You'll enjoy everything to the fullest.
It's also another match for a strong cigar. No weak-ass smokes allowed!
Michael Bendavid's review below captures the essence of this spirit in greater detail. Nicely done.
Mark Garbin's Evaluation:
| | | |
| --- | --- | --- |
| Aromas & Flavor Appeals to: | Optimal Client Type | Great For: |
| Subtlety Aficionado | Apprentice | Cocktails |
| Power Flavor Admirer | Enthusiast | Neat Before Dinner |
| Balanced Devotee | Adventurer | With Food |
| Uni-Directional Fan | Mountain Climber | Dessert or Afterwards |
| Chameleon Lover | Hedonist | With a Cigar |
Distiller.com rating: Flavors open up quicker than a kid ripping open presents at Christmas. Marzipan almonds on the nose with a Rock 'em Sock 'em sour maltiness delicately spiced, sweetened and seasoned. Baskets of fruit and nuts are balanced with just the right amount of oak and meatiness. A thick Greek yogurt tang bursts with lemon in the finish before the malts return to kiss you goodnight. This is all four food groups in a glass. –Blair Phillips
Malt and Oak(edited): While the 13 was vegetal and somewhat sulfury (see the review here), I found the 17 to be delightful. If you're a regular reader of this blog, you already know that I have a proclivity for bitter flavors and the 17 replaces the sour (less up my alley) with bitter which works quite well. Palate: Relatively bitter and far less sour than the 13, with spice – chili pepper, cinnamon and cardamom – with a light sweetness. For a fleeting moment the taste of IPA beer crosses the tongue. Linger: Bitter citrus in the mouth, tangy on the sides of tongue and spicy down the gullet. This finish is close to perfection!! I think this is the real gem in the range. It's past the "danger zone" of onion still character that dominates the younger expressions of the meaty distilleries (Craigellachie, Mortlach and the like) and works really well. – Michael Bendavid