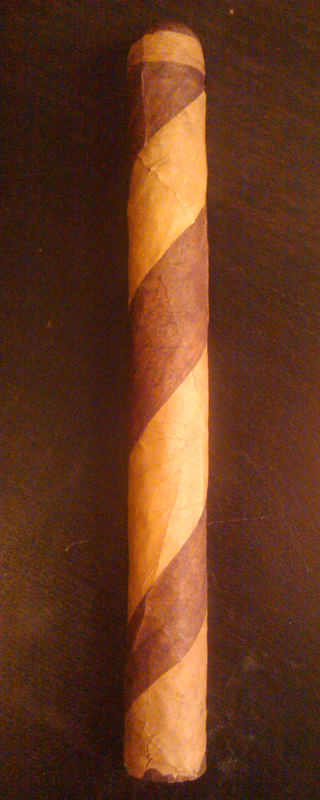 In my few years of smoking cigars, one fact I've become aware of is that there are a lot of great cigars on the market.  I always get get excited, however, when I get a chance to try a cigar produced by a local New York City brand.  Based in Queens, Caballeros cigars are owned and operated by Richie Clemente and Jose Laboy. The Caballeros' double-wrapped all Dominican candy cane is the first Caballeros cigar that I'll be reviewing. It is one of many of Caballeros' blends, and I found it to be a really unique and enjoyable cigar with great construction.
Blend specifics:
Wrapper: Double-wrapped Maduro and Natural leafs (Dominican)
Binder: Dominican
Filler: Dominican
Appearance & Construction: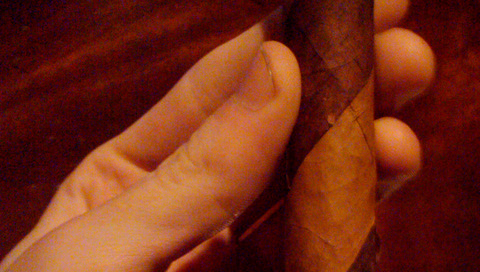 I know a bit about how Caballeros cigars are put together and have been generally pretty pleased with their construction. This particular blend is no exception. The cigar is very well constructed, though there are a few minor imperfections on the Maduro wrapper. The cigar is triple-capped and is springy to the touch. The wrappers are very smooth with minimal veins, providing for a pretty attractive look.  This blend doesn't currently have the normal Caballeros band – hopefully they start adding that in the future.  The foot of the cigar smells of earth, natural tobacco, and a nut. The draw is perfect.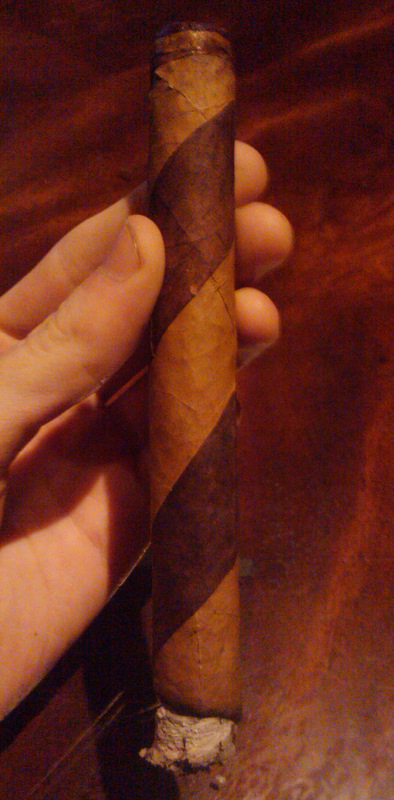 Taste & Smoking Characteristics: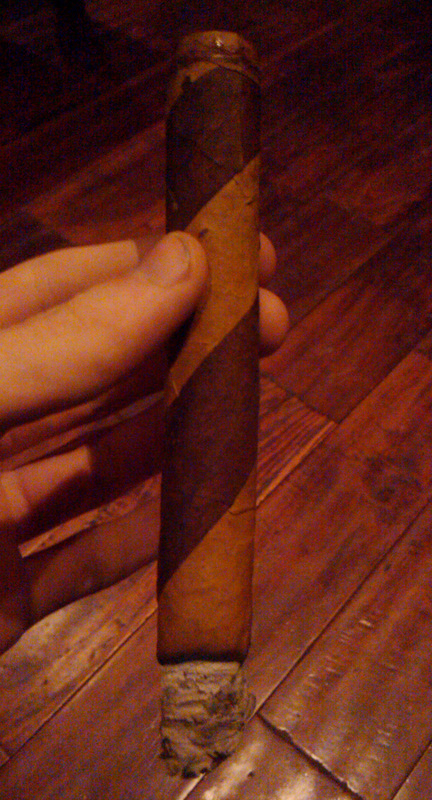 Because of the double wrapper, this cigar provides a pretty interesting smoke. On one hand there is an earthy, sweet taste typical of some Maduros.  These tastes are balanced out by a creamy nuttiness. It might sound like a bizarre combination, but I really enjoyed it. The cigar is mild-medium bodied and doesn't change a whole lot throughout the course of the smoke, with the exception of nutiness being introduced around halfway through the cigar. The cigar produces large volumes of smoke and is generally a tasty cigar.
Conclusion:
Double wrapped cigars can tend to be a bit of a challenge. In the past I've had barber pole cigars that haven't worked out so well. Thankfully, Caballeros got this blend right and as a result I recommend trying one if you get the chance.
Final Grade: B+