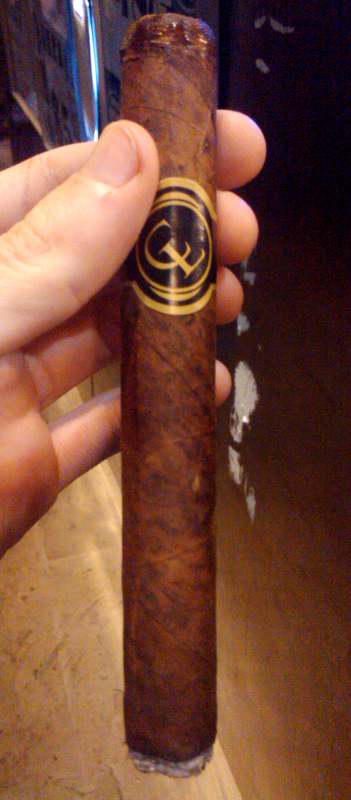 Today was my 22nd birthday. I spent my day (9am – 11:00pm) busy with classes, work, and then debate practice. As I was heading back to my apartment from the Fulton St. subway stop, I decided to drop by Cyber Coffee and Cigar Bar.  After taking a look at the available sticks, I decided to go with a "Cigar Landing" house blend (the cafe has loose ties to the cigar maker's headquarters in midtown Manhattan).  I didn't have much else to do, so I decided to do a quick review of the stick.
The bar carry a variety of the bar's house blend, and I went with the medium-full bodied Maduro. The stick turned out to be more of a medium bodied smoke – heavy smoke, but not harsh, abrasive, or heavy at all. Below are my notes:
Size: Lonsdale
Wrapper: Nicaraguan
Binder: Ecuadorian
Filler: Dominican
Price: $9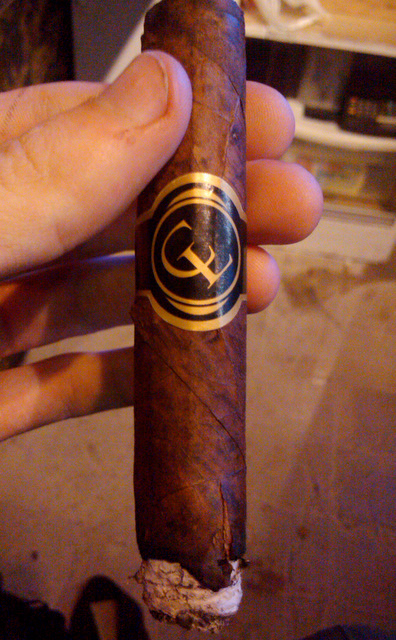 Prelight: The wrapper on this cigar is a very attractive dark brown. There are, however, a few minor imperfections, enough to be immediately noticeable.  The stick smells earthy and sweet. Not many distinctive flavors on the prelight draw, but the draw itself is perfect.  I'm not a huge fan of the label – it is attractive, but only moderately so.  The fact that New York is mentioned though is a plus in my mind.
Smoking Characteristics and Flavor: The first thing that I notice is that this is not a medium-full bodied smoke as I heard described. It is a very solid medium. There was no discernable spice on this cigar, which surprised me considering the presence of Nicaraguan tobacco (probably just a presumption born of ignorance on my part).  As far as taste goes, this cigar opened with a very earthy, sweet, but slightly bitter taste (not to be confused with harshness). Throughout the first third, the bitterness continually picked up, which brought the bitterness from a nice complimentary flavor to a minor annoyance.  As the cigar progressed into 2/3, some nuttiness emerged and the sweetness becomes a distinctive mocha.  The ash is still white, and the construction remains solid in terms of the burn.  Unfortunately, this cigar was difficult to get smoke out of in the last half, which meant that the smoke became way hotter than it needed to be.  I wasn't exactly sad when I finished the cigar, which isn't really the best indication of quality – the smoke was simply too hot and smoking had become a chore.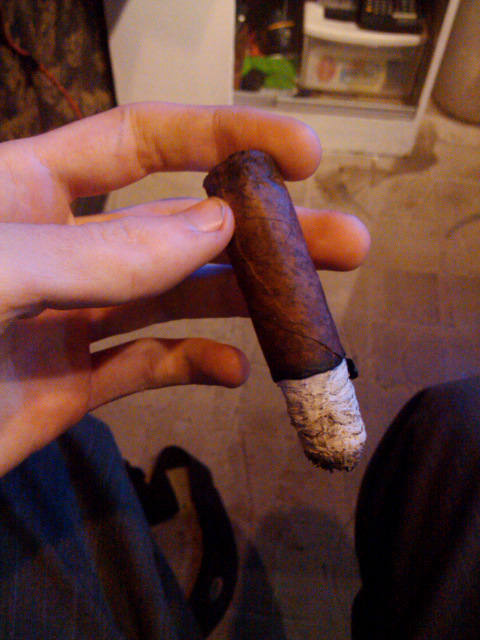 Overall Impression: This cigar started pretty well, and I enjoyed the flavors, but I really can't stand cigars that become chores to smoke.  The second half of the cigar was so difficult to get smoke from that I had to overheat the tobacco, causing it to lose flavor value. Overall, it wasn't a bad smoke, but for $9 I probably won't be trying the maduro again.  This cigar reminded me a lot of the Quintero Maduro – except the Quintero was more solid in terms of taste and construction, and about the same price.  If I'm looking for the same kind of smoke in the future (and I will) – I'll probably go with the Quintero.
Final Score: 7.5/10
Disclaimer: I've only had one cigar from this brand, so my experience may not be characteristic of the brand – I did notice though looking at the other sticks that construction was a bit shoddy in general.