In the past few weeks, the world-famous Nat Sherman tobacco store has sought to increase its portfolio of unique cigar, fashion, and comfort related items. A couple of months back, the shop on 42nd and 5th avenue renovated its downstairs smoking lounge with furniture made exclusively by Esquire. The furniture is unique and incredibly comfortable from my experience, though the handful of Nat Sherman regulars I've spoken to have given the new furniture (and layout) mixed reviews.
In any case, I've just been informed of another development, namely a partnership between Nat Sherman and
Globe-Trotter accessories
. The two brands have collaborated to design an elegant and stylish limited edition portable humidor. Below is the full explanation, provided by Nat Sherman:
~~~
To honor the 80th Anniversary of New York's finest Tobacco shop, Nat Sherman, Globe-Trotter has designed an exclusive humidor – a first in Globe-Trotter's 114 year old history. A total of 25 humidors will be hitting Nat Sherman's flag-ship store this week for a limited time only. Each case will have a commemorative plaque that states the number – i.e. 1 of 25, 2 of 25 etc.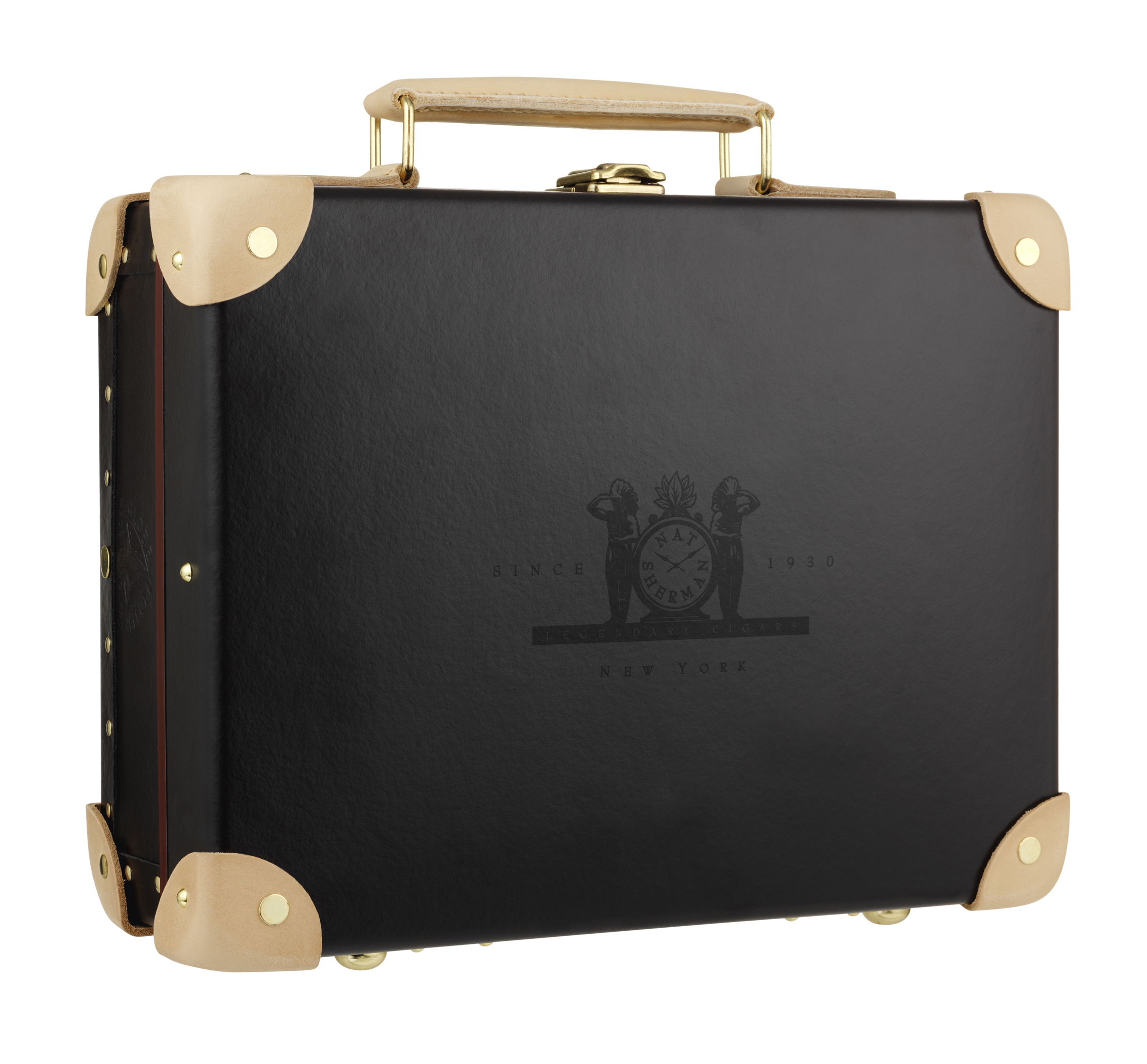 Taking it's cue from Globe-Trotter's iconic centenary collection, the Nat Sherman Humidor features Colonial Brown Vulcan fibre, accented with a dark brown leather handle and signature corners riveted with gold. The Nat Sherman tone-on tone logo is discreetly placed on the humidor, reinforcing the brand's history, dating back to 1930. The inside of the handsome case is lined with paper backed Oatmeal and Spanish cedar wood, as functional as it is aesthetically pleasing, both help to maintain the cigars delicate humidity levels and support the natural ageing process.
The Background.   
Are you familiar with luxury suitcase company Globe-Trotter? Globe-Trotter was established in 1897 and remains a uniquely hand made product. Skilfully crafted from Vulcan Fibre, paper-backed cloth lining and leather trimming at the Globe-Trotter factory in Broxbourne, Hertfordshire. Vulcan Fibre is an exclusive patented material invented in Britain during the 1850s. As light as aluminium and as strong as leather, Globe-Trotter is the only manufacturer of cases made from Vulcan Fibre.
Are you familiar with Nat Sherman? As the nation dug its way out of the great depression in 1930, Nat Sherman was busy opening New York's' finest tobacco shop. Today, the company has grown from those humble beginnings into one of the most recognized and respected names in the worldwide tobacco industry.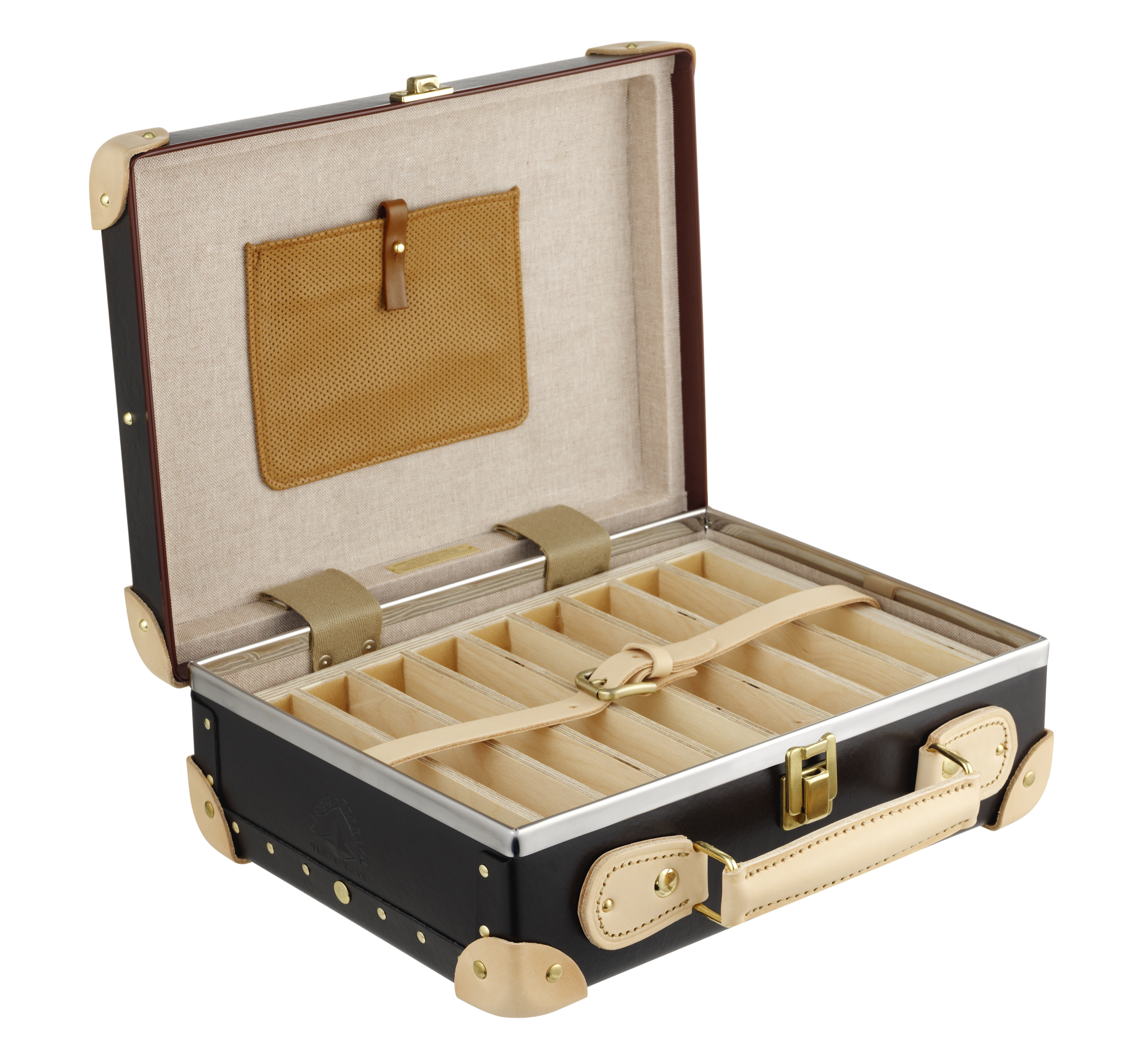 The Timing. 
The 'Globe-Trotter for Nat Sherman' humidor is launching now and will be sold exclusively at the Nat Sherman store at 12 E 42nd Street.