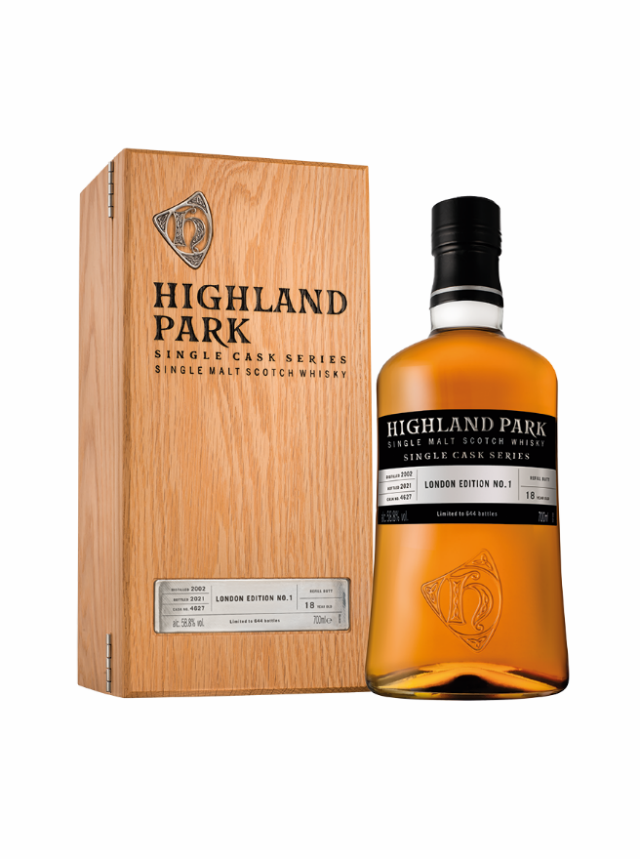 Orkney-based distillery, Highland Park, has announced the addition of the "London Edition" to its Single Cask Series. The whisky will be available in the UK starting from 11th September, priced at an RRP of £390 with an ABV of 58.5%.
The 18-year-old London Edition was distilled in 2002 and bottled in 2021. It matured in a refill sherry-seasoned European oak cask. The specific cask, labelled as #4627, was selected by Master Whisky Maker, Gordon Motion.
Those familiar with Highland Park's profile can expect earthy and smoky tones in this new release. The aroma includes elements of vanilla sponge, oak, and nutmeg. In terms of taste, it has notes of pears, aniseed, and cedar wood, with a peaty touch and a hint of sweet spice at the end.
Highland Park sources sherry-seasoned casks from Spanish bodegas. Because sherry has a low alcohol content, it interacts less with the cask, allowing the whisky to gain more flavour during maturation.
Gordon Motion noted the importance of refill casks in their selection process. With whiskies aged 18 years and more, the selection narrows down, aiming to present the distinct character of Highland Park casks.
Whiskies at Highland Park are typically filled at 63.5%. Over time, some alcohol and water are lost to evaporation, known as the "Angels' Share." However, Motion points out that the flavours tend to concentrate over this period. He suggests that enthusiasts can adjust the whisky with water or ice to reach their preferred drinking strength.
For more information on Highland Park, visit: www.highlandparkwhisky.com
Highland Park Single Cask #4627 18-Year-Old London Edition Details:
RRP: £390
ABV: 58.8%
Total production: 642 bottles
On sale date: 11th September 2023
Appearance: Light golden colour
Tasting notes: Aromas of vanilla sponge, fresh Galia melon, oak, and nutmeg. Flavours include pears, aniseed, and cedar wood, with a peaty note and a sweet spice finish.