The Limited Cigar Association—a subsidiary of Privada Cigar Club—releases each year a single farm puro from a noted master blender. This 2021 release is a Honduran puro. Christian Eiroa—original creator of Camacho and now his own lines—is the man behind this blend. Honduran puros haven't impressed me as much over the years, so this blind review was another test of what this region can do.
Blend Specifics
Cigar Reviewed- LCA Reserva Vintage 2021
Wrapper- Honduran Corojo
Binder- Honduran Corojo
Filler: Honduran Corojo
Size- 6'x 44' (Lonsdale)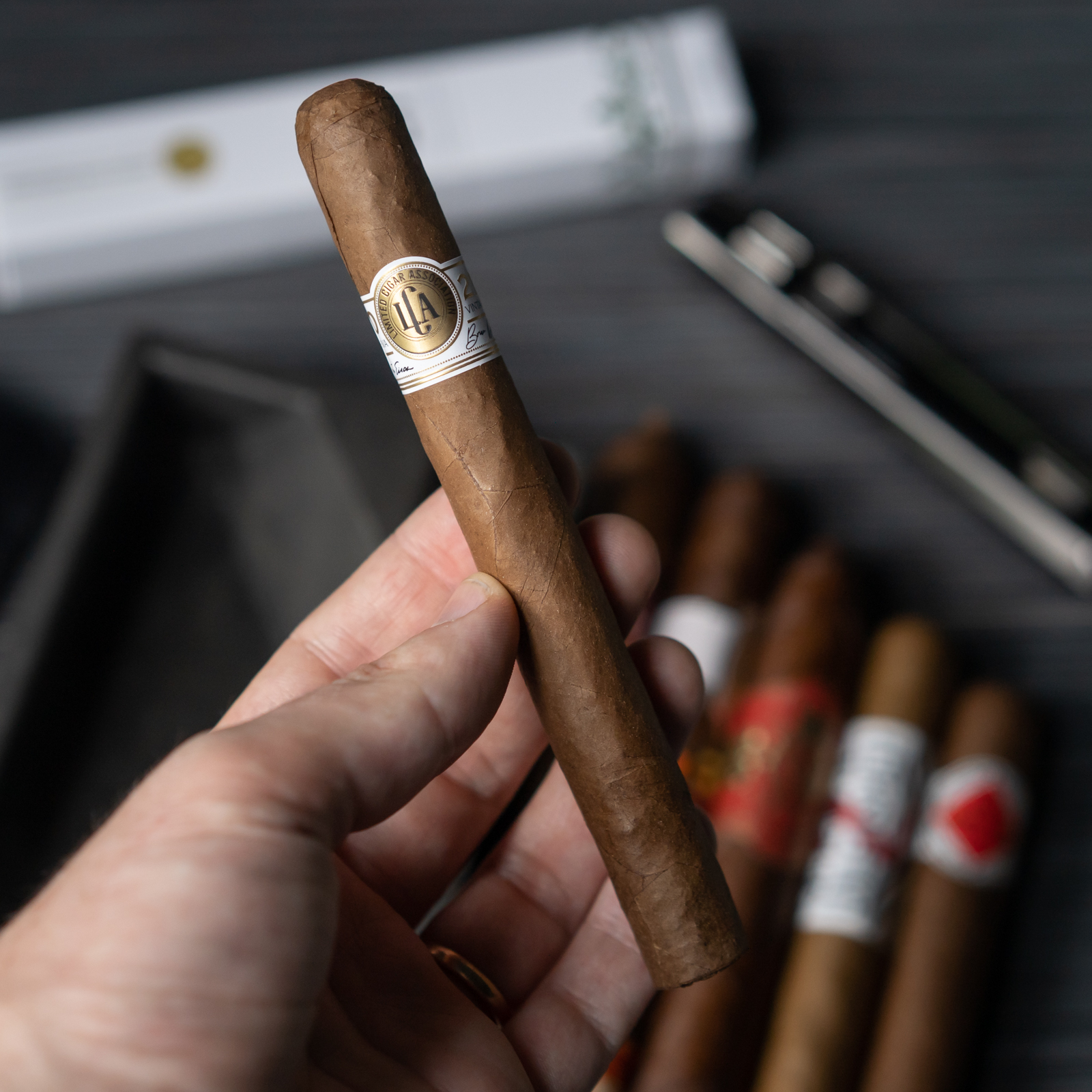 Appearance and Construction
The wrapper is light and silky with a noticeable thick vein on top. I can see the cap is crumpled looking and not very attractive.  There are noticeable soft spots as I squeeze the cigar which is concerning. The foot smells of barnyard and oak.
Taste and Smoking Characteristics
I clip the smoke with a guillotine cutter which takes a small piece of the lopsided cap. Taking a dry draw it's sweet and salty with wood notes. Another puff and I'm picking up white pepper and almond paste. With a retrohale pepper and cedar come through with cocoa powder on the exhale. Thus far the cigar is in the medium bodied range with a nice whitish gray ash. With another draw there's more toasted oak with some mustiness. More wood and light pepper on the sides of my palate are beginning to development in intensity. The second half of the smoke has some savory notes with nougat that ends in a creamy finish. With a slow draw biscuit and cedar keep the cigar well balanced to a medium body. The retrohale is creamy with cedar and earth coating the sides of my mouth as it wafts through my nostrils. A slight bitterness prevails on my next draw but saves itself with a rich earthiness on the back end. The ash continues to be straight, which was a concern with the soft spots I felt previously. Toast and oak prevail with an effortless draw that makes this cigar easy to smoke.
The last third gives off balsa wood, cherry and roasted nuts. Some bitterness returns with a slightly green taste from the tobacco. Just as quickly I take another retrohale and there's a large amount of salted almonds and sweet cream. More biscuit and cream linger on the palate with a slow cool draw. I'm impressed at the end of this smoke there appears that the flavors are more pronounced. As I take final puff wood and cream created a long flavorful finish.
Conclusion
This was a wonderful medium bodied blend. The cigar had a balance of toast, oak, cedar with the right amounts of spice to keep you interested and along the way creaminess work its way through. The slightly green bitterness I picked up a few times was a drawback however it quickly corrected itself in the smoke. Finding out this was an LCA Reserva Vintage I was impressed that a Honduran puro had this much to offer. I would recommend a box or at least a fiver to let sit a few months.
Final Rating: 91