Sometimes, the only remedy after smoking a bad cigar is to grab a good one and light up. Today I had the misfortune of smoking a really bad cigar. Instead of letting it ruin my evening, however, I decided to grab a cigar I suspected would be both a new experience and a good one – the PANA Ligero Maduro Churchill (48 x 7).  PANA Cigars are new on the market (launched July 2010), and owner Pablo Enchinton has big plans and has personally overseen the development of PANA's four blends: the Ligero-Maduro, Connecticut Especial, Triple Corojo, and Triple Maduro. I've got a few of these blends and will be reviewing them, so stay tuned!  Review below:
Blend Specifics:
• Wrapper: Ecuador Connecticut Shade
• Binder: Indonesian
• Filler: Ligero Cubano (DR), Ligero Criollo (Honduran)
Appearance & Construction:
As you can see, the Ecuadorian wrapper on this stick is a rich dark brown. There were a few minor imperfections, but as I found out those didn't bear much on the experience of the smoke. The cigar is springy to the touch and has a light oily sheen. Because of past experience, I'm always worried about the draw on Churchill size cigars, but I was pleasantly surprised at the easy draw on this cigar. The band on this cigar is black and white, with "PANA" framed prominently.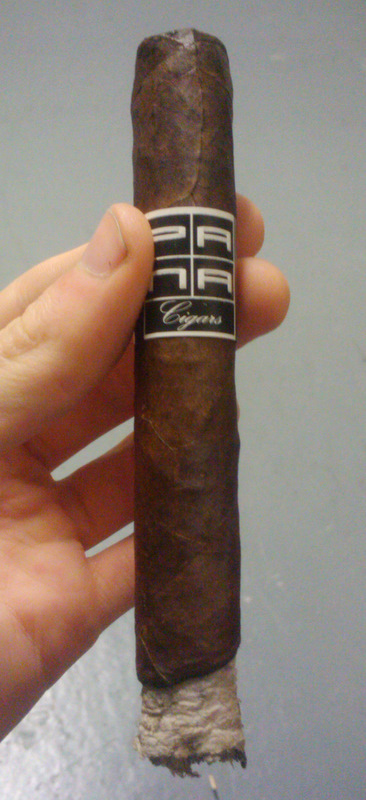 Taste & Smoking Characteristics:
The first third of this cigar kicks off with a mild bodied spice, earthiness, and rich sweetness. The earthy-sweet smell of the wrapper compliments the taste of the smoke well. The smoke has a smooth texture and leaves a touch of spiciness on the tongue. Very enjoyable and balanced. As the cigar moves into the second third, the body picks up to medium-body. There is a slightly salty savoriness in the aroma that soon moves to a tanginess. Very enjoyable retrohale, and the burn is great (no touch ups). Like clockwork, the final third of the cigar picks up to full body and has a lot more spice, though the earthy, almost chocolaty sweetness remains.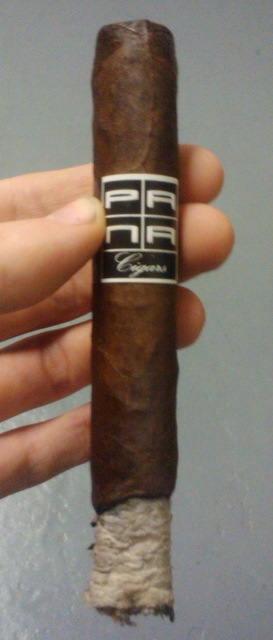 Conclusion:
The flavor profile on this cigar is solid but unique. Heavy earth, sweetness, and spice are how I'd sum this stick up. At times I tasted what seemed like chocolate in the earthiness, but I couldn't quite pin it down. The construction was good all throughout this stick. With all of the spice this cigar leaves on the tongue, it isn't for the faint of heart, but for ~$6.50 I would recommend giving this stick a try.
Final Grade: B