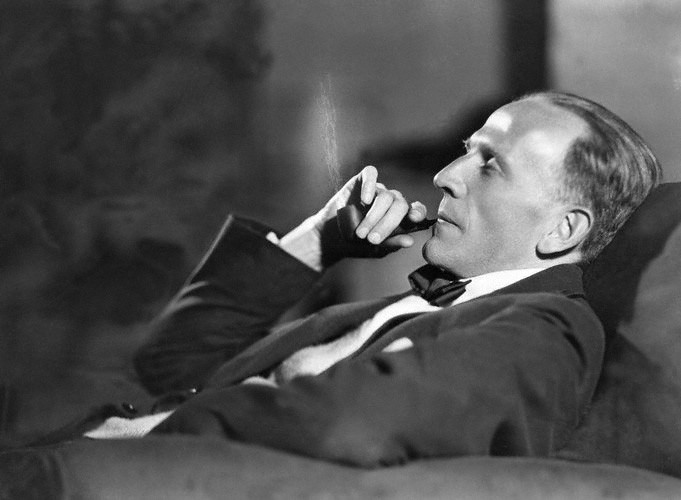 In my more recent online readings about tobacco, I've taken to a more classical style, looking up older writings. And so I came across "Smoking as a Fine Art" by A.A. Milne, a fantastic essay about a pipe smoker from England describing his experience smoking pipes and arguing for a more sophisticated approach to tobacco.
Reading the essay, I had to laugh a bit at the main problem in the pipe-smoking community that Milne points to: posers. Even in 1920, when the essay was written, the trend that turned pipe smoking into a fashion accessory instead of an art was well underway.
~~~
Smoking as a Fine Art
A.A. Milne
My first introduction to Lady Nicotine was at the innocent age of eight, when, finding a small piece of somebody else's tobacco lying unclaimed on the ground, I decided to experiment with it. Numerous desert island stories had told me that the pangs of hunger could be allayed by chewing tobacco; it was thus that the hero staved off death before discovering the bread-fruit tree. Every right-minded boy of eight hopes to be shipwrecked one day, and it was proper that I should find out for myself whether my authorities could be trusted in this matter. So I chewed tobacco. In the sense that I certainly did not desire food for some time afterwards, my experience justified the authorities, but I felt at the time that it was not so much for staving off death as for reconciling oneself to it that tobacco-chewing was to be recommended. I have never practiced it since.
At eighteen I went to Cambridge, and bought two pipes in a case. In those days Greek was compulsory, but not more so than two pipes in a case. One of the pipes had an amber stem and the other a vulcanite stem, and both of them had silver belts. That also was compulsory. Having bought them, one was free to smoke cigarettes. However, at the end of my first year I got to work seriously on a shilling briar, and I have smoked that, or something like it, ever since.
In the last four years there has grown up a new school of pipe- smokers, by which (I suspect) I am hardly regarded as a pipe- smoker at all. This school buys its pipes always at one particular shop; its pupils would as soon think of smoking a pipe without the white spot as of smoking brown paper. So far are they from smoking brown paper that each one of them has his tobacco specially blended according to the colour of his hair, his taste in revues, and the locality in which he lives. The first blend is naturally not the ideal one. It is only when he has been a confirmed smoker for at least three months, and knows the best and worst of all tobaccos, that his exact requirements can be satisfied.
However, it is the pipe rather than the tobacco which marks him as belonging to this particular school. He pins his faith, not so much to its labour-saving devices as to the white spot outside, the white spot of an otherwise aimless life. This tells the world that it is one of THE pipes. Never was an announcement more superfluous. From the moment, shortly after breakfast, when he strikes his first match to the moment, just before bed-time, when he strikes his hundredth, it is obviously THE pipe which he is smoking.
For whereas men of an older school, like myself, smoke for the pleasure of smoking, men of this school smoke for the pleasure of pipe-owning—of selecting which of their many white-spotted pipes they will fill with their specially-blended tobacco, of filling the one so chosen, of lighting it, of taking it from the mouth to gaze lovingly at the white spot and thus letting it go out, of lighting it again and letting it go out again, of polishing it up with their own special polisher and putting it to bed, and then the pleasure of beginning all over again with another white- spotted one. They are not so much pipe-smokers as pipe-keepers; and to have spoken as I did just now of their owning pipes was wrong, for it is they who are in bondage to the white spot. This school is founded firmly on four years of war. When at the age of eighteen you are suddenly given a cheque-book and called "Sir," you must do something by way of acknowledgment. A pipe in the mouth makes it clear that there has been no mistake—you are undoubtedly a man. But you may be excused for feeling after the first pipe that the joys of smoking have been rated too high, and for trying to extract your pleasure from the polish on the pipe's surface, the pride of possessing a special mixture of your own, and such-like matters, rather than from the actual inspiration and expiration of smoke. In the same way a man not fond of reading may find delight in a library of well-bound books. They are pleasant to handle, pleasant to talk about, pleasant to show to friends. But it is the man without the library of well-bound books who generally does most of the reading.
So I feel that it is we of the older school who do most of the smoking. We smoke unconsciously while we are doing other things; THEY try, but not very successfully, to do other things while they are consciously smoking. No doubt they despise us, and tell themselves that we are not real smokers, but I fancy that they feel a little uneasy sometimes. For my young friends are always trying to persuade me to join their school, to become one of the white-spotted ones. I have no desire to be of their company, but I am prepared to make a suggestion to the founder of the school. It is that he should invent a pipe, white spot and all, which smokes itself. His pupils could hang it in the mouth as picturesquely as before, but the incidental bother of keeping it alight would no longer trouble them.