Cigars are a delicate, temperamental, and hand made product, and there are thousands to choose from. That means that where you buy cigars matters big time.
Fortunately, among the 30+ places to buy cigars online, there are a handful of fantastic online cigar stores that can help you find the perfect cigar, get you a great deal, and deliver it quickly and safely. Unfortunately, for every great retailer, there are two more around with poor product quality, bad customer service, or that are downright scams (more on that below).
Whether you're buying cigars for yourself or for someone else as a gift, you're here asking 'what's the best place to buy cigars online'? You've come to the right place for an answer. I've been purchasing cigars online from a variety of retailers for 10+ years and have had enough experiences to be an experienced judge of the best online cigar stores out there.
So how do I determine the best websites to buy cigars online? The most important components of a cigar store are customer service, price, selection, quality, and the usability of the website.
So without further ado:
The Best Places to Buy Cigars Online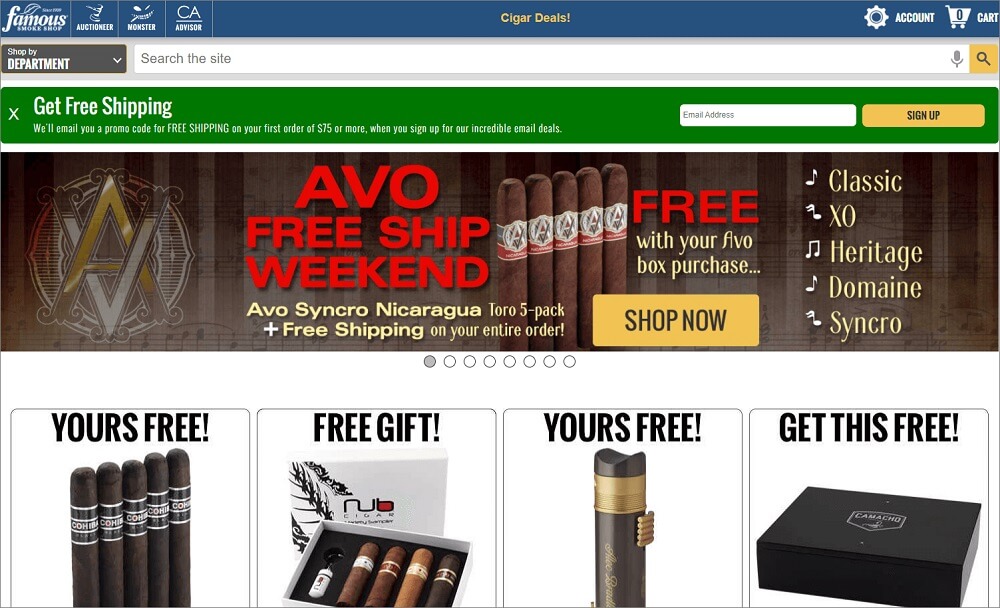 Famous Smoke Shop won #1 on my first list of top cigar retailers in 2016, again in 2019, and it wins it again today. It is, in my opinion, the best place to buy cigars online. Why?
In short, it's at or near the top of the list on all of the important categories: customer service, reliability, quality of product, etc. I've ordered thousands of dollars in cigars from Famous, and I know from experience that cigars will always be packaged securely, the price will be lower than any brick and mortar retailer, and if there are any problems, they'll fix it without hesitation. Their shipping is also insanely fast – I often receive cigars within just one or two days of ordering.
On top of that, their website is fast, simply designed, and purchasing cigars with an account is a breeze.
They also operate Cigar Monster, which is a take on the 'deal-an-hour' fad of the 2000s. An old fad, but still a fun idea with some great deals.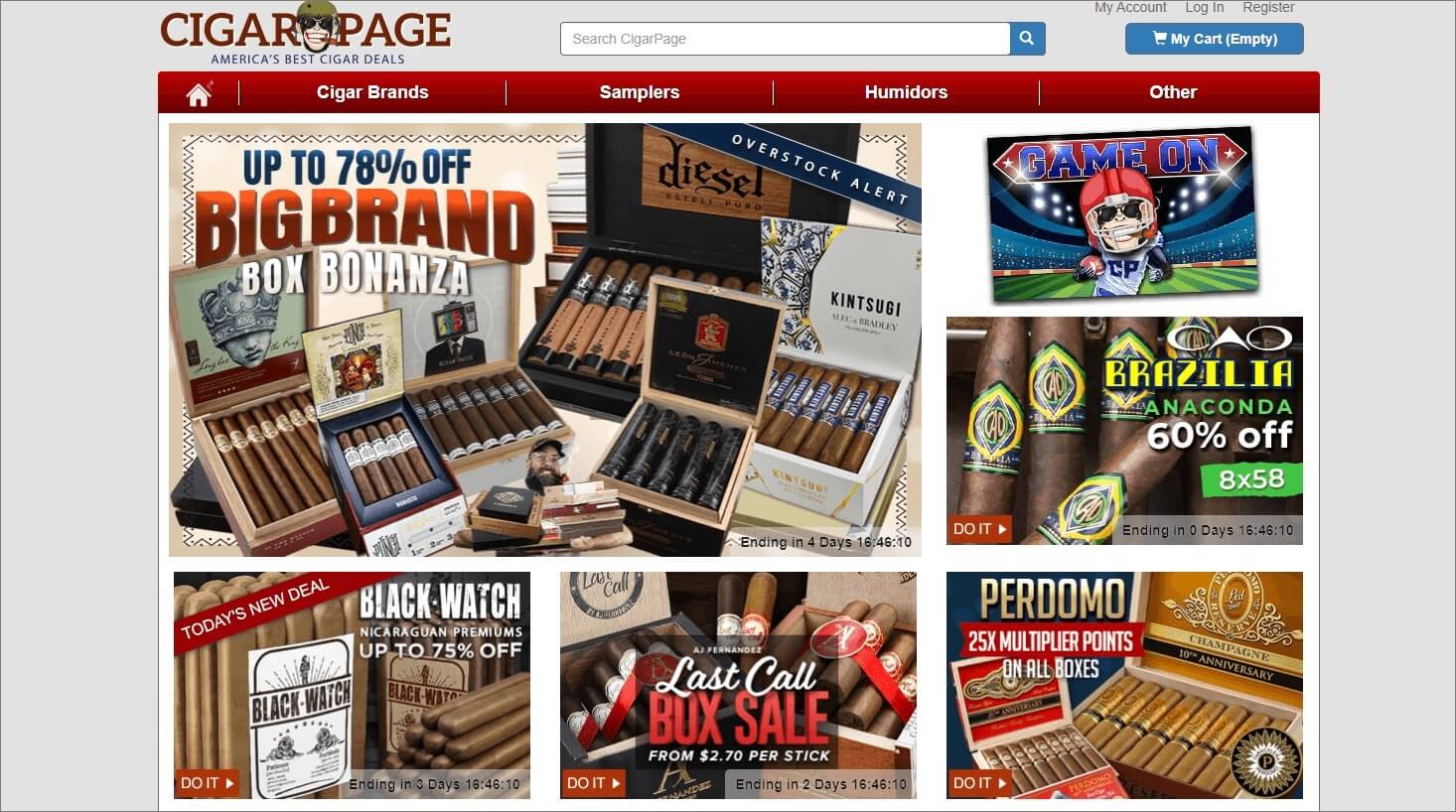 Cigar Page is runner up for one reason: stupid good deals. While its selection is a bit more limited than Famous, and its web design is a bit dated, it does have incredible deals on 5 and 10 packs of name brand cigars. Service is on point as well.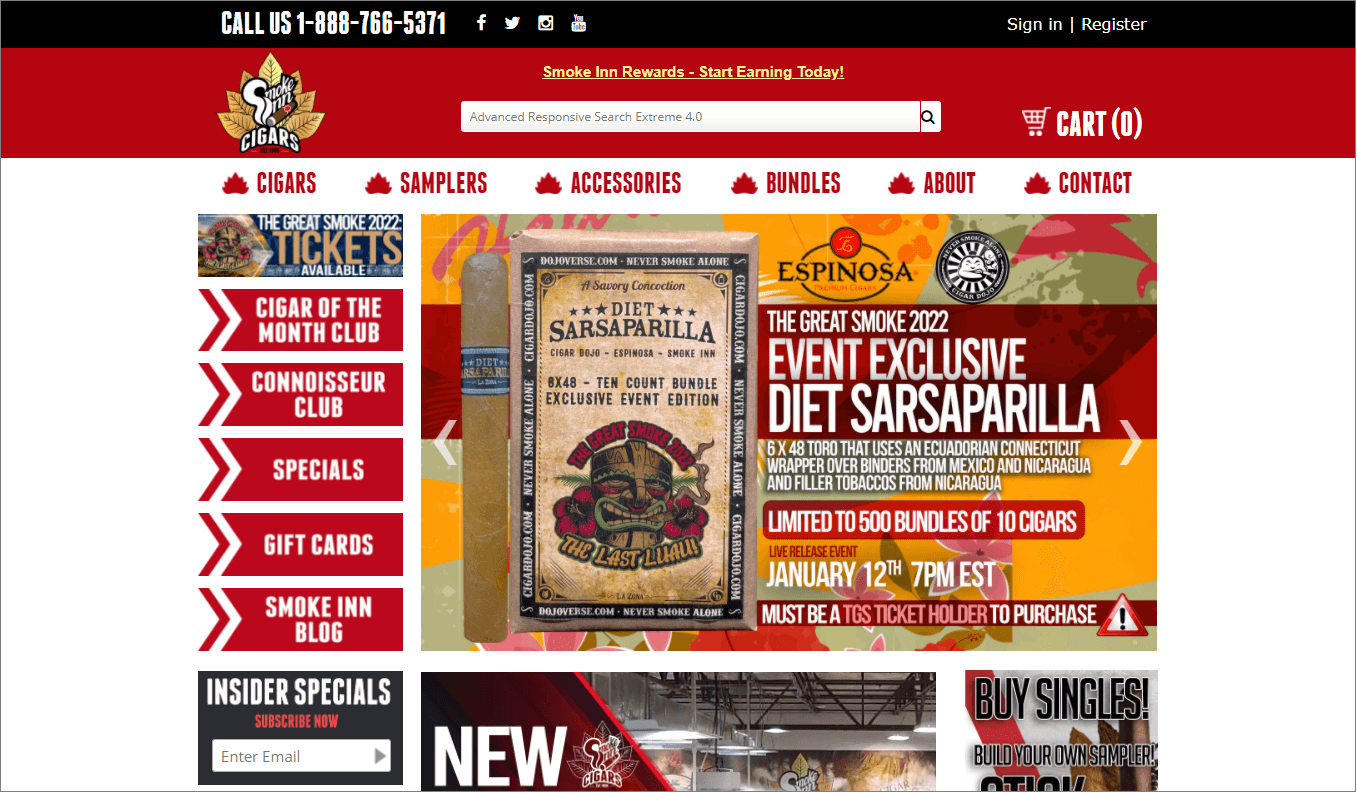 When I wrote my first ranking in 2016, Smoke Inn was a runner up, with the caveat that its web design needed some work. Then the website upgraded and it's one of those great online cigar stores that just makes you want to buy more!  Another reason Smoke Inn makes the list is that they have a huge selection of boutique smokes, and hard to find smokes—great gifts for enthusiasts! The website is run by a great team as well who are always there for questions or concerns.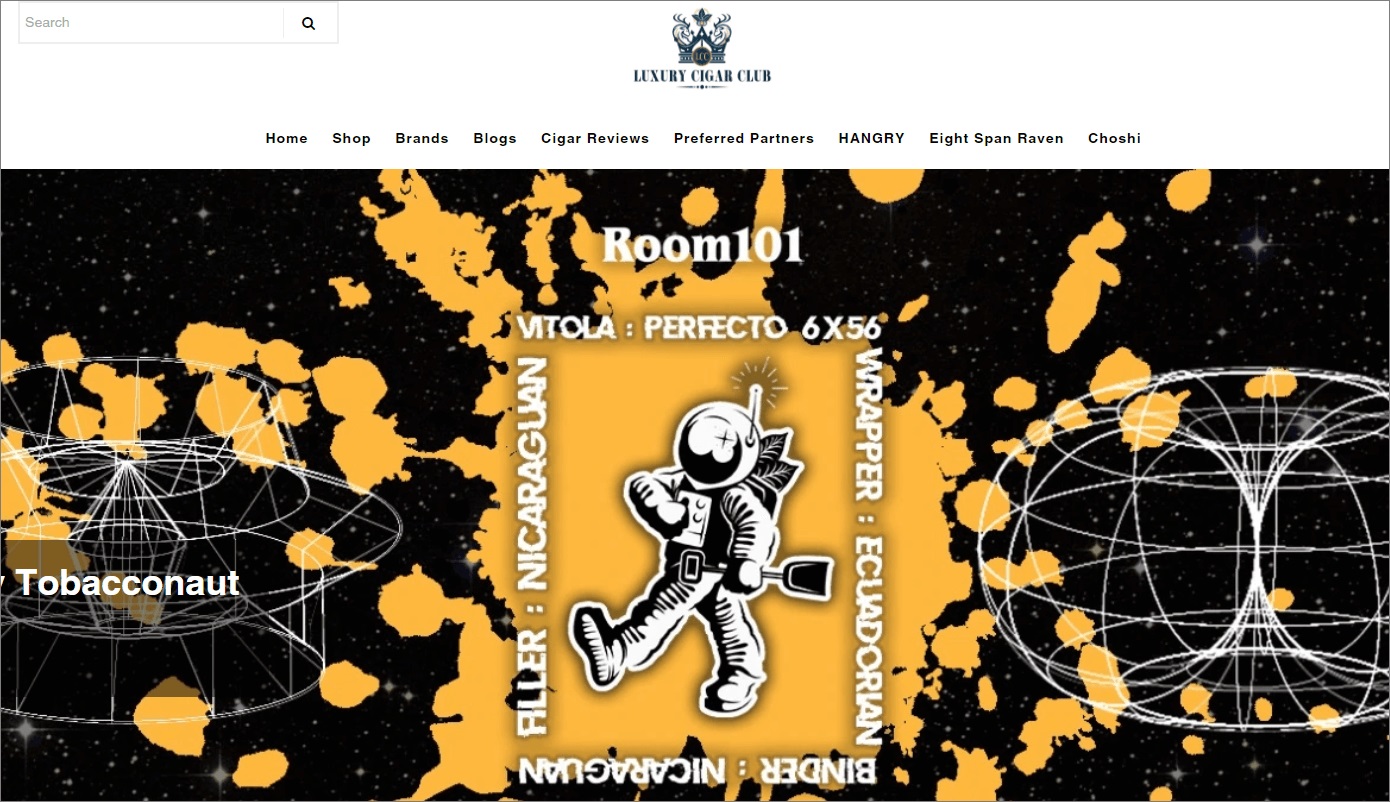 As the name suggests, Luxury Cigar Club is a new kind of cigar retailer. While the company has a modest online offering of brand name cigars, it's main feature is a cigar of the month club. Choose between four different subscription levels, and Luxury Cigar Club mails hand picked selections of boutique and brand name cigars. For gift-givers looking to give the cigar smoker in their life a fun gift, Luxury Cigar Club is a great option.
The Worst Websites to Buy Cigars Online
If the above places to buy cigars online represent the best, the stores listed below represent cigar retailers to avoid.
Thompson Cigars
I hate to say it, but even after writing my first article on online cigar stores more than five years ago, Thompson Cigars still hasn't improved their reputation much. True, they have a A+ rating on Better Business Bureau, but look under the hood at the customer reviews and you'll find that, as of this writing (1/15/2022), the company has a 1.3 out of 5 rating. And if you actually read the reviews themselves… they're pretty ugly, with talk of signing unsuspecting shoppers up for expensive monthly subscriptions without their consent, which is, you know.. Bad.
I don't have first hand experience, but here are some of the comments on my previous post about Thompson:
"Please avoid Thompson Cigar…they did exactly what you said they would do…Back in the summer my boyfriend spoke to them about starting a monthly subscription starting September 11 2017…and told them he would call them first before he wanted his card charged…Well on September 1 2017 they went ahead and charged his card….he immediately called them and told them to cancel it….after all kinds of back and forth they refused to cancel the order and we would have to wait until after he received the cigars then call them back to have a return slip sent to him…2 months later he was still waiting, he finally got it after several months but at that point decided to keep them, which I'm sure was done deliberately so he did keep them…well they got $120.00 but he won't ever purchase from them again…Thank you"
"Thompson's cigar club is a nuisance, as are their pushy sales people!"
CigarBid
Cigar Bid was actually on my "best" list in previous years, but due to my own personal experience they are now on my worst list. Cigar Bid is certainly a website to get good deals, but I've found a number of my orders were delivered with dry cigars inside. Cigars that aren't humidified are mostly ruined, so this is equivalent to getting a box of wine bottles that have oxidized and turned into vinegar. Second, I had one order placed where I was then told they didn't actually have the product in stock and let me know they'd be sending them somewhere else.
All that said – I have gotten comments on previous posts from purchasers who are very loyal to Cigar Bid, so take what I write with a grain of salt. I'm writing based on my personal experience.
If you want a full breakdown between CigarBid and Cigar Auctioneer, read my detailed breakdown here.
Solo Cigars
I've never purchased through Solo Cigars, but I've read on countless internet forums now that, not only do they sell fake Cuban cigars, but they've also been involved in creating fake accounts on popular cigar forums to try to get people to change their mind about the retailer. Just google their name and look at result 2 – 10. You'll get the idea. Key point here is: always check the reputation of any cigar retailer you purchase from. Just google their name and add "reviews".
Do you have a favorite cigar retailer that should be on this list? Or, if you have a question about a cigar retailer, or you've had your own experiences (good or bad) with an online cigar retailer listed above, drop it in the comments section below.
Affiliate disclosure: when you purchase something using the retail links on this or other Fine Tobacco NYC pages, we may earn a small commission. Our opinions remain our own!