Power Flavors for the Hedonist in Cocktails (BOOM!) or After Dinner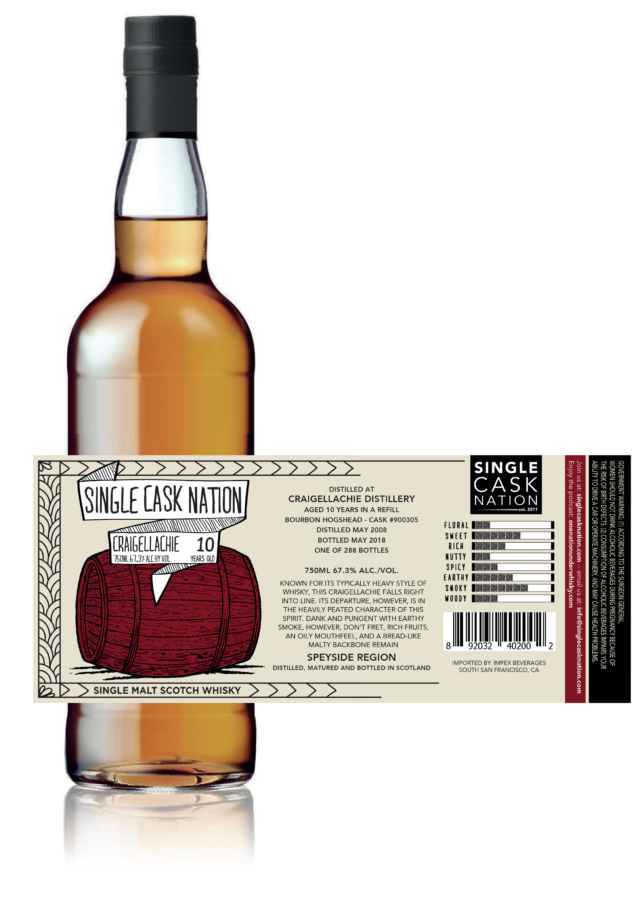 Whisky Reviewed: Craigellachie 10 Year – Single Cask Nation Bottling
Distiller: Craigellachie
Region: Speyside
ABV: 67.3%
Suggested Retail Price: $125
Mark's Review
To paraphrase a mid-20th Century joke: Do you have Sir Walter Raleigh in a scotch bottle? Well, let him out! That happened the instant I poured a spot of this beauty. Sweet Virginia tobacco and pineapple phenol smells freed themselves from captivity. The aromas transited my nose into the sinuses with ferocity and lodged there awaiting sip's first release. The palate matched the scents and was hot as expected given the ABV.
Still, unlike many Craigellachie offerings, this had little sulfuric bitterness. But after a few seconds . . . BAM!! a ginormous never-ending peated mouthfeel emerged. Each of my nearby sidekicks did double takes. I offered that it equaled being on the receiving end of a Mike Tyson KO punch AFTER you stole his tiger! Adding water unleashed strong robusto qualities to further the heat.
This whisky is for the Hedonistic Power Lover who craves a smack upside the head. Try this in a cocktail. Don stated this was a "one and done" Rob Roy! Otherwise find a La Bomba Warhead II stogie. Cigar Advisor calls it a smoke that "pummels you like an undercover drug narc at a Hells Angels rally". Craigellachie 10 is a perfect match for it. The combo will kick your ass so hard it needs a warning label.
Mark Garbin's Evaluation
| | | |
| --- | --- | --- |
| Aromas & Flavor Appeals to: | Optimal Client Type | Great For: |
| Subtlety Aficionado | Apprentice | Cocktails |
| Power Flavor Admirer | Enthusiast | Neat Before Dinner |
| Balanced Devotee | Adventurer | With Food |
| Chameleon Lover | Hedonist | Dessert or After Meal Cigar |
Whisky Intelligence: This cask bottling, distilled in May 2008, spent ten years maturing in a refill bourbon hogshead. It was bottled at cask strength in May 2018 at a whopping 67.3% ABV! Cask #900305 yielded 288 bottles.
Long and warming with lingering barrel char, dark chocolate with sea salt, more confectioner's sugar, and damp oak. Known for it's typically heavy style of whisky, this Craigellachie falls right into line. Its departure, however, is in the heavily peated character of this spirit. Dank and pungent with earthy smoke, however, don't fret, rich fruits, an oily mouthfeel, and a bread-like malty backbone remain.