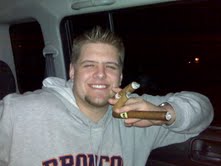 G'day fellow Brothers and Sisters of the Leaf.  I am extremely excited to be a part of FineTobaccoNYC.  I have known Matthias for almost 3 years now and have enjoyed watching him fall in love with premium tobacco just as I did as well as helping him on his journey when I could.  So when he came to me with the idea for FTNYC I knew that I had to be a part of it.
I am currently working in the premium tobacco industry as the Client Services Associate for Davidoff of Geneva's Madison Avenue store.  I finally have a job that is in line with my passion and I love every minute of it.
When I am not at work I try to immerse myself into the cigar culture in ways that are non-work related.  The main way that I have done this is I started The Belicoso Brothers Cigarcast, a weekly cigar podcast that I co-host with my best friend, Peter Work.  You can check us out at www.BelicosoBrothers.com and on iTunes under Belicoso Brothers CigarCast.
I love to help people explore and grow in their own journeys with premium tobacco and will never walk away from a cigar related conversation, so if anybody has any questions relating to anything premium tobacco I would love to answer them.  You can send your inquiries to info.ftnyc@gmail.com.
I will leave you all with one of my favorite quotes relating to premium tobacco: "A cigar ought not to be smoked solely with the mouth, but with the hand, the eyes, and with the spirit." – Zino Davidoff
Now go forth and smoke.