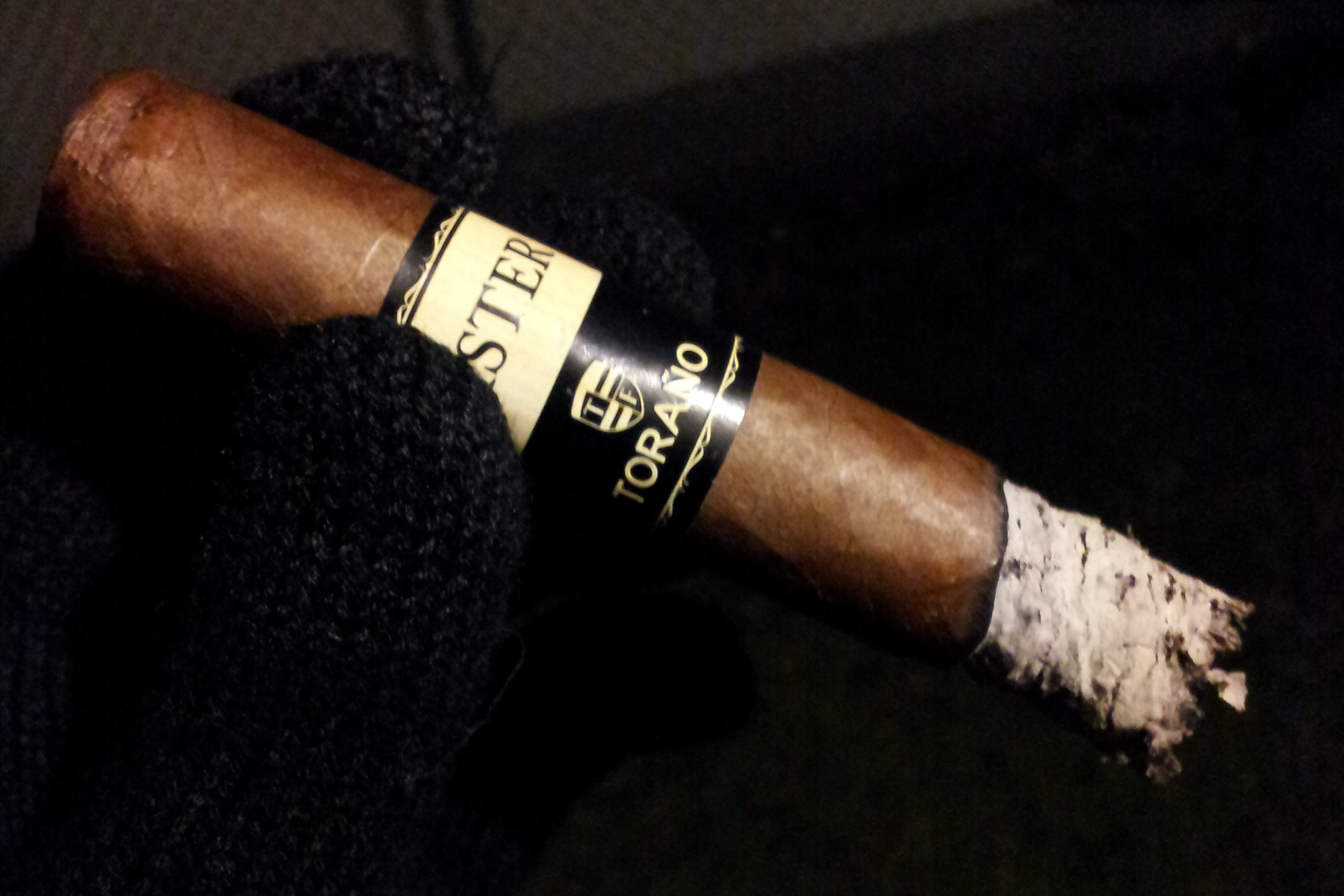 Months ago, Torano Cigars gifted me with a few blends, including the Vault, Torano 50 Year, the Master Blend and Master Maduro. So I sat down outside on a chilly night (hence the gloves) and smoked the Master Blend. I was blown away both times I smoked this cigar, and have been consistently disappointed to not find it in cigar shops in New York.
Blend Specifics
Size: Robusto (5 x 50)
Wrapper: Ecuadorian Habano
Binder: Nicaragua (Esteli)
Filler: Nicaragua (Esteli & Jalapa)
Appearance & Construction
The Torano Master has flawless construction. It features a rich, silky brown wrapper, and a simple but pleasing band with cream white and black.  Off the foot, I get a punch of sweet cedar, nuts, coffee, and spice. Delightful. So strong is the aroma, and complex but distinct.
Flavor & Smoke Characteristics
When I light this stick up, I am greeted with a free draw and loads of smoke. The smoke is medium bodied, with lots of spice across my pallet. Notes of bitter chocolate, wood, and progressively sweeter flavor are apparent. A slight cream texture is present when my nose encounters the wrapper.
This cigar has excellent balance, really fantastic. The retrohale is very spicy, adding a nice contrast to the external smoke. The ash is snow white and very attractive.
I'm just going to take a moment to note, this is a sipping cigar. Don't devour this thing like a 2 buck cigar or you will miss a lot of flavors.
At the two third mark, this cigar starts to feel like a solid full-bodied stick. The retrohale is no joke. Not spice, just strength.
At halfway, the cedar notes drops neatly, and raisins, white pepper and other subtle notes take its place. You can probably tell I'm really enjoying this cigar.
During the final third, this stick comes roaring back with coffee, leather, and black pepper. It ends silky smooth, and I almost shed a tear that it is over.
Conclusion
I highly recommend the Torano Master Blend. In fact, it was probably one of my favorite cigars that I tried in 2012. It has great balance between prominent cedar, spice, sweetness, and a creamy texture. I smoked two and was surprised and delighted both times.
Final Grade: Easy A