May 22, 2013 (Basel, Switzerland) — Davidoff tobacco masters have created these very special Limited Edition "Club House" Toro Cigars with moments of shared pleasure in mind. The connoisseur's choice, wherever he or she is relaxing, particularly enjoying the fairways on a golf course.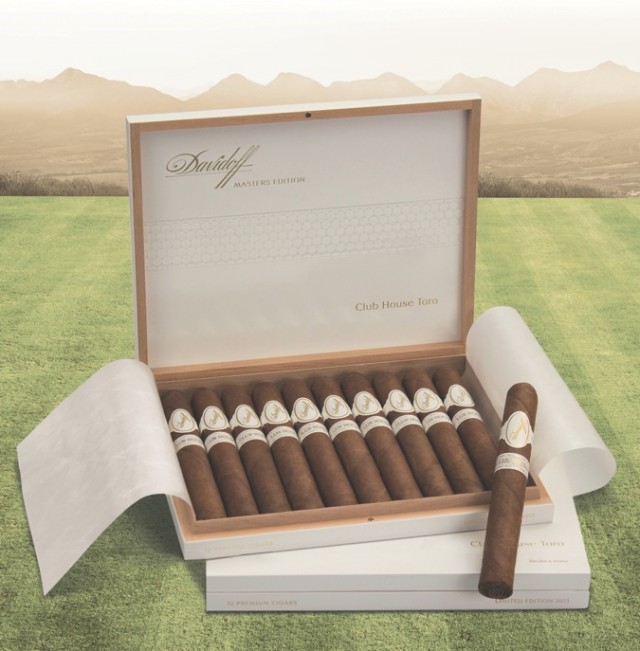 Creation of the Davidoff Masters Edition 2013 "Club House" Toro
For this cigar, the Davidoff Master Blenders decided to play the long game, taking adventurous, sometimes risky, shots. They mixed rare and specially matured tobaccos, focusing on delivering delightful aromas rather than pure strength.
The majestic Gran Toro format allows the aficionado to enjoy the cigar's intensive but balanced and nuanced taste over its entire length: the exceptional Yamasá wrapper, Mejorado filler and Ecuadorian binder develop mildly peppery and creamy notes, followed by elegant hints of chocolate, caramel and coffee.

Finally, displaying a playful elegance, both the cigar box, which is finished in high gloss white, and the second band carry a golf ball pattern.
The new Davidoff Masters Edition Club House Toro is the ultimate way to fill your time beautifully on a golf course with your friends.
This exclusive edition is limited to 7'000 boxes worldwide and the Davidoff Masters Edition 2013 "Club House" Toro can certainly be described as a collector's item. As we all know, the perfect round of golf depends upon the choice or club and cigar.
This Limited Edition will be available from the end of May onwards in Appointed Merchants across the US.
Price: $21.90 (each)
Price: $219.00 (box of 10)
Format: Gran Toro
Length: 15.9 cm, 6 ¼"
Ring gauge: 2.1 cm, 52 RG
Wrapper: Yamasá- Marron Claro (matured for 3 years)
Binder: Ecuador
Filler: Piloto Viso, San Vicente Mejorado Seco, Piloto Mejorado Seco, San Vicente Mejorado Viso, Vicente Mejorado Viso
Aroma: Intensive
Strength: Medium-strong flavour