In our last post, we looked at the importance and uses of the social media platforms Facebook, Twitter, Instagram, and Google+. In this article, we'll look at how to set up and launch your page, as well as a few practices for managing an effective (read:profitable) Facebook page.
This post is an introduction to best practices on Facebook. This post does not cover the nuances of Facebook advertising, integration with mailing lists and other social tools, or analytics – if you have a specific question on that, email me.
So now to get started. Order of operations is important with social media, so the next few posts on Twitter, Instagram, and Google+ will discuss setup and launch separately.
Setup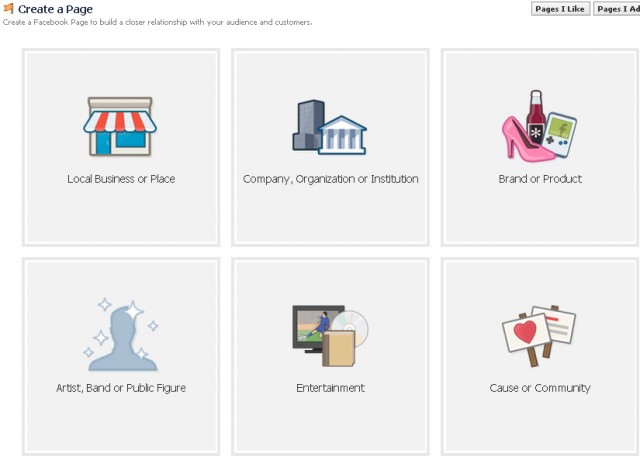 Setting up a Facebook page is fairly simple. First, go to this page to start your setup. After you have selected your page type, here are a few important steps:
Do NOT invite all of your current friends and contacts to "like" your page before it is completely set up. You have one chance at a first impression with your most loyal contacts, so you must make it count.
Include all business contact information in the relevant information sections. Everything. This means phone, website, email, physical address, p.o. box, fax. Everything.
Upload your company logo as your profile picture.
Upload a striking/interesting image for a cover photo that represents your product well. Make sure your image is high definition and not blurry (if it is a photo).
Add admins to your page using the "manage admin permissions" page in your page settings. Note: admins must have already "liked" the page.
Now, post your first update! This should be a message welcoming fans to your new page. Include a photo or group of photos with this post. I also suggest posting some other media rich content (videos, photos, audios, online interviews) for your audience to see when you launch the page.
Launch
Now you are ready to announce your page to the world! This is a critical step in getting early momentum. But keep in mind: the suggestions below can be used at any time, so they are still a good idea even if your page is already established.
Go to your company Facebook page, and invite all of your friends to like the page. If you are using Google Chrome, download the "Facebook Select All" extension so that you can invite hundreds of friends to like your page at one time.
Ask your employees to like the page. Then, copy/paste step 1, email it to everyone in your company, and ask them to invite their friends.
Use the "invite contact list" tool on Facebook to invite everyone in your email contact book to like your page.
If you have a company email list for customers, clients, fans, etc, upload that contact list (must be .csv file) to Facebook to invite all of those contacts to like your page.
Post a status update on your personal Facebook asking your friends to like your page.
Launch a Facebook give-away contest that encourages users to like your page.
Post a link to your Facebook page on your website, blog, and other social media profiles.
If you follow these steps , the next 48 will bring a spike in interaction, pageviews, and page likes.
Build
Now it is time to build engagement with your page and attract a wider audience. Here are some do's and don'ts for building your Facebook audience:
Do
Post at least once a day.
Post creative and friendly content that gives fans an inside look at your company or product.
Post images, videos, and links to interesting content, always writing a caption to explain the importance of the content.
Ask your fans questions that get at the heart of their experience of your product.
Offer special, exclusive deals to your Facebook fans.
Respond to any comment, concern, or critique within 24 hours.
Ask your fans to connect with you on other social networking sites.
Host contests and other giveaways to encourage word of mouth reach.
Announce new products and tell customers where they can buy your products.
Use Facebook advertising to increase your fans and reach new customers (detailed explanation on that here).
Be creative and don't take yourself too seriously!
Don't
Continually repost marketing materials (this content gets very boring and will cause people to unlike your page).
Post irrelevant content about politics, religion, or humor.
Post content presenting any other company, person, or group of persons in a negative light.
Post updates expressing frustrations. Keep it positive.
Let your page become out of date. This reflects very poorly on your company.
To give an idea of what good content looks like, and how good content leads to more exposure, take these two event posts from My Father Cigars and Camacho Cigars: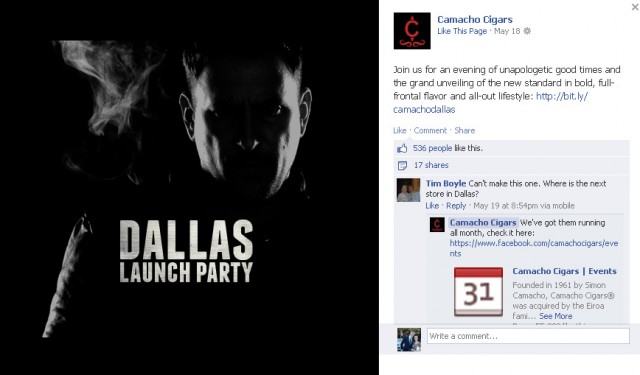 Obviously, the fact that Camacho has 20x more Facebook fans has something to do with the difference in engagement. But even a cursory glance indicates that taking time to craft a post will result in more likes, shares, and comments. The post by Camacho Cigars features a well thought out image, a clear explanation of the post, and a link to the event page. Additionally, a fan commented and received a swift reply.  In contrast, the My Father post above is plain, and very long. The post was also reposted three times in a row, making the My Father facebook page look uninviting.
Of course, that's just one example. Each company has a different strategy for creating content. The challenge is to refine your strategy by listening to your audience and understanding what it wants.
To learn more about how to create the best content on Facebook, I suggest reading these articles:
There you have it. How to set up, launch, and maintain an effective and profitable Facebook page. It is true, this is only the tip of the iceberg–we haven't covered how Facebook advertising can shoot sales through the roof or how to integrate Facebook into your broader marketing strategy, but this post is a good start. The key is to stay creative, resourceful, and attentive to your audience.
If you follow the instructions above, you should be well on your way to building a successful and profitable Facebook page. In our next post, we'll look at some of the best practices for using Twitter to sell products and build valuable business relationships.
In case you missed them, our last two posts:
~~~
Did you find this post helpful, or know someone who would? Hit the like, tweet, or email button to help spread the word!
Have a question? Drop it in the comments or email me!
I'm also on Twitter and on instagram. You can subscribe to this blog ->