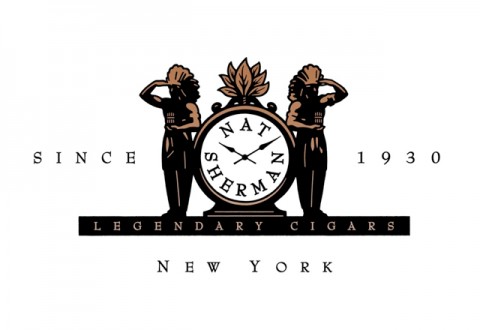 NEW YORK, NY (July 8, 2013) — Nat Sherman, Tobacconist to the World, unveils the newest addition to its premiumcigar portfolio, The Nat Sherman Sterling. The Nat Sherman Sterling will make its debut at the 2013 International Premium Cigar and Pipe Retailers Convention in Las Vegas later this month, per an announcement made today byWilliam Sherman, Executive Vice President of Nat Sherman.

"The Nat Sherman Sterling redefines elegance," said Mr. Sherman. "Following on the heels of our  Nat  Sherman 1930  and  award-winning  Timeless  collections, The  Nat  Sherman  Sterling maintains Nat Sherman's tradition ofpassion and creativity by showcasing yet another unique blend of the world's finest tobaccos."
Made up of four traditional vitolas, The Nat Sherman Sterling are tied in wheels of 25 cigars and packed in beautifulslide-top cabinet boxes. The Perlas (4" x 40), Marevas (5" x 42), Dalias (6.25" x 43) and Corona Gorda (5.75" x 46)feature a blend of aged-Dominican filler tobaccos (the oldest has been aged for ten years), a Dominican binder and astunning Ecuador-grown Connecticut wrapper.
"The Nat Sherman Sterling represents a new standard for complexity, balance and finesse in premium cigars," saidMichael Herklots, Executive Director of Retail and Brand Development. "They're inspired by some of the most prizedHavana cigars of the 1960's, 70's and 80's that continue to be collected to this day. These cigars embody balance and sophistication, and focus on flavor more than strength."
Handmade at the MATASA factory in Santiago, Dominican Republic, The Nat Sherman Sterling range in price from $9.00-$15.00 per cigar, and are available exclusively at authorized Nat Sherman Tobacconists throughout the United States.
***
About Nat Sherman International
Founded by Nat Sherman in 1930 and family-guided for three generations, Nat Sherman International continues todefine the authentic tobacco experience. Through a tradition of innovation and expertly crafted products, Nat Sherman's timeless appeal, while quintessentially New York is embraced and enjoyed worldwide. Learn more at www.natsherman.com.
Media Queries: Suzanne DeFosset EVINS
(212) 377-3592