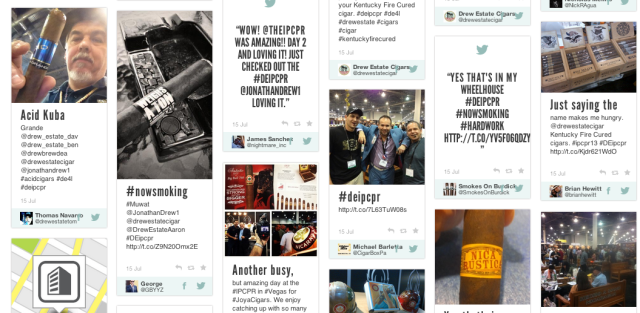 Everyone knows IPCPR is one of the largest cigar events of the year in the United States. Thousands of cigar brands, retailers, bloggers, and other enthusiasts descend to smoke and purchase the newest blends from the hottest brands. Any high-energy, well-publicized event like IPCPR presents a great opportunity for companies willing to leverage social media to get exposure to tens of thousands of cigar smokers on social media.
So who were the top performers at IPCPR this year? The results are below. But first a note: these results are not comprehensive. They do not cover all cigar brands at IPCPR (that would be impossible), nor do they cover all social media platforms. I limited my statistical analysis to the previous 7 days of tweeting activity on Twitter because its open environment  allows me to get the most detailed information. Yes, it is one platform among many, but the stats sill tell a solid story. Nonetheless, I have also included a some anecdotal analysis because there were some brands who made some spectacular plays on other networks like Facebook (i.g. Alec Bradley sends first cigars into space). If you're wondering why I didn't include more brands (even big ones), it is because this kind of research takes a lot of work and I was looking for representative samples.
Rankings are based on total number of company mentions during the week of IPCPR.
The results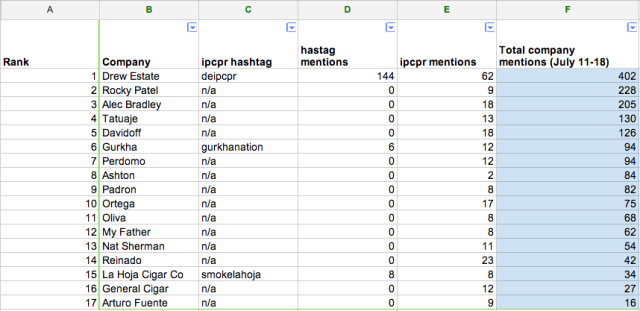 Drew Estate dominated social media this year, with Rocky Patel and Alec Bradley coming in second and third. We'll go into the how and why's of it in a minute. But quickly I should explain that the "Total company mentions" column on the right is not the sum of "hashtag mentions" and "ipcpr mentions" – it includes more tweets, like those that @ mention the company, use slang terms for the company, etc. Thus it is the most comprehensive metric, and the one which judged rankings.
How did Drew Estate do it?
Drew Estate crushed it this year for a few reasons:
Drew Estate made a concerted effort to draw their customers into the IPCPR experience using an IPCPR hashtag.
Drew Estate motivated  their customers to participate in the hashtag by featuring posts on a company webpage designed specifically for IPCPR.
Drew Estate posted across multiple platforms – Twitter, Instagram, Facebook, YouTube, achieving a maximum reach across platform audiences. They were also smart in posting content across platforms (i.e. their Facebook page is full of their YouTube interviews).
Company employees were active on social and responded/thanked users who submitted posts with #DEipcpr.
Drew Estate did a fantastic job and all cigar companies could learn a thing or two on how to engage customers and increase brand loyalty.
Honorable mention: Alec Bradley
Alec Bradley didn't have nearly as much social momentum during IPCPR 2013, but they deserve an honorable mention here for the sheer creativity of their marketing approach. While in Vegas, they made history by launching the first cigars into space. Yeah. The post had 11 shares, over a hundred likes, and a lot of comments. I estimate this post had a viral reach in the tens of thousands, and will be posted around the internet for a long time to come.
Way to go Alec Bradley!
What about Rocky Patel?
I'm a big fan of Rocky Patel cigars – great flavor, incredibly consistent construction, awesome pricing too. Their performance on social this year, however, wasn't so much the result of the company having a solid social media strategy. A cursory glance around their networks revealed that they didn't put a lot of effort into getting people involved this year, indicating they were riding on existing brand excitement.
Rocky Patel vs Alec Bradley
If you want to see what a bad approach to social media looks like, just take a look at the Rocky Patel Facebook page as compared to a brand like Alec Bradley. Here is the Rocky Patel Facebook page: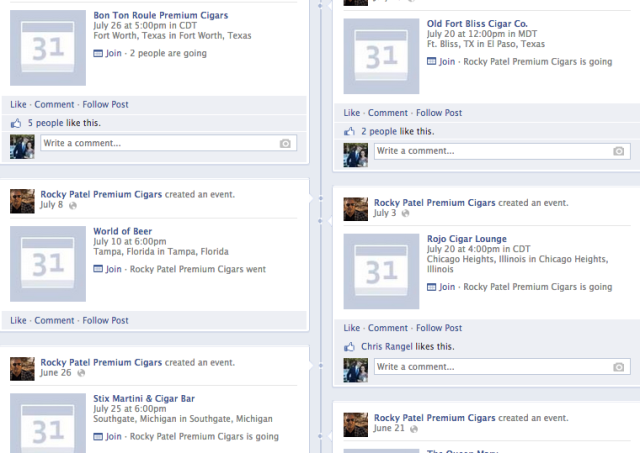 Note that there is no visual content, very little interaction from page fans, and it really ends up just being a feed for events. The page is visually unappealing and doesn't represent the brand well at all. It is, in short, really boring. Whoever is managing their page needs to correct course if they want to get any value from their Facebook page – right now it is a waste.
Now take a look at Alec Bradley's stream. They have roughly the same amount of page fans, but look how their rate of interaction is literally 50x that of Rocky Patel's page: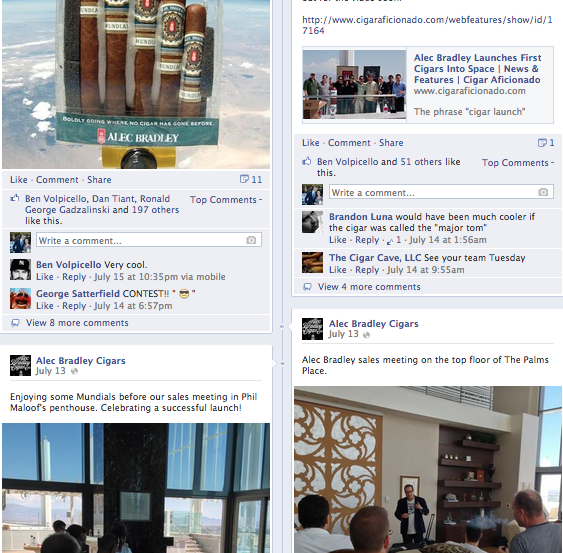 The lesson? Be creative, use visual content, and try to act like you care about your Facebook fans enough to give them good content!
Congratulations to Drew Estate and Alec Bradley for putting on a stellar performance with social media at this year's IPCPR!
~~~~~
Want to learn how to kick ass and make money with social media? Take a look at our most recent guides:
Did you find this post helpful, or know someone who would? Hit the like, tweet, or email button to help spread the word!
Have a question? Want to hire me? Drop it in the comments or email me!
I'm also on Twitter and on instagram. You can subscribe to this blog ->