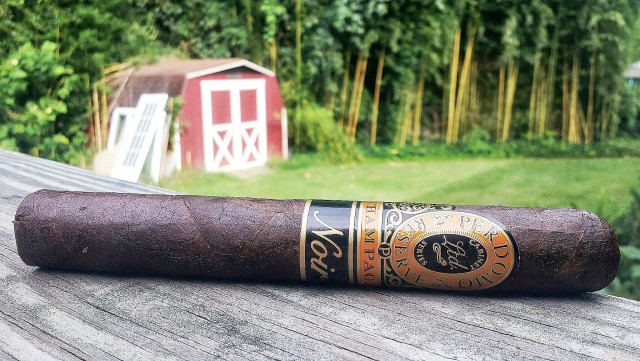 Up for review today is the Perdomo Champagne Noir. As a few have noticed on Instagram, I've been on a bit of a Perdomo kick for the past two weeks or so. What can I say? For the money, Perdomo is hard to beat. This stick features many of the same tobaccoes found in the Champagne 10th Anniversary, but with a unique, bourbon-aged Cuban seed maduro wrapper.
Blend Specifics
Wrapper: Bourbon-aged Cuban seed maduro
Binder: Nicaraguan
Filler: Nicaraguan

Appearance & Construction
Flawless construction. Perfect draw every time, much like my experience with Rocky Patel cigars. The wrapper is a dark chocolate brown with lots of tooth.  Minimal veins and a light oil sheen. The gold and black band pairs very nicely with the color of the wrapper. Off of the foot I get a whiff of cocoa, earth, granola, and a bit of spice.
Flavor & Smoke Characteristics
This cigar starts off with medium body smoke. I'd characterize the texture as somewhat earthy. Off the bat I pick up notes of sweet chocolate, a bit of white pepper, and a bit of a cherry note. About an inch in, the chocolate, cherry, and white pepper notes are dominating, very rich and pleasant. I'm also noticing though that burn issues are going to be a problem as well (see pictures).

Moving through the second third is more of the same profile. I'm glad that I have a bottle of water with me because as rich as this cigar is, it really stimulates salivation a lot, so be sure to have a drink with you for this cigar.
The final third is again more of the same and it ends how it began, which is a bit disappointing considering the profile is so enjoyable. I like to be surprised!
Conclusion
The Champagne Noir from Perdomo is an excellent cigar but it lacks the depth and dynamism that makes a top-tier cigar. I'd certainly keep a few of these in my humidor, but it isn't a box purchase like the original 10th Anniversary Champagne.
Final Grade: B+