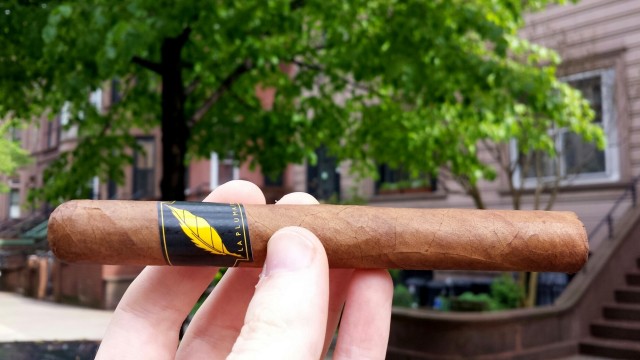 Up for review today is the Origin of Species by La Pluma Cigars. This brand sponsored our last Smoker Social at Merchants NY Cigar Bar, and they were a huge hit. I've only smoked a handful of cigars from La Pluma, but I'm already a big fan. Reasons below.
Blend Specifics
Size: Corona Gorda
Wrapper: Jalapa (Nicaragua)
Binder: Mexican San Andreas and Nicaraguan binders
Filler: Nicaraguan

Appearance & Construction
This cigar is presented beautifully. I love the offset and angled band, as well as the yellow and black color scheme. Construction is sold with a slightly restrictive draw.

Flavor & Smoke Characteristics
Off of the foot, I pick up notes of wood, cinnamon and a pleasant sweetness. Upon lighting, the cigar opens up with medium bodied smoke and a lot of flavor. Prominent is an oak note with a hint of vanilla and grassy sweetness.
At about half an inch in, another interesting note enters the mix. A salty sweetness that reminds me of caramel corn. Additionally, there's a nice spice on the retrohale. Unfortunately, at about this time the wrapper splits a little as well, though the problem corrects itself a few minutes later.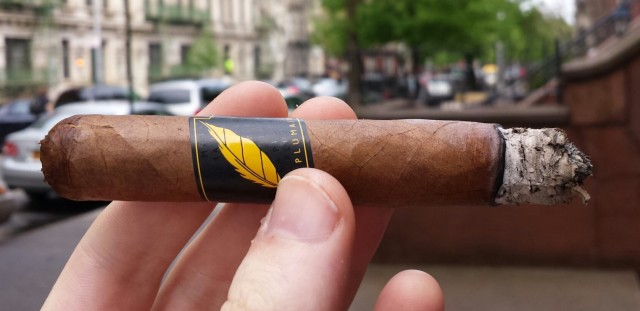 At 2/3, this cigar is still at a solid medium. The oak, spice, and vanilla notes are still present. The size really is perfect on this blend, bringing out the notes in a balanced way that is very enjoyable.
The final third is much the same. Little change in body or strength, though a bit of white pepper is present, hitting the tip of my tongue.
Conclusion
Overall, a very enjoyable smoke. The Origin of Species by La Pluma Cigars is a great first release. The profile is complex, well balanced, and maintains great strength of flavors through the entire smoke. I highly recommend this cigar to anyone interested in finding a great new boutique.
Final Grade: B+/A-