This is the first cigar review by avid New York City cigar reviewer and friend of Fine Tobacco NYC, Randolph Beers. Welcome Randolph!  Cesar Cigars is a recent Fine Tobacco NYC event sponsor, so I'm very happy to see a community member contributing a review on such a relevant cigar. Now I'll pitch it back to Randolph: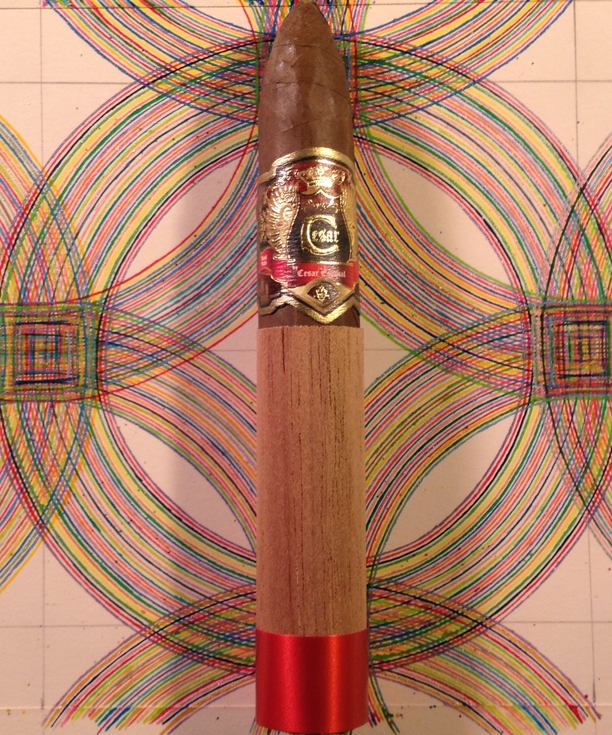 The Cesar Cigars Habano is a cigar new to the northeast market out of the Dominican Republic via Doral, Florida. Let's jump in to the review.
Blend Specifics
Cigar: Cesar Cigars Habano
Vitola: Torpedo 6" x 54
Wrapper: Ecuadorian Habano
Binder: Dominican Corojo
Filler: Dominican and U.S.
Appearance and Construction
This cigar has a milk chocolate complexion or can also be classified as a medium to light coffee with cream. Very even coloring throughout. The construction is very good, with only noticeably small veins, a tight, almost invisible seam, a slight even sponginess but very densely packed. The wrapper has a nice velvety, slightly oily touch that is smooth and with minimal tooth grain.
Pre-light Aromas
The wrapper is grassy and hay with dry cedar. The foot gives off a bit of cocoa, on the sweet side but not like milk, a red / cayenne pepper spice that lingers in the nose for a while, with hints of cinnamon. The cold draw gives off more cedar, grass and cocoa.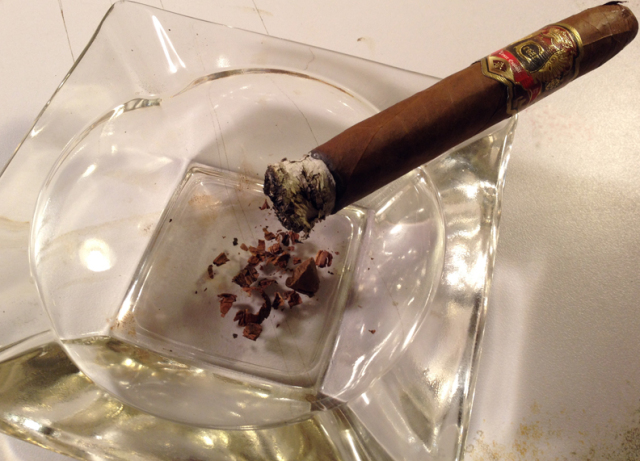 First Third
Starting the cigar off, the burn is slightly uneven but is most likely due to my lighting and is not indicative of the cigar. The cigar evened itself out pretty quickly and did not require any touch-ups. The first third sees notes of dry cedar, touches of cocoa, and notes of cashew with the finish being a medium white pepper lingering on the back of the tongue. As the first third progresses, grassiness and salt come into the fold with notes of an oatmeal kind of bread. The cigar itself is medium to full in flavor, medium strength and medium to full body smoke. Smoke pours freely off the foot and burns to a light grey to white ash, which is slightly flaky but holds on fairly well. The initial ash was 2" before I decided to tap it off and fell as one solid chunk.
Second Third
In the second third, I begin to notice how nice of a tobacco aroma this cigar gives off to the room, very classical and traditional. The saltiness and cashew nuttiness come to the front and the spice falls to the far back. The cigar is very mellow and smooth at this point, the smoke is thick and creamy. Bread moves to the front more as well a presence of earthiness that complements the grass notes. Reaching the halfway point, a good tobacco core makes itself more known and as the cigar warms the nuttiness comes up. Salt moving back and the finish is a nice clean cocoa with the cashew nuttiness.

Final Third
The band comes off nice and easy and is a self-adhesive. Transitioning from the second to final third, an herby sort of spice enters, along the lines of oregano or thyme. Adding to the grassy notes that are still apparent. Also coming back into the fold is a white pepper that lingers with a buttery nuttiness. Also, a decent amount of saltiness comes from draw that lasts through to the finish. The cigar finishes off a solid medium in strength, medium body, and medium to full in flavor but closer to the medium side. Toward the end, the cigar also leaves a peppery tingle on the lips and loses some of its smoothness, as the smoke gets warm.
Final Thoughts
This cigar carries thick plumes of rich, flavorful, chewy smoke. Though not overly complex, there's more than enough to keep one interested. No one flavor becomes dominant or overpowering but rather the flavors have a great interplay with one another. Every few draws switches around the profile from grassy, to salty to cashew nuttiness, cedar, touches of dry cocoa, bready with touches of white and red peppers. A clean, anytime of day smoke and rather refreshing in it's finish. The finish never lingers too long but doesn't die short, either. The cigar burns evenly and smooth and stays lit very well to be sipped on leisurely.
Similar cigars would be Puros Rocha Toro Especial, Hispaniola El Trabuco 1844, Vegas de Santiago D8, and Jose Blanco Senorial
Smoking time was 2 hours and 10 minutes but I'm generally a slow smoker.
Grade: B+/A-