Before we get into the results of the third-annual New York City Cigar Lounge of the Year Award, I want to make a moment to thank the over 200 NYC cigar smokers who voted in this year's contest. It was our largest voter turnout yet and we saw some really great comments roll in on the strengths and weaknesses of the different cigar lounges and cigar bars in the city. I'm also happy to announce that, as a service to NYC cigar smokers, we will be delivering the positive and constructive feedback to each cigar lounge in the city that requests a copy in the hopes that they will use the feedback to improve operations and provide even better customer experiences in the future. Now on to the main business. This year saw our closest race yet. After a week of voting, there was no majority winner, so we had our first runoff vote between the three lounges with the most votes:
The Finalists
1. The Cigar Inn (Manhattan)
2. Blew Smoke Cigar Room (Brooklyn)
3. Merchants NY Cigar Bar (Manhattan)
Honorable mention: Maxis Cigar Shop. I have to mention Maxis Cigar Shop in Franklin Park because of the large number of write-in votes they received! In their comments, voters for this shop mentioned selection and friendliness of staff and patrons as the main reasons for their votes.
---
In third place overall: Blew Smoke Cigar Room with 14% of the runoff vote. Although this cigar lounge is a relatively recent addition to the NY cigar lounge scene, it has quickly gained a following as a hip hangout in Prospect Heights, Brooklyn. Voters frequently mentioned the quality of patrons and friendly staff as their reason for voting for Blew Smoke. In second place overall, with 33% of the runoff vote is Merchants NY Cigar Bar. In 2012 and 2013, Merchants received just handful of votes, so it is equally remarkable that they have jumped to the #2 slot.  Voters recommended Merchants because of its decor, staff friendliness, and availability of full bar and food menus. Congratulations to Blew Smoke and Merchants! Now, without further ado, we announce the winner of the 2014 NYC Cigar Lounge of the Year Award. And the winner is…
The Cigar Inn

For the third year in a row, The Cigar Inn has won our coveted award with just over 53% of the total runoff vote. As in previous years, Cigar Inn won for a variety of reasons, including friendly staff, selection of premium cigars at competitive prices, ambiance, and clientele. What stood out among the voters, however, was one word: hospitality. Here we'll quote a few voters explaining why they chose Cigar Inn:
"The value of cigars offered, the environment and the staff. Bring all this together and the experience brings me back every time I step into the city."
"The owners treat everyone like they're special. Whether you're buying one stick or five boxes, you're always welcomed."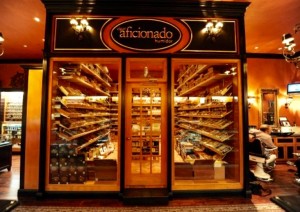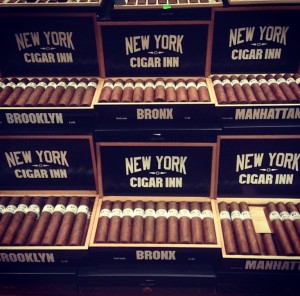 "The 73rd St location has figured out the right balance between allowing new folks to enjoy themselves without subtracting from the regulars' experience.  To me, creating that brotherhood is what the cigar lifestyle is about."
"I've been to pretty much all of the cigar lounges in the city, and the ONE and ONLY thing that distinguishes the CIGAR INN from the rest is the HOSPITALITY, warmth, and level of service of the management team."
Speaking from my own experience, I can say that all of these observations are true. That's why when I have a few hours free to smoke a cigar, Cigar Inn is my go-to spot. What's even more incredible to me, however, is that they have managed to create this experience and expand to new locations in a city so rife with costly anti-tobacco and anti-smoking regulations.
Billy, Gus, and Bass: you have created something truly special at The Cigar Inn, and so for a third year in a row we are proud to honor you and your establishment as the NYC Cigar Lounge of the Year.   Warm regards, Matthias Clock Founder, Fine Tobacco NYC Note to cigar lounge owners: to request your copy of feedback from your voters, email Matthias at matthias@finetobacconyc.com.