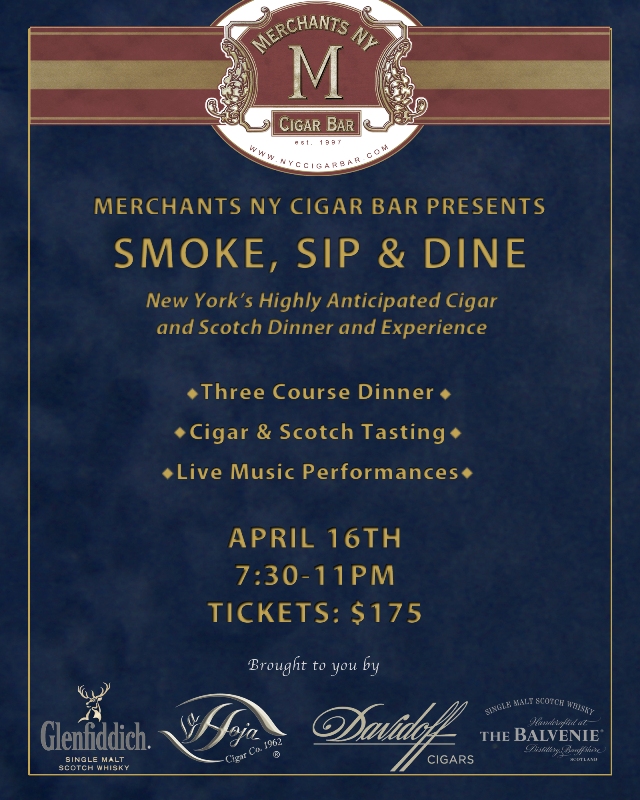 On Thursday, April 16th, we're breaking all the rules. For the first time, we'll be hosting a three-course cigar and spirits dinner on both floors of the gold-medal Neely's Barbecue Parlor. This event is only possible due to a rare legal exemption provided to Neely's/Merchants before NYC restaurant smoking bans went into effect.
The event starts at 7:30pm and will run until 11pm
UPSTAIRS: 7:30 – 9PM
Our three-course dinner upstairs features the new "Churchill" from Davidoff Cigars, live entertainment, a selection of wine and beer and a professionally guided pairings of single malt scotch from The Balvenie and Glenfiddich.
DOWNSTAIRS: 9 – 11PM
After dinner, guests will move downstairs to a closed-to-the-public Merchants NY Cigar Bar to pair new blends from La Hoja Cigar Co. with an array of paired drinks.
Tickets: $175 / all-inclusive
Dress code: Business casual.
---
* You must be 21 or older to purchase tickets to this event. Those under 21 will not be allowed entrance into the club.
**By signing up for this event, you give FineTobaccoNYC permission to send future cigar event invites via email.