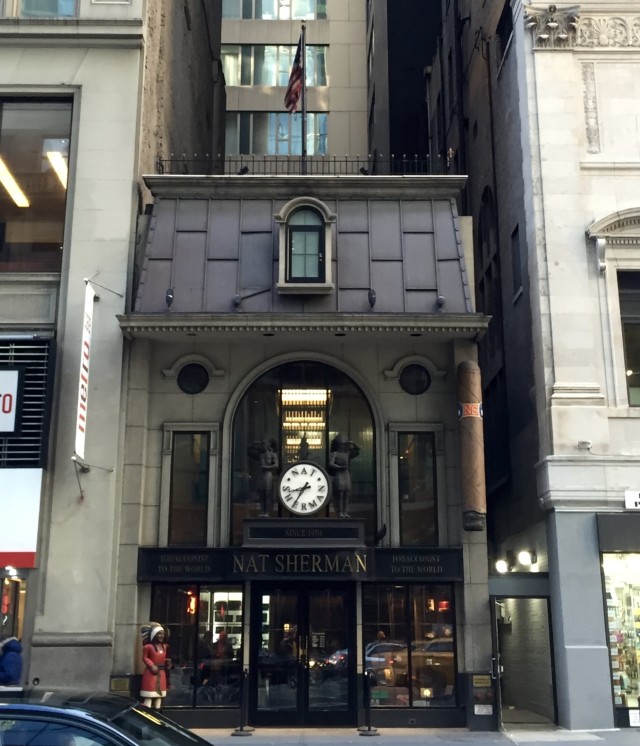 The Nat Sherman Townhouse stands as a calm safe haven of history and tradition in the perpetually fast-paced, tourist-infested, modern flurry that is Midtown Manhattan. It's subtle and unassuming on the outside; a little two-story, three floor townhouse with a classic facade, sandwiched in between two behemoth modern skyscrapers, a bit like the Little's house in the Stuart Little movies. However, much like the Doctor's T.A.R.D.I.S., the Townhouse is bigger on the inside than it would seem to the passer-by. Upon entering through the double glass doors around noon, I find myself in a spacious, ornately decorated lounge, the golden ceiling high up above my head. All I can hear is "Your Song" by Elton John playing on the radio.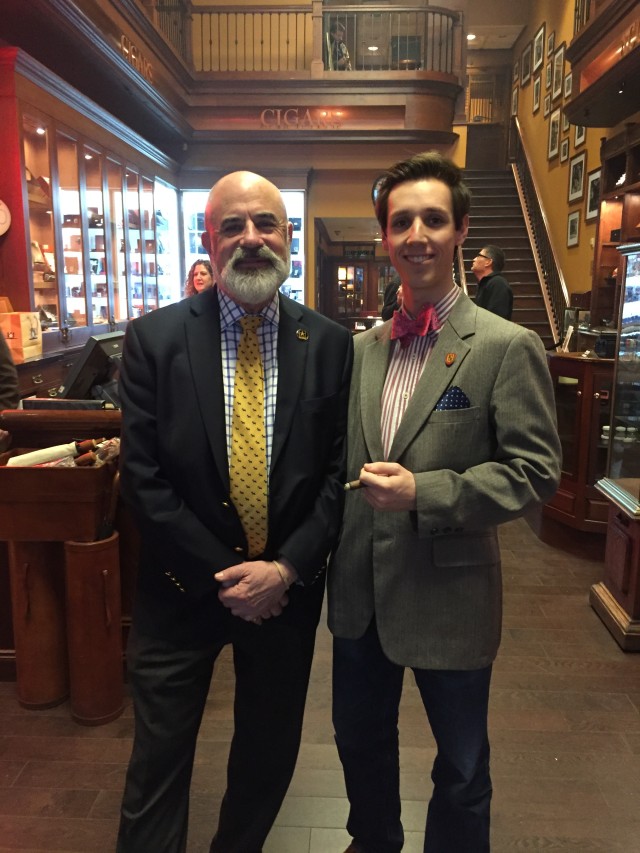 Before I can pick my jaw back up off the floor, a gentleman comes up to me and cheerfully greets me. He has no name tag, but he dons a tailored blazer with a US Army lapel pin and a pocket square, and sports a meticulously trimmed whitish grey beard. His name is Cliff, and he addresses me by name, remembering me from my sporadic previous visits. He gently escorts me towards the back of the Townhouse, where the walk-in humidor is.
I'm greeted inside by Barry, a humble longtime veteran of the cigar industry whose sole display of pride is a subtle lapel pin indicating his official certification in all things tobacco. He remembers me too, greeting me by name; he asks me about how Fine Tobacco NYC's latest event with Hiram Solomon went, and mentions seeing me in some the event photos. He immediately escorts me towards the Pan Americana shelf, where he knows one of my all-time favorite Sherman cigars reside. Barry professionally stands in the corner, allowing his many customers to take all the time they need in choosing their cigars, all the while exchanging jokes and tidbits of stories with them without losing a beat. I grab my Pan Americana and purchase it with Ryan, one of the younger members of the crew. As he compliments me on my bow tie, I can't help but notice his suit is tailored to perfection, giving me, and even the older guys a run for our money.
I initially have to stand, due to there being only about a dozen places to sit. No worries though; it gives me ample opportunity to converse with the amiable metalheads coming in from out of town for the first time to catch Black Sabbath at the Garden later tonight. Standing up also lets me admire up close the many ornately decorated humidors, signature cigar accessories, and framed pictures and autographed memorabilia by celebrities like Frank Sinatra up close while the radio plays John Lennon's "Watching the Wheels." The crowd is mainly a healthy mix of young and old men, with very few women to be found; not surprising, since the decor gives off more of a turn-of-the-century man cave vibe than anything else.
The Pan Americana cigar I'm smoking is what you'd get if you took the Townhouse itself and tried to make a flavor out of it based on its vibes, aesthetics, and feel. It's thick and well-drawn, and its flavor is about as richly earthy as you can get. Brilliant, to put it in one word.
A space eventually opens up, and I take a seat in one of the four chairs centered around a grand ashtray, right next to the register. I'm immediately drawn into a conversation between a construction worker named Roland and a Romanian American gentleman about the GOP primaries. The conversation is soft-spoken and enjoyable, despite the touchy subject, and it transitions seamlessly into Roland telling us about the time he unknowingly ended up offering a puff of his cigar to Paul McCartney on the street.
I go up to Leonor, the lovely female staff member, if I'm permitted to break out a cigar I brought from home. She smiles and approves, asking me if there's anything else I need. I ask if I can take a picture with her. She again says yes, and after a few well-placed one liners, Cliff gladly plays photographer. Roy Orbison's "Pretty Woman" is playing by this point, seemingly on cue. I'm even lucky enough to catch sight of Yakub, one of the Townhouse's managers. His wool and silk blazer, vest and bow tie combination alone, also meticulously tailored, indicate his rank; again, no need for a name tag. He greets me on his way downstairs and agrees to pose for a quick photo with Adam, another longtime staff member. It's a temporary reprieve from the great responsibility that comes with managing one of the City's most iconic cigar lounges, but as the photo shows, Yakub joyfully carries a heavy weight on his shoulders.
Cigars are smoked, more stories are told, jokes are exchanged, wisdom is passed down, good times are had by all. Next thing I know, it's 4:30. As I prepare to leave, the staff and my smoke mates bid me farewell one by one. It certainly wasn't my first time smoking at the Nat Sherman Townhouse, and it certainly won't be my last, if I have anything to say about it.
But that doesn't make it any harder to leave.