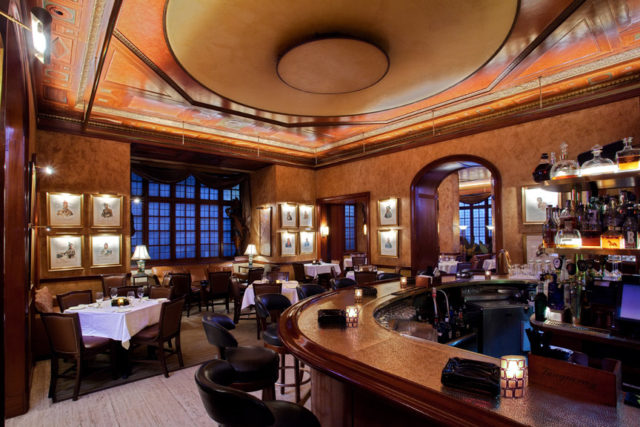 The Upper East Side is its own entity. It's high-class (and high-rent, I might add), it's old money, it's calm, it's sophisticated, and it's old-fashioned; Club Macanudo is no exception to the Upper East Side norm.
I walk up three blocks from the N train stop on 59th and 5th and hang a right past Madison, and the be-suited doorman kindly asks me for my I.D. After we share a hearty laugh over the long hair on my license picture, he gracefully opens the large wood-and-glass door.
As I walk up the marble stairs past the enormous framed mosaics of old gilded cigar wrappers, I enter the lobby, illuminated by lamps with tobacco leaves as lamp shades, and centered around a brilliant   carved-wood reception desk is. The smoky air, bronze-tinted walls, and leather furniture occupied by sophisticates dressed to a tee reminds me of the lobbies of the Hotel Plaza and the Hotel Parque Central when I visited Havana.
Suddenly, I'm brought back from my self-imposed nostalgia trip by Jeffrey, a dashing-yet-soft-spoken young man who apologetically informs me that I'll need to wait for a table. Paolo, the manager, is with him, and he assures us he'll personally see to it we have the first available table. I look towards the main room and notice there's a particularly big crowd for a Wednesday night. No problem, though. Jeffrey kindly escorts me to the bar, where my old man and I enjoy some Gin & Tonics as a music trio belts out Sinatra. The music brings the volume level up a few notches; yet, the atmosphere remains surprisingly calm, with all of the patrons enjoying each other's company.
I notice a gentleman with a perfectly-trimmed beard next to me smoking a '64 Padrón. I compliment his choice, and not even two minutes go by before we're sharing jokes, talking music and religion, and exchanging email addresses. While my new friend Brian and I are carrying on, we're joined by Rachel, a Doctor Who fan from Alabama who moves in to compliment me on my bow tie, which reminds me of Matt Smith's Doctor.
The fun makes the wait go by in a flash; right when it seems we were just getting started, Jeffrey comes over and escorts my old man and I to the first available table, just as Paolo promised. We part ways with Brian and Rachel and follow Jeffrey to our table, strategically located across from a large painting depicting larger than life figures like JFK and Sigmund Freud smoking cigars together. There's a group of middle-aged professionals sitting at the table next to ours, loudly enjoying their prominently-displayed Cuban Cohibas with their cocktails.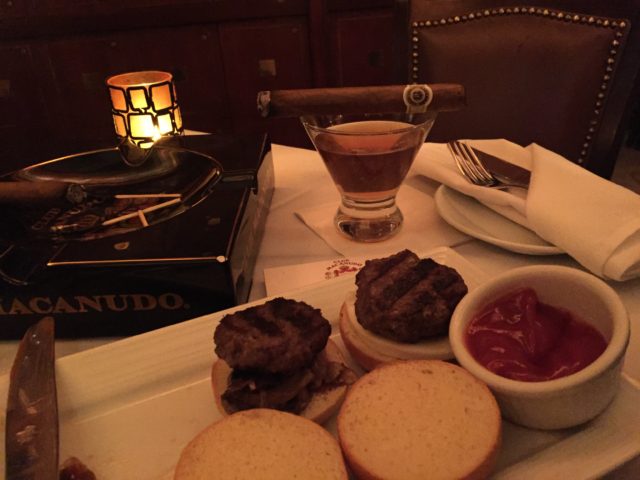 The gold-plated menu has everything: Signature Libations, dinner items, and the biggest cigar selection I've ever seen on a menu. It's a no-brainer; we order a Tartar Pyramid, Maryland-Style Crab Cakes, and a plate of Sliders, all of which are made to perfection. We slowly wash them down with a Granhattan, one of the club's Signature Libations, consisting of High West Double Rye whiskey, Sweet Vermouth and Grand Marmier, with lemon peel garnish on the glass's rim. My old man notes the accentuated efficiency and professionalism of the staff every chance he gets, and the point isn't lost on me.
We finish off with a nice mild cigar, something Macanudo specializes in. My old man selects the Hampton Court, a 5 ½ x 42 connecticut robusto, while I help myself to the Thames, a hefty 6 x 50 toro. Macanudo has been accused of downgrading on the quality of their cigars by some aficionados in the aftermath of being acquired by General Cigar Company. I find such accusations completely without merit when it comes to the Thames. It's draw is but an iota short of flawless, and the mild, creamy cedar flavor is free of any sour or bitter notes. This means the cigar was aged perfectly, and not rushed through the years-long aging process. At the same time, the flavor is deep and rich, which makes the equally rich and sharply-flavored Granhattan an excellent compliment to the Thames.
Paolo the manager comes over to personally inquire about our evening; we compliment him on not just the quality of the food, drink and cigars, but also on the quality service of the staff. He obliges with a big smile when I ask for a photo with him, eagerly adjusting his tie before putting his arm around me for the camera.
We pay the bill, thank the staff a few more times, and head out into the night. It's hard to say goodbye in this instance, but with the high quality present in every facet of its business, you can bet your life I'll be back in Club Macanudo sooner than later.