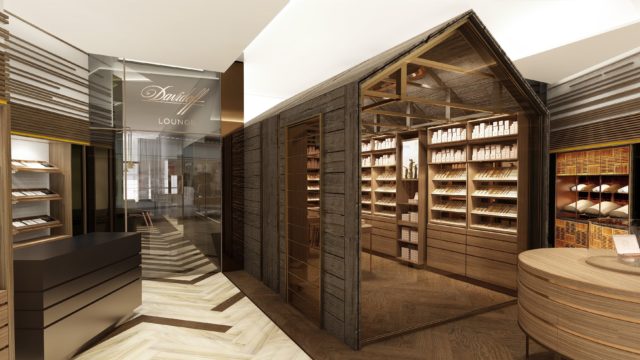 "Time beautifully filled" – that's the Davidoff philosophy, and nowhere in NYC is it more evident than in their spectacular 2,000 square foot flagship store nestling in the beautiful Brookfield Place shopping center.
Like so many other old-school NYC cigar lounges, "Davidoff of Geneva – since 1911" gives off a very classy vibe, but unlike others there's nothing old school about this bright, thoroughly modern establishment.
However, there's definitely an air of serenity surrounding you as you check out the retail section before exploring the glass, copper and dark wood humidor –  the only place on earth to find the Davidoff NYC Downtown Exclusive, specially commissioned just for this store.
This elegant, well-balanced Belicoso, with its aroma of honey and sweet roasted nuts, is the perfect accompaniment to your first coffee of the day.  And you're more than welcome to bring that coffee – or any other kind of non-alcoholic beverage – into the lounge with you, as refreshments aren't available for purchase there.
And of course you'll also find the full Range of Davidoff cigars in the humidor as well, together with offerings from Padrón, Arturo Fuente, My Father Cigars and Illusione, to name but a few.
Plush leather seating beneath the spectacular chandelier and tobacco-leaf themed art installation in the lounge itself caters for every kind of smoker:  there's table seating for sociable groups, paired seating for one-to-one conversations and large lounge chairs set apart for those preferring their own company while enjoying a smoke.
This store is the perfect example of Davidoff's philosophy of "Time Beautifully Filled", so where better to fill your time – beautifully – than at "Davidoff of Geneva – since 1911"?
Opening hours:
10am – 8pm Mon-Sat
12pm – 6pm Sun
Location / Contact
225 Liberty Street Space 126
New York, NY 10281
(212) 897 – 2866
www.davidoff.com