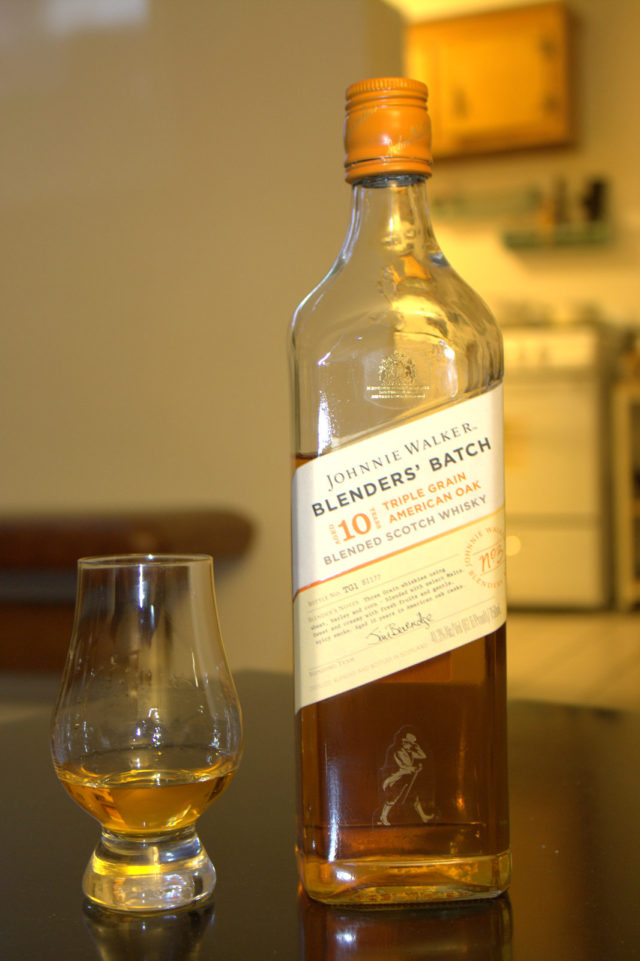 I happened across a bottle of Johnnie Walker Blenders' Batch 10 Year Triple Grain (called "Johnnie Walker 10 year Triple Grain" for the remainder of the review–too much of a mouthful) at my local liquor store and was intrigued enough to pick it up. I'm glad I did.
Interestingly, as of my writing of this article (2/14/2017), there's almost zero information about this product available online. The whisky isn't even listed on the Johnnie Walker website under the "Limited Edition" category.  Either way, the bottle came with a bit of information. This whisky is a blend of 10 year whiskies from the Port Dundas, Mortlach, and Cardhu distilleries. The bottle's "Blender Notes" includes this description:
"Three Grain whiskies using wheat, barley and corn – blended with select Malts. Sweet and creamy with fresh fruits and gentle, spicy smoke. Aged 10 years in American oak casks."
On with the review…

Product Specifics
Brand: Johnnie Walker Blended Scotch Whisky
Distillery: combination of Port Dundas, Mortlach, and Cardhu distilleries
Age: 10 years
ABV: 41.3% ABV (82.6 proof)
Nose
The nose is gentle, but complex, with hints of fresh-sliced bananas, vanilla, sweet maltiness, all rounded off with a touch of sea-salt.
Palate
On entry, this scotch tingles the tip of my tongue. As the liquid expands in my mouth, the flavor is complex and balanced, with sweet spiciness, hints of vanilla, caramel, touches of smoke, charcoal, and salt.
Finish
The finish is long and pleasing, with cereal and sweet maltiness followed by hints of sea salt and light smokiness.
Conclusion
Other blogs will surely go into much more detail about the origins and innovations of Johnnie Walker 10 Year Triple Grain. As for your humble servant, this is a scotch I recommend. It has most all that I look for in a quality offering: complexity, balance of competing flavors, and a mix of sweetness, spice, and smoke.
If my local liquor store wasn't currently closed, I'd be walking over now to pick up at least another bottle. At $33/bottle, I could see this bottle being a standard on my shelf, alongside my other standards at this price point (Monkey Shoulder and Tomatin 12 year to name two).
Final Grade
A-