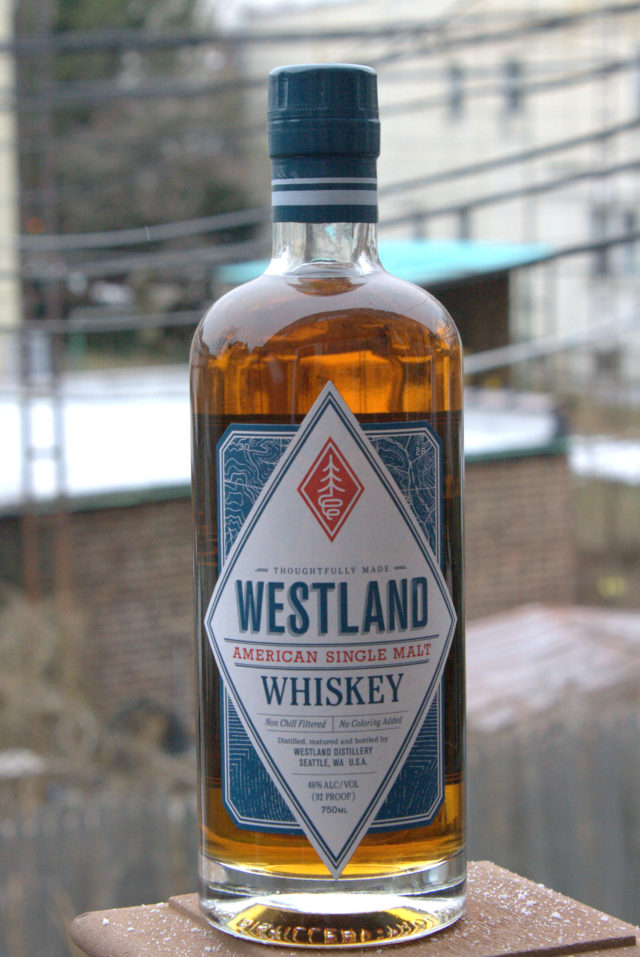 It isn't often that I get to review a whiskey from my home, the Pacific Northwest. From what I can tell, Oregon and Washington have been just as affected by the craft whiskey fever going on, and I'm thankful for it.  The Northwest has a rich tradition of craftsmanship. You could even call us the original hipsters (step aside Brooklyn). That isn't to say every whiskey produced in the NW is amazing, but I have to say there are only a few other states that I've been as impressed with as Oregon and Washington.
Ok. /endrant. On to Westland Whiskey.  In my conversations in the New York City whiskey community, the name had simply come up too often as a recommendation for me to turn down. So when I saw a bottle of this Westland American Single Malt Whiskey (also known as Westland American Oak Whiskey) off of my subway stop on 30th Ave in Astoria, I knew the time was right. And now, months later, I've opened the bottle and am working my way through for this review.
Shall we?
Westland Single Malt Whiskey
Product Specifics
Distillery: Westland Distillery
Origin: Seattle, Washington
ABV: 46% (92 proof)
Casks: Cooper's Select New American Oak, Cooper's Reserve New American Oak, First Fill Ex-Bourbon
Price: ~$70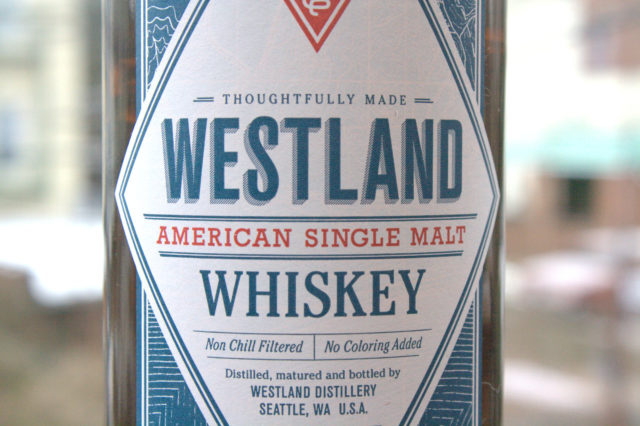 Appearance
To start with, I'm a big fan of the way that Westland has branded themselves. Unlike many American whiskey companies that continue to play off of the (rather tired) "wild west" motif, Westland blends a number of aesthetics: a straightforward American-esque typeface, a great slogan ("Thoughtfully Made"), and a label design that speaks not only to the Northwest but — and I know I'm reaching here — is also reminiscent of the tribes native to the Pacific Northwest.
The whiskey itself is a deep golden honey color. When I swirl the whiskey in my glass, the legs are long and thick, which prepares me for the medium to full bodied texture I'm about to sip.
Nose
On the nose, I pick up malty notes along with oak, balanced fruitiness (fresh-sliced apples and oranges), and hints of caramel.
Flavor
As indicated on the nose, this whiskey is medium-full bodied in texture, yet the finish is still remarkably clean. Flavor notes include vanilla, baking spices, oak, sweet maltiness, light pepper, and a buttery finish.
Conclusion
Surprisingly, for all of the rave reviews I've heard of Westland in conversation with whiskey lovers and even the guys at Park Ave Spirits, I've seen somewhat underwhelmed reviews at some popular whiskey websites. Now, it is true that this whiskey retails for about $70, which compared to many other American Whiskeys is high. But this whiskey is unique because it combines the charisma and dynamism of American whiskey with the craftsmanship and balance of the Scottish.  Strongly recommended.
Final Grade: A