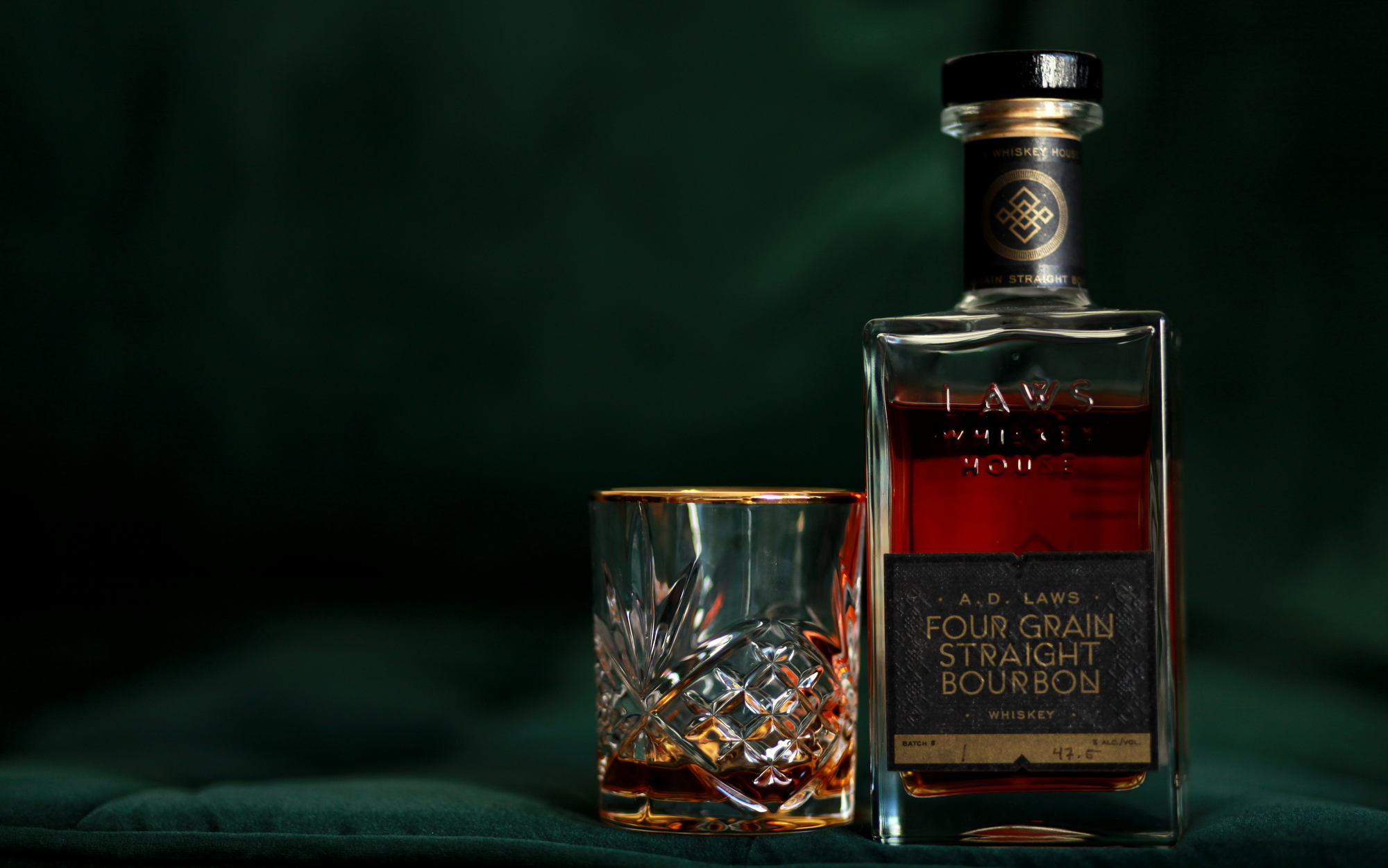 When I have friends over, whiskey (and/or cigars) is usually involved. For the New Years party my wife Catherine and I were hosting at home, I brought out two bottles: Michter's Single Barrel Rye and High West Midwinter Night's Dram.  A good friend of mine brought along the bottle of A.D. Laws Four Grain Bourbon, and he was kind enough to leave it behind for me to write a review. I probably have had more now than my fair share, but Kyle you left a bottle of whiskey at my house—what did you think was going to happen?
In any case, I wasn't familiar with Laws Whiskey House before today, but had heard some good word on the street about it. This whiskey hails from Colorado, which has become—at least in my view—a leading producer of quality boutique American whiskies. If you want to learn more about the Laws Distillery, stop by their website here. Let's get on with the review.
Product specifics
Distiller: Laws Whiskey House
ABV: 47.5% (95 proof)
Age: "No less than 3 years" (3 years in American white oak)
Mashbill: 60% corn, 20% Colorado-grown wheat, 10% Colorado-grown rye, 10% Colorado-grown barley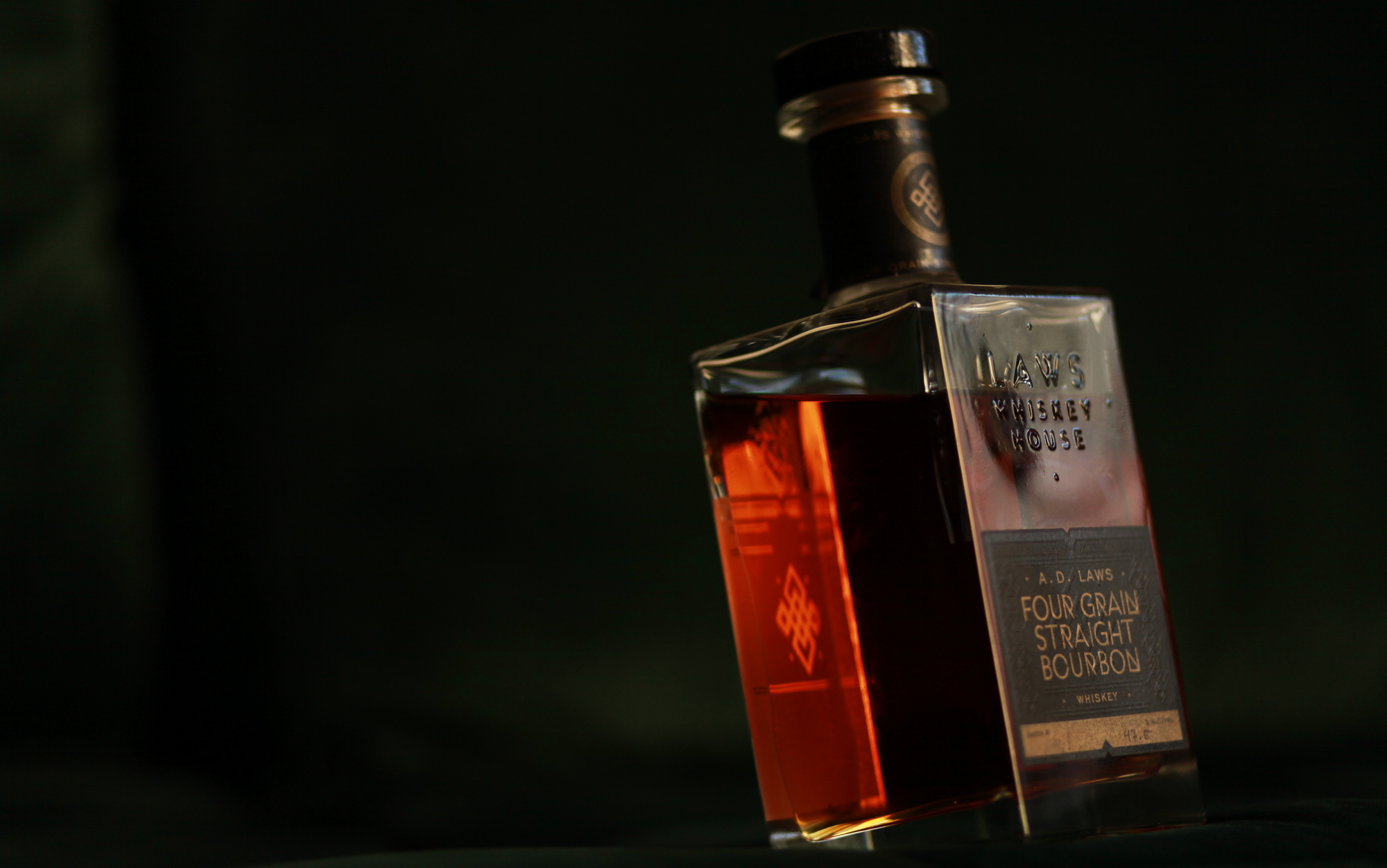 Appearance
In the glass, J.D. Laws Four Grain Bourbon is a deep caramel color with a slight reddish hue (much darker in the bottle). The bottle itself is really quite beautiful. I love the four sharp corners of the squarish design. I'm also a fan of the bottle design because it's beautiful but it also functionally works unlike some other whiskies with really cool bottle designs. Most intriguing to me is the square insignia on the back of the bottle. As best as I can tell, the three main large squares are reflective of the three components of the A.D. Laws mantra: Craft over commodity. Quality over quantity. Whiskey above all.
Great mantra. Now let's see how the product stacks up.
Nose
The nose is fairly strong, with a decent dose of ethanol burn (hard to get rid of at more than 45% abv, though that's no excuse). Aromas coming out of the glass include dark cherries, baking spices (cinnamon), some corn, and a bright sort of tinny smell present.
Palate
Wow. Lot's going on here. Spice is dominant, with additional flavors of rocky candy, burnt cookies, some butter and maybe an apricot note here and there. Overall though very spicy and oaky (think double-cinnamon snicker doodle cookie).
What I love about this dram is that I can clearly, distinctly sense the influence of the different grains involved in this whiskey. The corn influences the flavor in a way typical with many bourbons, lending the whiskey a sweet, syrupy initial quality. Moments later, the syrupy texture passes on to reveal the dry (though still sweet) influence of the rye and wheat.
Finish
The finish is long and predominantly rye-influenced, i.e. it is very spicy. The finish leaves a faint, bready flavor, alongside a slight maltiness, which I take to be the influence of the barley. The finish is probably my only area of complaint: it's a bit too long for me, and I find myself wanting the it to clear.
Conclusion
At about $60/bottle, this bourbon might seem expensive. Relative to other bourbons on the market, it is. But I've noticed (this is as of Jan. 1 2018) that the average price point of American whiskies entering the market is skyrocketing, so I'm not sure $60 is surprising at all.
But, back to the point. The J.D. Laws Four Grain Bourbon is a great whiskey. It delivers big, bold flavors, and matches that boldness with complexity that I only find in a fraction of other bourbons on the market today (Eagle Rare 10 Year comes to mind). I'm looking forward to trying other whiskies from this producer.
For the bourbon or American whiskey enthusiast, my recommendation for the Four Grain is a strong buy.
Final Score: 89