I'm from Portland, Oregon, currently living in New York City with my wife, Catherine. Catherine's family lives in Fairfax, Virginia, and we make a few trips down there a year to see family. I had complained a few times at how I hadn't been able to try many of Virginia's many whiskey distilleries. One of my brothers in law heard and bought me this bottle of Kopper Kettle Whiskey for Christmas, a gift which I was grateful for on Christmas day and have become more grateful for after coming to the conclusion that the folks at Belmont Farm really know what they're doing with their whiskey.
Still, Kopper Kettle remains a largely unknown whiskey around the country, so I figured I'd put together a review of my experience of this bottle.
Here's what the Belmont Farm website has to say about Kopper Kettle Whiskey:
The first in our Kopper Kettle line, our Virginia Whiskey is a unique product with many fans.  Its starts off as a 3 grain whiskey and then soaks for 2 months with charred Virginia white oak and Virginia apple wood.  Then we age it 4 years in oak barrels. Many of our customers enjoy it neat or with a splash of water for a beautiful, relaxing, sipping whiskey. However you choose to drink it, join the thousands that prefer it to all other aged whiskies. 
For any distillery, that last part is a bit of a gutsy claim. So let's get to the review and find out what this whiskey is made of (literally and figuratively).
Kopper Kettle Virginia Whiskey Review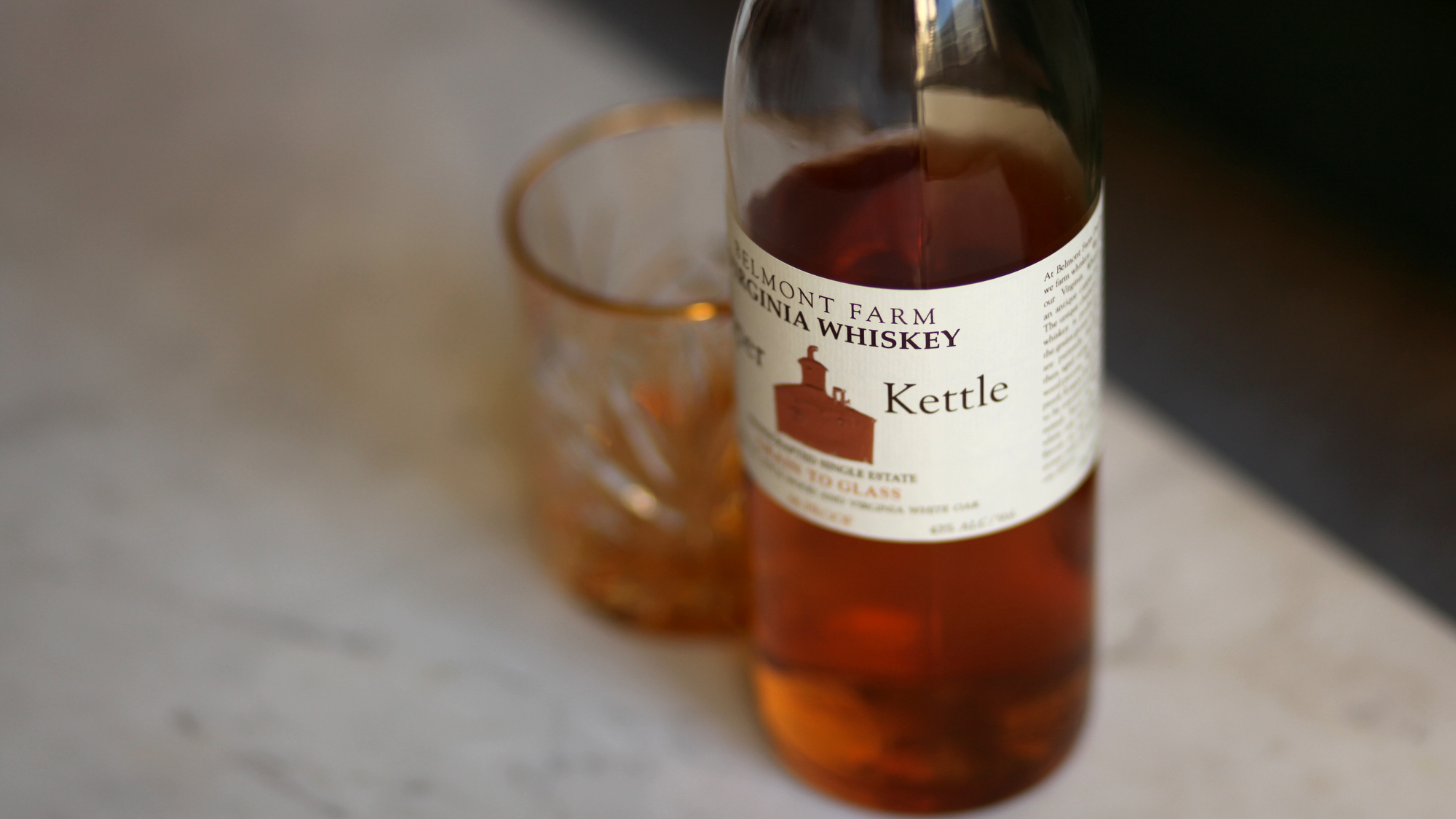 Product Specs
Distiller: Belmont Farm
Mash Bill: "Three Grain"
Aged in: Virginia White Oak / Virginia Apple Wood
Age: 4+ years
ABV: 43% (86 proof)
Price: ~$30

Appearance
Kopper Kettle Whiskey is presented in an understated bottle. It compares very favorably to the dark, loud bottle the whiskey was packaged in a few years ago. For myself, I'm in love with it. I really appreciate the raised copper insignia on the bottle and how its color matches the whiskey almost perfectly.
As far as what's in the bottle, I'm afraid my camera didn't quite capture the color as faithfully as I'd like. It's a few shades lighter in reality (a bit more yellow than orange).
Nose
A moderate amount of ethanol burn, along with aromas of bread, oak strips, vanilla, and orange zest.
Palate
Extremely smooth on entry. Light, sweet, and very round, with bananas, honeyed bread, oak, and vanilla.
Finish
Moderate in length, with a bit of spice and ethanol. Overall, very clean.  My only critique here is the lingering sweetness, which is a bit too strong for my tastes.
Conclusion
Kopper Kettle Whiskey isn't a showstopper, flavor bomb whiskey. It is, however, an an extremely easygoing, enjoyable whiskey that I find myself returning to night after night. It has a great balance of flavors, and is just sweet enough to be enjoyable any time of the day. Ultimately, unlike so many other boutique American whiskies, Kopper Kettle Virginia Whiskey seems to have focus. It knows what it's about. It tells a delightful story, over and over again.
I'll be pursuing other expressions created by Belmont Farms. They know what they're doing.
Final Score: 89