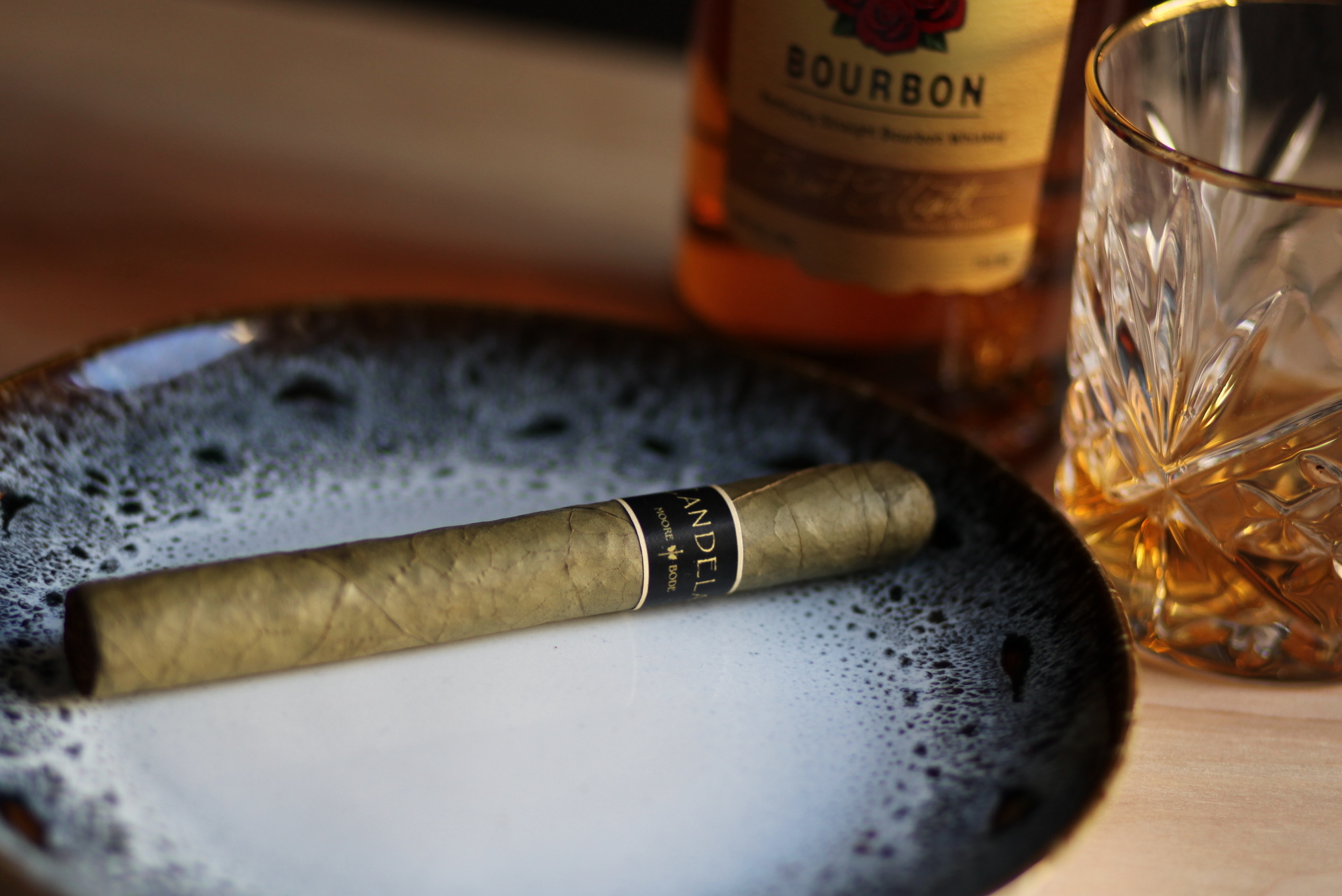 Up for review today is a cigar by a relatively unknown brand called Moore & Bode. Though you may not have heard of it, the company is not new to the cigar world. The Florida based company has been in operation since 1990. The website claims that Moore & Bode "remains a privately held cigar manufacturing company with some of the most sought after products in the market. Among these is the Moore & Bode Mark of premium handmade cigars acclaimed for absolute excellence in manufacturing and uniquely beautiful flavor and aromatic qualities."
Since receiving a package of cigars for review from the company, I've been looking forward to reviewing the Candela. Not only is it a beautiful cigar, but one whiff off of the foot told me that it would provide a unique smoking experience. The question of course is, "in a good way, or bad?"
Let's find out.
Product Details
Cigar Reviewed: Moore & Bode Candela
Size: Toro (6 x 50)
Wrapper: Ecuadorian Candela
Binder: U.S. Dark Fire Cured
Filler: Europe and Caribbean Islands
The company holds most other details secret. According to the website:
The origin and details of Moore & Bode's leaf tobacco sources are kept secret. Together with excellence in manufacturing, it is this unwavering commitment to privacy that secures its cigar products' distinct identity and position in a very competitive industry…
For its current production the company sources tobacco varieties from regions across the globe delivering an attractive and complex range of character to the consumer.

Appearance & Construction
The Moore & Bode Candela is striking first and foremost because of its bright green candela wrapper. The wrapper itself is quite beautiful, with a few significant veins, light oil, and a velvety feel on the fingers. The black and white band, though a bit blurry, complements the green candela wrapper well.  The cigar is very soft when squeezed, and its consistent down the length of the cigar.
The foot gives off extremely unique aromas, dominated by a strong herb note. On top of that are bright touches of white pepper and garlic. The pre light draw is about a 6/10 in terms of the amount of restrictiveness. It's very clean, with the slightest touches of grass and sweetness.
Flavor & Smoke Characteristics
The Moore & Bode Candela kicks off with mild bodied, smooth smoke (and great smoke production). The finish is extremely clean, and the smoke is highly aromatic. Initial flavors include oak, sweet spices, herbs, and cream. The retrohale is pleasant, with touches of white pepper and sweetness.
By an inch in, the burn is almost completely straight and the mostly white ash is still holding on. My only complaint at this point is that it seems that the cigar has trouble staying lit past about a minute or so.
Heading into the second third, the flavor and body builds from mild to about halfway to medium, though the texture remains very fine. No change in flavors, save a bit of cinnamon entering the aroma. The cigar continues to have a tough time staying lit, but never goes out completely.
In the final third, herbs and grass notes become prominent in the overall profile, along with leather and a stronger spice on the retrohale. The oak which had rounded off the flavors in the first half of the cigar is much less significant than before.
Conclusion
The Candela from Moore & Bode delivers a pretty awesome smoking experience. Mild but robust, clean but flavorful. Most importantly, the cigar introduces flavors that consistently complement each other well.
This cigar is not easy to find. If you are interested in purchasing Roy & Bode Cigars, contact their team via their website.
Disclaimer: this cigar was gifted for review by Rob Moore of Moore & Bode cigars. Fine Tobacco NYC retained all editorial rights in writing this review.
Final Score: 91