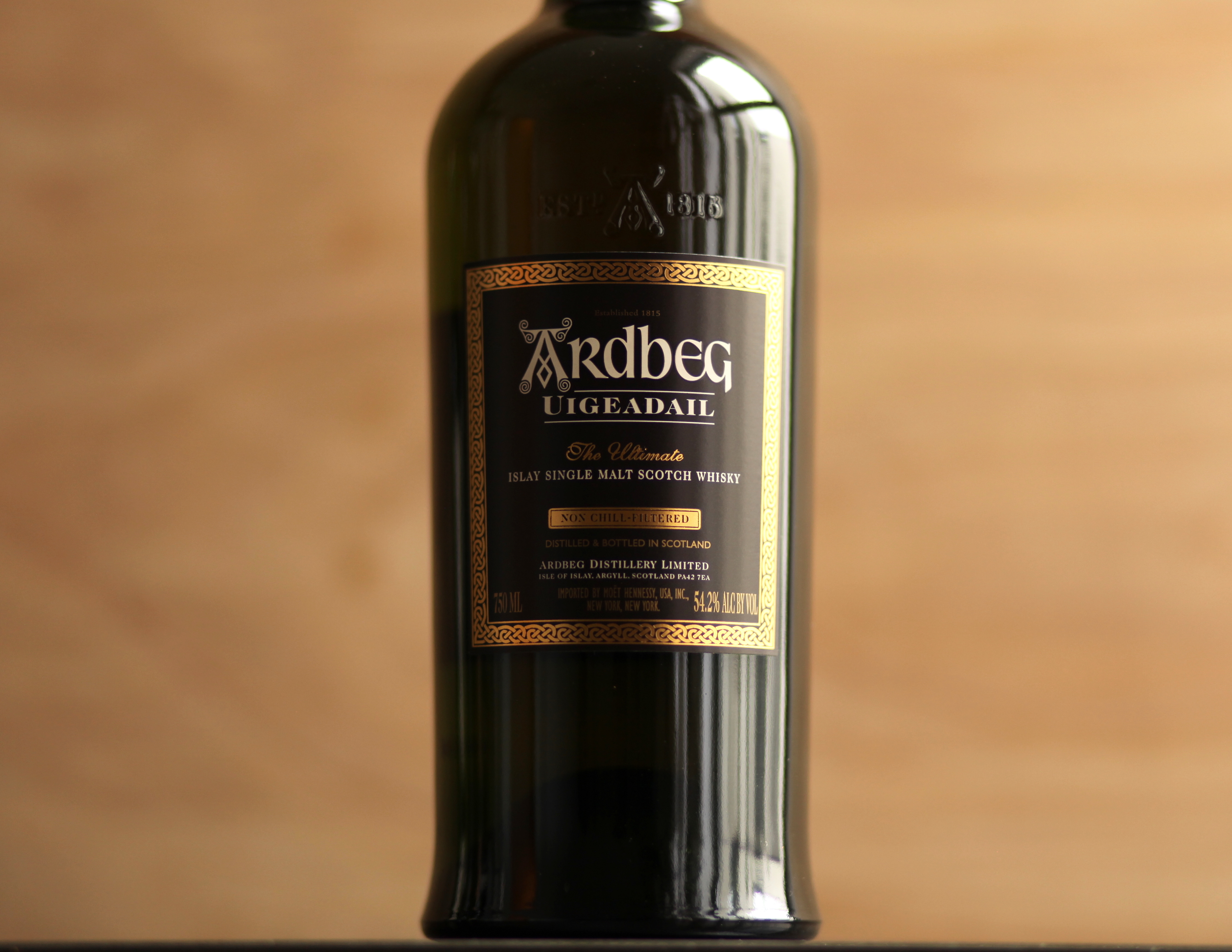 Up for review today is Ardbeg Uigeadail. It's a bottle of scotch that in some sense needs no introduction. It has, after all, been introduced by many whisky experts so many times before, including by Jim Murray, who in 2015 named it the World Whiskey of the Year. That designation alone (setting aside the whisky's many other accolades), makes it a difficult dram to introduce.
"Uigeadail" (pronounced 'Oog-a-dal') derives from the Scotch Gaelic for 'Dark and Mysterious Place.' The whisky inside the bottle delivers such complexity of flavor I'm temped to say that I was left in a bit of a dark and mysterious place while writing this review. But after a number of separate sittings, I think I'm ready to put metaphorical pen to paper.
Product Specifics
Whisky Reviewed: Ardbeg Uigeadail
Distiller: Ardbeg Distillery (Isle of Islay, Argyll, Scottland)
Mash Bill: 100% malted barley
ABV: 54.2% (108.4 proof)
Casks: first and second-fill ex bourbon oak casks and sherry butts
Age: No Age Statement (NAS)
Price: $75

Appearance
The bottle carrying Uigeadail mirrors its name: dark green, shadowy, and brooding. The whisky itself is the color of a light, thinly spread honey.
Nose
Deeply complex. The aroma off of the glass is balanced between meaty aromas of smoke, salt, and old leather, sweet notes of stone fruits (plumbs) and floral, all rounded out with oak.
Palate
Uigeadail enters smooth and sweet, with butter and caramel. Within about four seconds, the flavor expands across the palate and quickly brightens. The caramel note vanishes, replaced with drier notes of tobacco, black pepper, and peat.
Finish
Long, roughly twenty seconds. Leather, heavy charred wood/charcoal, brown sugar, and bread.
Conclusion
Ardbeg Uigeadail is legendary for good reason. It's a superbly complex, expertly balanced dram that made me second guess my tasting notes more than once. Is it my favorite Ardbeg? It's hard to say. Uigeadail hits the gas pretty hard on flavor and manages to stay firmly in balance. But I do wonder if releases like Corryvreckan manage to pack just a bit more flavor and remain as balanced as Uigeadail.
All of that, however, is a bit irrelevant. Uigeadail sips like a $300 bottle of scotch. $75? $90? $100? A no brainer. Give it a try.
Disclaimer: Though by no means my first ever (or second or third ever) bottle of Ardbeg, this bottle was gifted for review by Ardbeg.
Final Score: 93