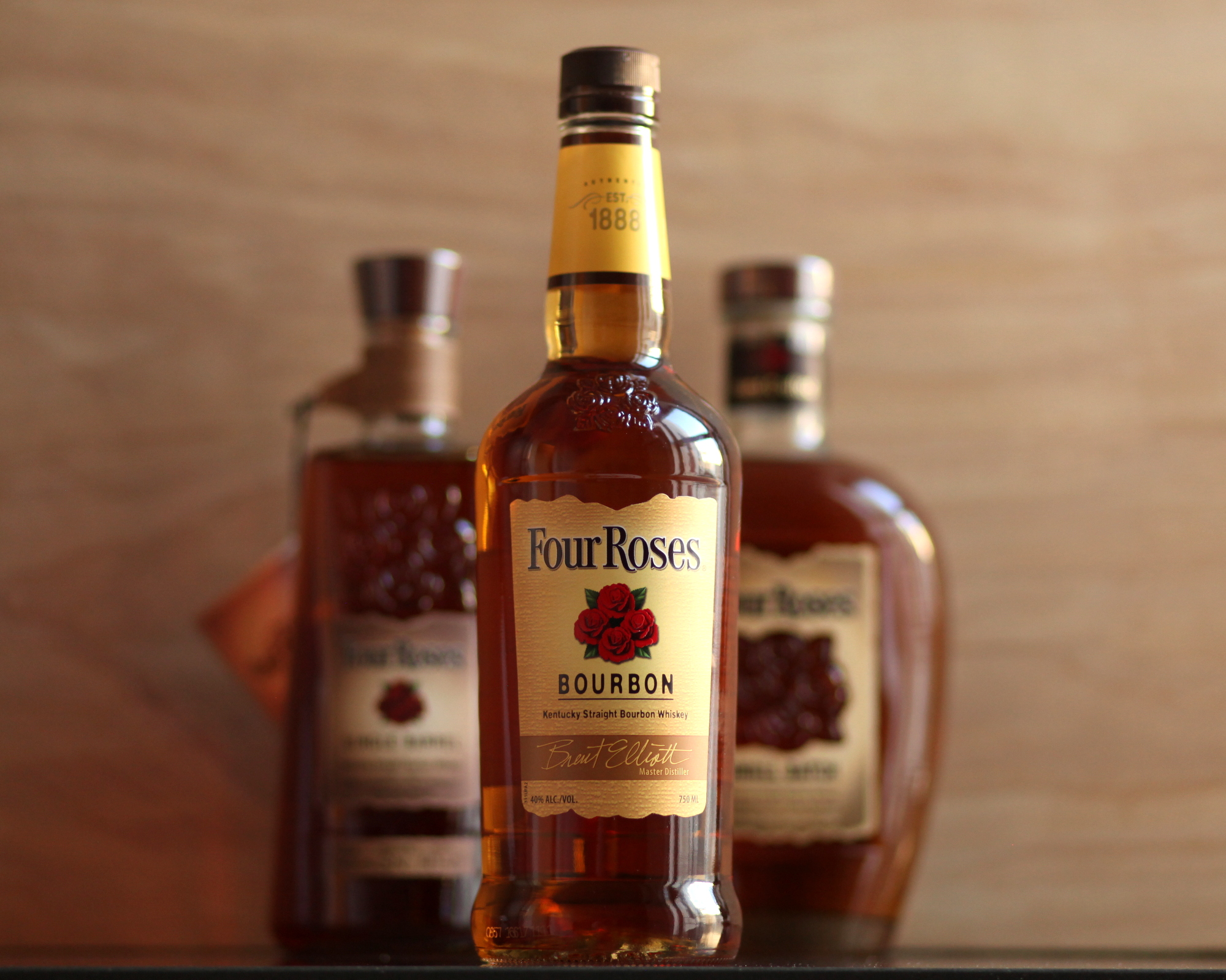 Up for review today is Four Roses Yellow Label, the company's entry level product. Calling anything from Four Roses "entry level" though could be a bit of a misnomer. Unlike many bourbon boom companies that churn out poorly balanced, mediocre bourbon blends, you'd be hard pressed to find any Four Roses bourbon that doesn't reach a high level of quality.
That said, even legendary whiskey brands need to be interrogated from time to time. So let's get on with the review.

Product Specifics
Whiskey Reviewed: Four Roses Yellow Label
Distillery: Four Roses
ABV: 40% (80 proof)
Mashbill: blend of 75% corn, 20% rye, 5% malted barley and 60% corn, 35% rye, 5% malted barley
Age: ~5 years

Appearance
Four Roses Yellow Label is contained in a classically shaped bottle. The whiskey itself is a light amber.
Nose
The nose is gentle and light, but bright, with very little ethanol. From the rim of the glass come aromas of light spice, faint pepper, pears, and caramel. Very enjoyable.
Palate
Four Roses Yellow Label is soft and gentle on entry. Flavors of corn, caramel, rye spice, and a few others that are difficult to place. This difficulty could be a limitation on my part as a reviewer, but my sense is more that the flavors simply aren't as distinct as more skillfully complex whiskies.
Finish
Moderate in length, with a touch of burn, corn sweetness and yeast. I could do without the yeast.
Conclusion
Four Roses Yellow Label is an extremely drinkable whiskey, something that can't be said about all $20 whiskies. The aromas as well are very enjoyable. To me though, the lack of clarity in the flavors on the palate figures in unfavorably for this whiskey (though other reviewers don't seem to mind). Some argue that makes this a great mixer, and that's fine. But this isn't a cocktail review, it's a whiskey review.
With all that said, Four Roses Yellow Label is a good whiskey, and is well deserving of a spot on your shelf.
Disclaimer: Though by no means my first ever (or second or third ever) bottle of Four Roses, this bottle was gifted for review by the Four Roses Distillery.
Final Score: 87