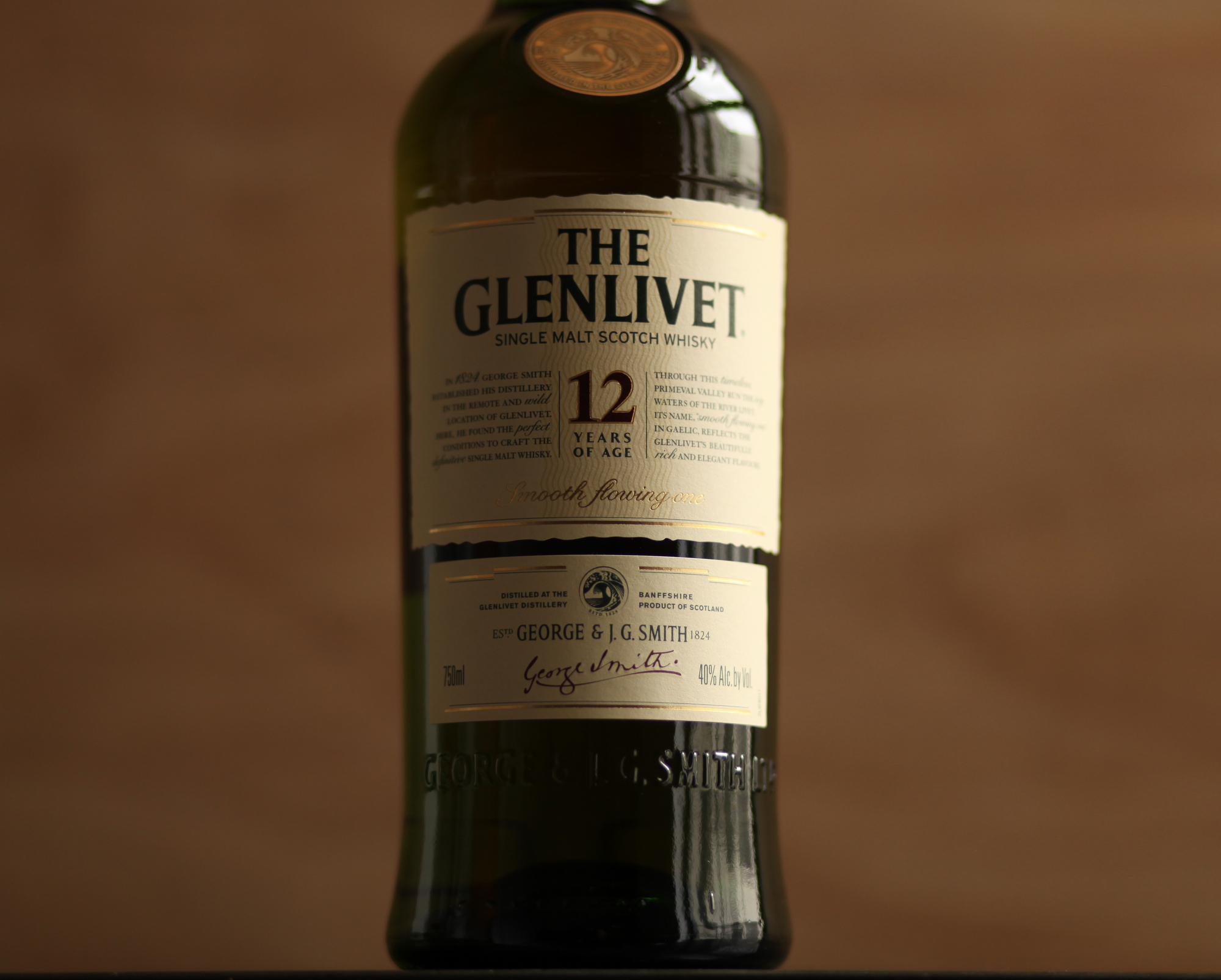 Glenlivet 12 is one of those scotches that is too often overlooked by scotch fans looking for the 'next best thing.' I've got news for you: Glenlivet 12 isn't on every bar and tavern shelf because it's pretty to look at (though it is). It's on every shelf because it's an affordable, approachable, and broadly speaking a damn fine whisky.
Does that make me biased going into this review? If this was my second or third glass of Glenlivet 12, maybe. In all likelihood, this is more like glass forty.
Product Specifics
Distiller: Glenlivet
Mashbill: 100% malted barley
Cask: Traditional and Ex-Bourbon American oak
Age: 12 years
ABV: 40% (80 proof)

Appearance
In the glass, Glenlivet 12 is copper color. The bottle itself is a beautiful Christmas-tree green, with well designed, eye catching labeling. It's a bottle that can look at home on any shelf.
Nose
The nose is light but bright, with very little ethanol burn. The aroma off the glass is a combination of malt, apples, vanilla, and graham cracker.
Palate
To me, Glenlivet 12 is Spring in a glass. Smooth, warm, and enjoyable on entry, with flavors of malty sweetness, green apple, pears, honey and a bit of grass.  As the liquid spreads across the palate, flavors bloom to baking spices and vanilla.
Finish
The finish is moderate in length and contains most of the palate flavors: malt, honeyed sweetness, apple, and vanilla.
Conclusion
I haven't read rave reviews of Glenlivet 12 on most review sites, which may be because experienced scotch drinkers compare this dram to more expensive, powerful scotches. But I think Glenlivet 12 deserves a spot on every scotch lovers shelf, particularly if you have friends who are unsure if they like scotch. It's affordable and brings an easily graspable, enjoyable, and balanced flavor profile to the table.  That said, I have a hard time relating to the tasting notes on the Glenlivet 12 page on the website. In particular, I have yet to pick up tropical fruit notes.
Final Score: 90
Disclaimer: Though by no means my first ever (or second or third ever) bottle of Glenlivet, the bottle for this review was gifted by Glenlivet.