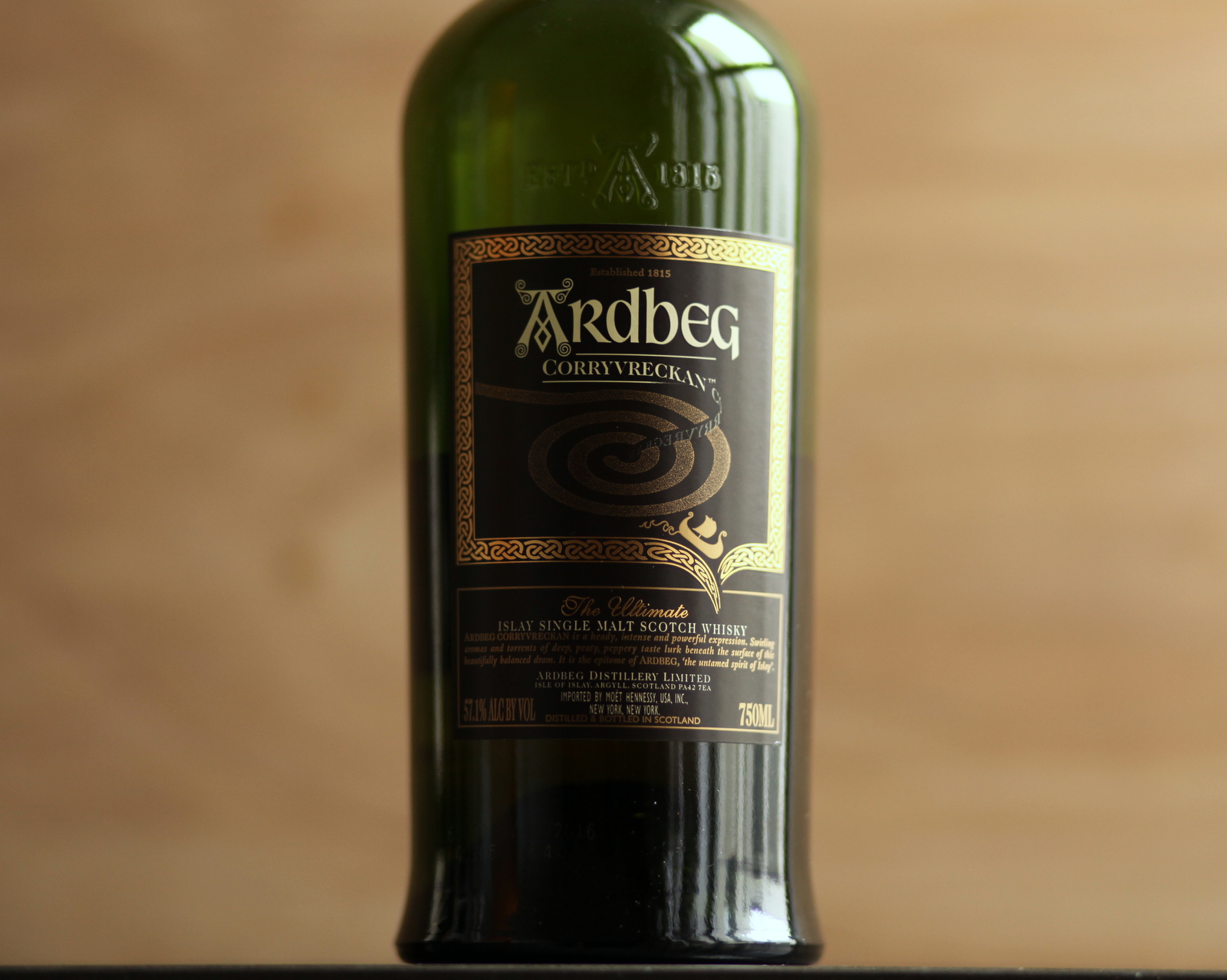 I'm not always excited to review cigars and whisky.
I might be a jerk for saying that, but the simple truth is, I sample a lot of "meh" product, and not many deserve 500 words of description.  So it's always a treat when I'm sitting down to review a product that I know will challenge my palate, patience and mindfulness. And so it is with Ardbeg Corryvreckan, which took me a number of sittings just to start putting my initial notes together.
Before we get to the review, some quick background on Ardbeg. Located on the south coast of the isle of Islay, the distillery's first drops of whisky were produced in 1798. The distillery's water source is Loch Uigeadail (yep, just like the famous Ardbeg Uigeadail), and it uses barley from the maltings in Port Ellen. Like many other distilleries, its product was mostly sold for use in blended whiskies. The company itself changed hands multiple times in the twentieth century, and today is owned by Moët Hennessy.
Let's talk Corryvreckan.
Product Specifics
Whisky Reviewed: Ardbeg Corryvreckan
Distiller: Ardbeg Distillery
Age: No Age Statement (NAS)
ABV 57.1 (114.2 proof)
Bottled at cask strength, non-chill filtered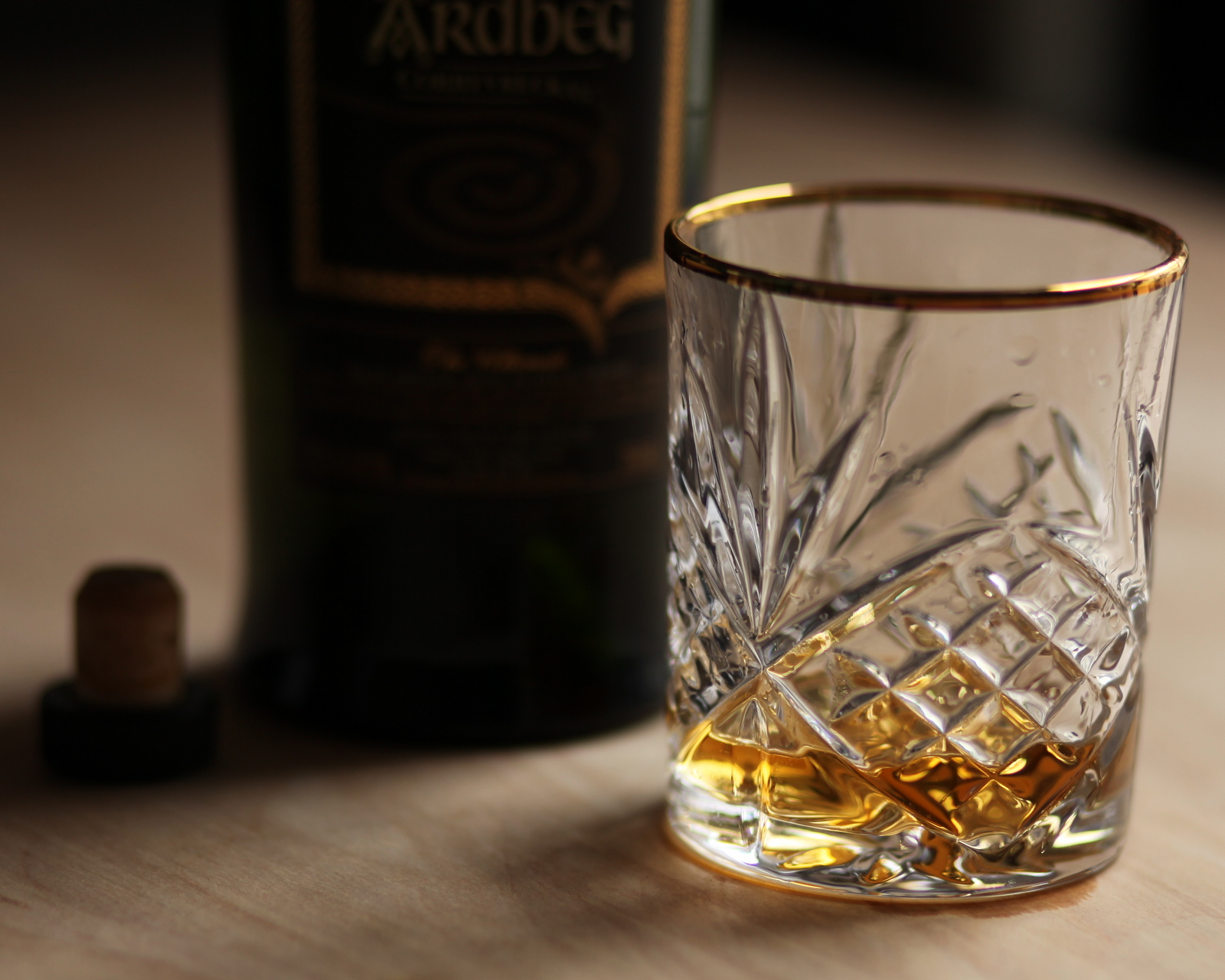 Appearance
Corryvreckan comes bottled in a dark, brooding bottle. The whirlpool on the label (and for which the whisky is named) references Corryvreckan, the world's third largest whirlpool. The whirlpool itself has a kind of mythical ethos, and not only as a wonder of the natural world. George Orwell, for example, nearly drowned in the Corryvreckan whirlpool. The story goes that he had traveled to Jura to focus on completing 1984, and after misreading the tides on a boating day trip, his boat was pushed near the whirlpool, which promptly pulled the engine clean off. Orwell and his friends were only saved from a watery (and noteworthy) demise when the whirlpool receded, allowing them to paddle out of its grip.
Where was I again? Ah, right. The review.
The whisky itself is an old gold bordering on amber.
Nose
No need to put your nose to the glass on this one. In fact, you can probably pick up half of the following notes from across the room. Tobacco, leather, charcoal, old oak, sea spray, sherry, and rhubarb pie (yeah it's left field for me too, but close your eyes, hold that image, and take a whiff).
Palate
For a split second, Corryvreckan starts out a bit sandy and nondescript. Then, a flame of flavor, which expands quickly into a fire and from there,  a bomb. Medicinal notes, charcoal, peat, heavy black pepper, salt, stone fruits,  and sherry. I'm most certainly missing a few descriptors, if only because at each sitting with Corryvreckan, you're liable to experience it just a bit differently.
One other note here: have a glass of water on hand. The extreme amount of peatiness in this whisky will dry your palate out, so stay hydrated or you'll end up drinking glass after glass of water for an hour or so after a glass of Corryvreckan.
Finish
Long (thirty seconds!) and palate-numbing! Lots of peat and charcoal, along with hints of sweetness and maltiness.
Conclusion
Corryvreckan is a hell of a whisky. From nose and palate through the finish, the flavors come rushing forward like gale force winds… and yet somehow remain in balance.
I recently reviewed Uigeadail, which is seen by many as the quintessential Ardbeg. In that review, I questioned whether Corryvreckan might offer some additional flavor while still remaining balanced. In the course of writing this review, I think I can answer (for myself) in the affirmative. Uigeadail is great, but I prefer Corryvreckan.
Final Score: 94