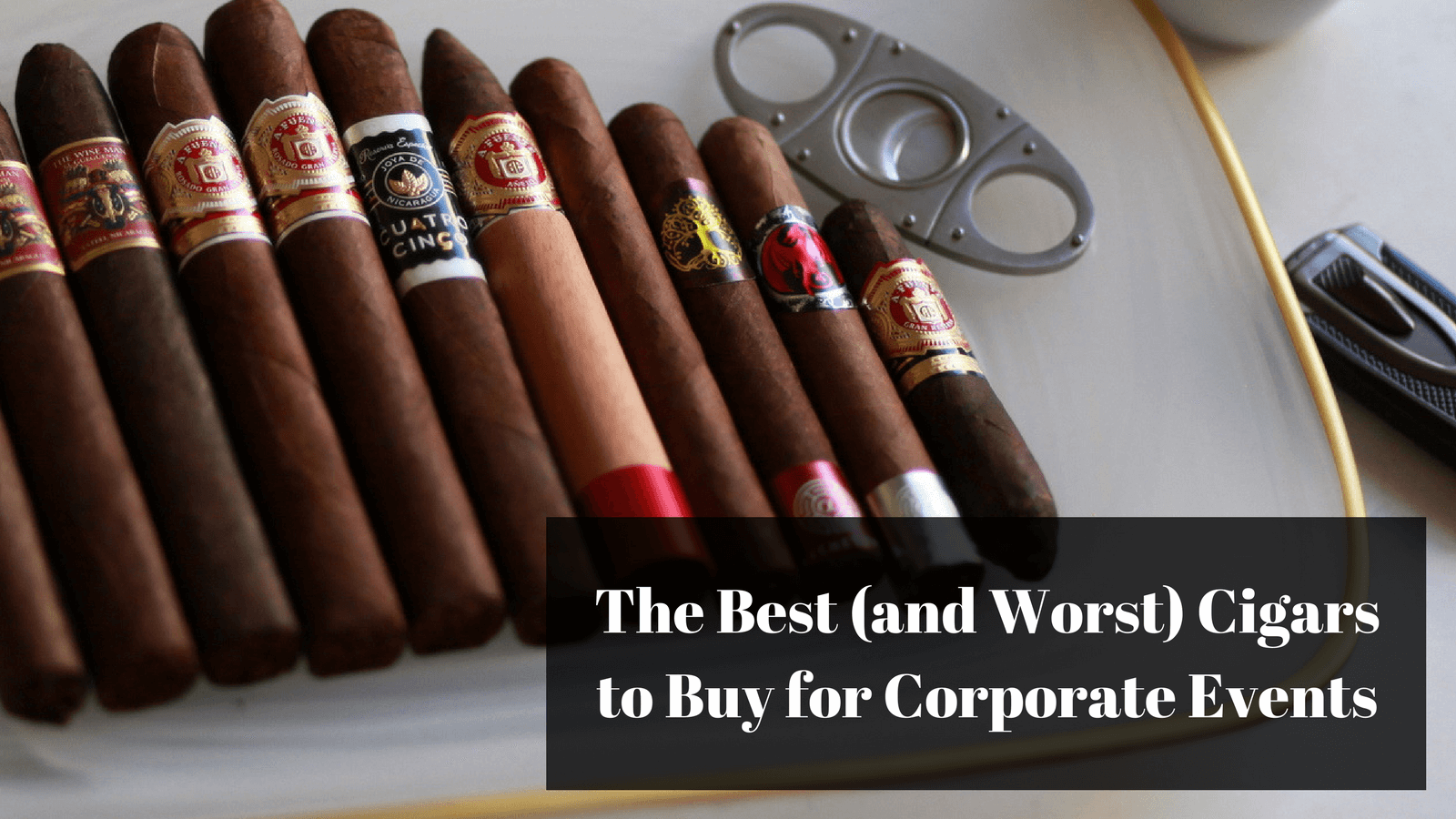 If you're on this page, you've likely decided that you want cigars at your next corporate event but aren't sure which cigars to choose. You've got a budget, and you want to make sure that whatever cigars you choose will impress attendees, offer real quality, and not push you over budget. Most of all, you don't want attendees seeing the cigars and whispering quietly to each other, "who picked these horrible cigars?"
If this describes your situation, you've come to the right place.
I'll start off below by recommending some cigars that are budget-friendly ($5 – $7/cigar), good quality, and have the name recognition that will ensure your attendees have a great experience. Below that you'll find more expensive cigars that will make an even greater statement of luxury and prestige. For each cigar recommendation, I've linked out to where you can purchase the cigars on Famous Smoke Shop, which we regard as the best website to buy cigars online (read more about that here).
Finally, I'll list the types of cigars to stay away from if you are purchasing for corporate events, and list a few critical rules to follow to ensure your cigars aren't ruined before the event (lighters, cutters, humidification).
Cigars for Corporate Events: Budget Cigars
In the budget category are cigars in the range of $5 to $8 per cigar. I've hand picked three cigars that will appeal to the broadest number of people, carry brand recognition, and be genuinely enjoyable to anyone smoking.
Oliva Connecticut Reserve – ~$6/cigar
~$6/cigar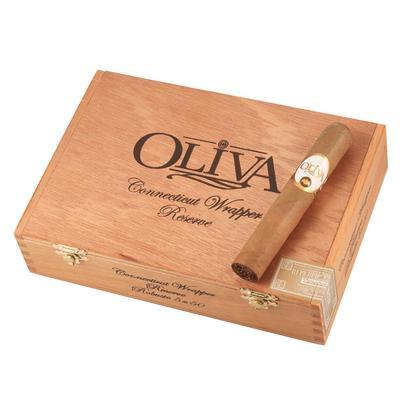 The Oliva Connecticut Reserve is extremely flavorful while remaining mild and very smooth. For the price, it's hard to beat.
Click here to purchase the Oliva Connecticut Reserve from Famous Smoke Shop
Arturo Fuente Chateau Fuente – ~$5/cigar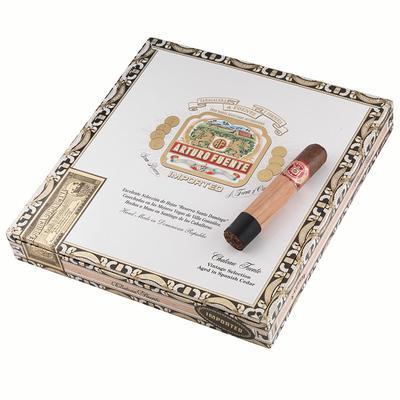 Darker and richer than the Oliva Connecticut Reserve, the Fuente Chateau Fuente is a true classic in the cigar world and carries great name recognition. Any cigar smokers at your event will recognize the Fuente band immediately (a good thing as Fuente is associated with quality).
Click here to purchase the Arturo Fuente Chateau Fuente from Famous Smoke Shop
Camacho Connecticut – ~$8/cigar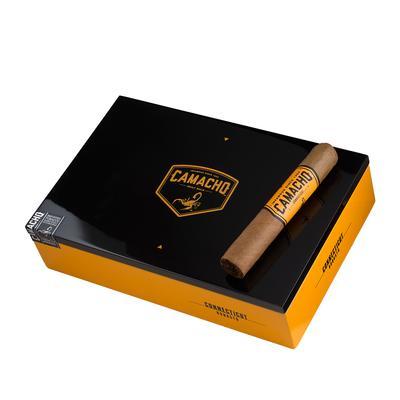 The Camacho Connecticut isn't exactly a classic, but it is a high quality cigar that comes in somewhat flashier packaging. It's a regular in my lineup and, for the price, is a great value.
Click here to purchase the Camacho Connecticut from Famous Smoke Shop
Cigars for Corporate Events: Luxury Cigars
Below are three additional recommendations for cigars that make a bold statement of luxury. These are the kind of cigars that true cigar aficionados will appreciate and immediately recognize. They aren't cheap, but if you are looking to leave an impression, these cigars will do it.
Davidoff Aniversario No. 3 – ~$23/cigar
There is perhaps no greater name in cigars than that of Davidoff. The company produces some the world's most elegant, flavorful, and smooth cigars. The Davidoff Aniversario No. 3 is one of the company's milder blends and will appeal to any cigar smoker's palate.
Click Here to purchase the Davidoff Aniversario No. 3 from Famous Smoke Shop
Padron 1964 Anniversario Exclusivo Maduro – ~$12/cigar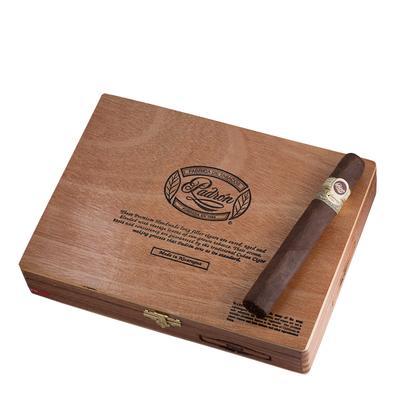 The 1964 Anniversario is a classic from Padron. This cigar is dark, rich, and bold, with notes of espresso, cedar, and dark chocolate. This would be a good cigar if your cigar event is taking place after dinner.
Click Here to purchase the Padron 1964 Anniversario Exclusivo Maduro from Famous Smoke Shop
Davidoff Nicaragua – ~$18/cigar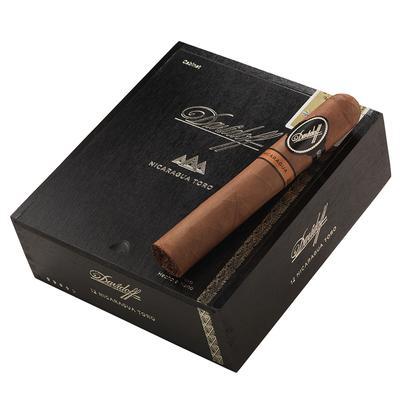 The Davidoff Nicaragua is one of the newest additions to the Davidoff core offerings. Unlike the Aniversario No. 3, the Nicaragua is a bit stronger and falls somewhere in between what you'd experience with the Aniversario No. 3 and the Padron 1964.
Click Here to purchase the Davidoff Nicaragua from Famous Smoke Shop
Cigars to Avoid for Corporate Events
Here are a few types of cigars to avoid for corporate events:
Cheap cigar samplers: the cigar world is full of sampler packs that seem to promise everything at a low cost. Most are terrible. Samplers also don't make sense for corporate events because you want everyone smoking the same thing (that way it can be an easy conversation starter).
Machine-made cigars: cheap and extremely unpleasant to smoke, you won't be doing yourself any favors by cutting costs in this way.
Additional Tips for Purchasing Cigars for Events
One last note. If you're making a big cigar purchase for corporate events, there are some critical tips/rules that you absolutely must follow.
Cutters: don't forget to buy cutters, otherwise your guests won't be able to cut their cigars and you'll have wasted hundreds of dollars! Here's a cutter from Vertigo that will get the job done for just a few dollars per cutter. I'd recommend purchasing one cutter for every ten attendees at the event.
Lighters: lighters are important as well, especially since your event is likely to be outside. Trying to light a cigar with matches with even minimal wind can be very frustrating. So I recommend picking up a few Vertigo Cyclone torch lighters. Recommend one lighter for every five attendees at the event because, unlike cutters, your guests will likely need to light their cigars multiple times if they go out while they are networking.
Humidification: this part is critical. If you buy boxes of cigars online and they are delivered to you, do not remove the outer plastic wrap until the day of the event. The plastic wrap covering the outside of the box serves specifically to keep the humidity inside of the cigar box. In general, it is best to order cigars for your event sometime within a two week period before your event. Don't order cigars further out than that unless you have a way of keeping your cigars humidified.
Temperature: simple rule, but if you've purchased a few boxes of cigars and are storing them for any length of time (a few days to a couple of weeks), do not store the boxes of cigars anywhere where the temperature exceeds room temperature (72°f).
And that's it. If you buy one of the cigars recommended above, get your cutters and lighters, and make sure your cigars are only opened on the day of the event, you'll be set for a great event! You can also find an additional list of cigars on Famous Smoke here.
If you have any questions, leave a comment and we'll reply within 24 hours. Alternatively, you can email me using our contact form here.