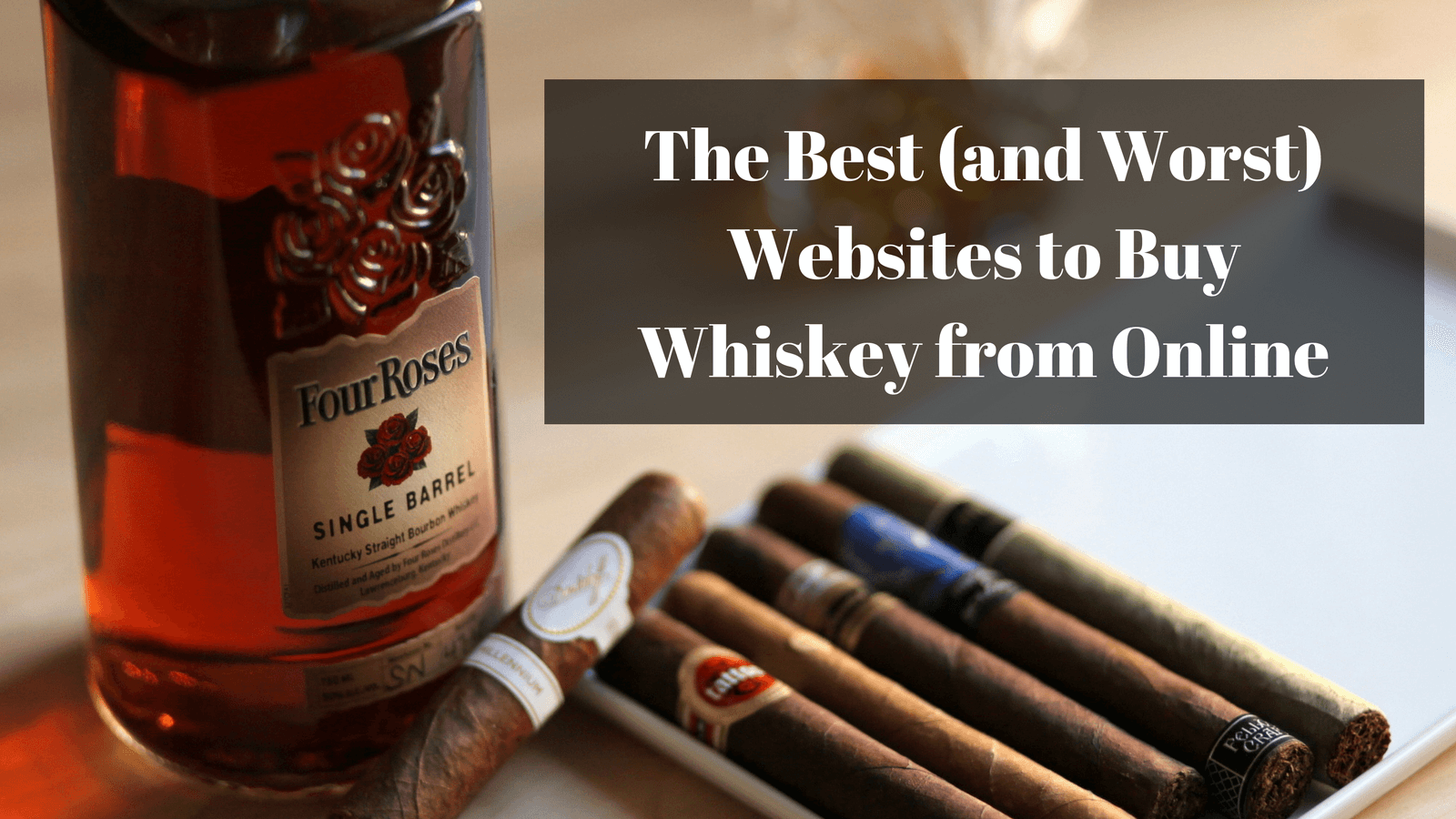 Before the internet, whiskey fans had to settle for whatever meager offerings their local liquor store had on hand. However, with the advent and proliferation of online shopping, a whole world of fantastic liquor is now on our metaphorical (and physical) doorsteps. But what are the best online whiskey retailers?
The tough part is, there are a lot out there. I will say straight up that one of the most important considerations you'll face buying whiskey online is the cost of shipping. Not only are bottles heavy, which bumps your bottle purchase price up, but many of my favorite whiskey websites are based in the UK.  So, much of "the best" has to do with what you're buying and where you live.  If you live in the USA but want more selection (9,000+ whiskies), buy from The Whiskey Exchange. I've noted which states each company can ship to.
So with that little summary out of the way, let's dive in to the list.
Winner: The Whisky Exchange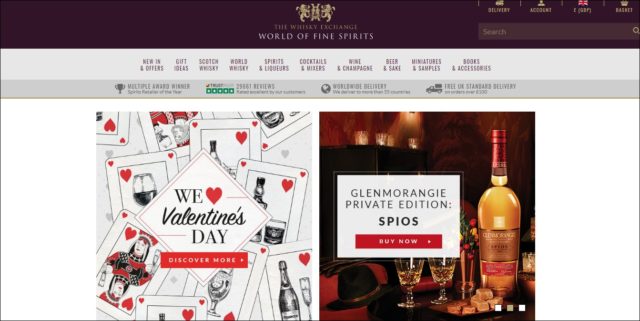 The Whisky Exchange sits at the top of our list for the UK, with a five star meta-rating on British consumer advice website TrustPilot. You can find many top shelf whiskies on The Whiskey Exchange at prices that are 10%, 20%, or even 30% lower than what you find on US based websites, though you have to deal with sky-high shipping costs.
The Whisky Exchange stocks a fine range of both popular and esoteric whiskeys in almost any variety, and, unlike Wine Searcher, is a lot more straightforward to navigate. With separate tabs for Scotch and World Whisky, browsing or discovering new spirits you'd never heard of before is simple. The World Whisky tab has sections for American whiskies, as well as for several European and Asian countries, and other far-flung locations such as New Zealand and South Africa.
Of course, while The Whisky Exchange offers global shipping, you are going to need to pay a premium to get your chosen drink delivered to the US. The key here is to make bulk purchases. If you buy three or four bottles, you'll save enough to offset shipping costs, and if you buy even more you can start buying really expensive scotches for way less than you'd pay in the USA. Your goods will be packaged with great care and should reach these shores in top condition.
Ships to: Alaska, California, Connecticut, Delaware, DC, Florida, Idaho, Louisiana, Maine, Maryland, Massachusetts, Nebraska, New Jersey, New Mexico, New York, Oregon, Rhode Island, Texas, Vermont, Virginia, Wyoming
Runner Up: The Whisky Barrel (UK)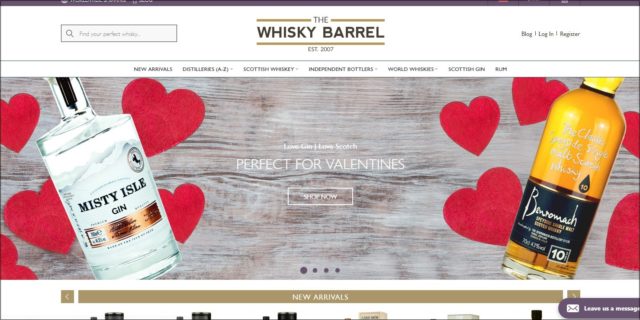 As we hear your wallets creaking under the strain of further shipping and import costs, an apology may be in order, because taking the second spot on our best list is another store from across the Atlantic – The Whisky Barrel.
The Whisky Barrel offers a similarly wide range of spirits, with several exclusive to the website. The site's navigation and sorting tabs are just as detailed as those found on The Whisky Exchange, with separate menus for scotch, independent, and world whiskeys.
The Whisky Barrel, however, allows you to browse by distillery with an easily-accessible A-Z tab (which comes in handy).
On the price side, The Whisky Barrel seems to be slightly lower than The Whisky Exchange on some products. For example, 70cl of Glenfiddich XX comes in at $72.92 on The Whisky Exchange, compared to $59.22 at The Whisky Barrel [correct at time of writing] – so do some price comparing before buying.
Ships to: all states
Honorable Mentions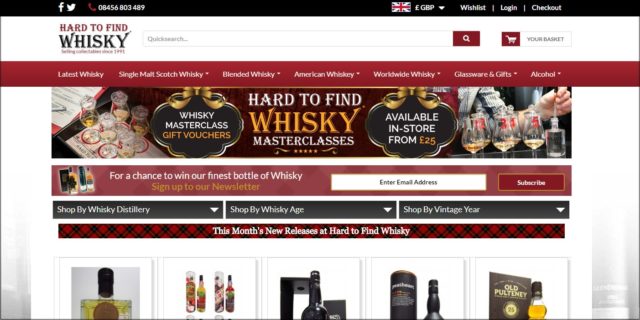 While certainly not for the average whiskey drinker (or the faint of wallet), Hard to Find Whisky is a must-visit destination for those connoisseurs with a bit (read: lot) more money to put down on the best drinks in the world. These guys built a business answering the question "where to find rare whiskey online." It was a smart strategy, and they've done a good job delivering.
With prices ranging from $42.12 for a 150th Anniversary Edition of Jack Daniels, to an eye-watering $49,227.43 for a (presumably) sublime 37-year-old Macallan 1940, Hard to Find Whiskeys has a wide selection of the very finest and rarest whiskey available. The site also offers a "Whisky Masterclass" gift voucher. You'll need to make a trip to the company's headquarters in Birmingham, UK, but the voucher entitles you to a tasting selection of five fine whiskeys, as well as a special tasting tutelage using a bespoke Hard to Find Whisky method.
Even if you have no intention of splashing out a few grand on a bottle, the website is well worth a visit just to peruse some of the fantastic and rare whiskeys on offer.
Ships to: all states
Love Scotch (USA)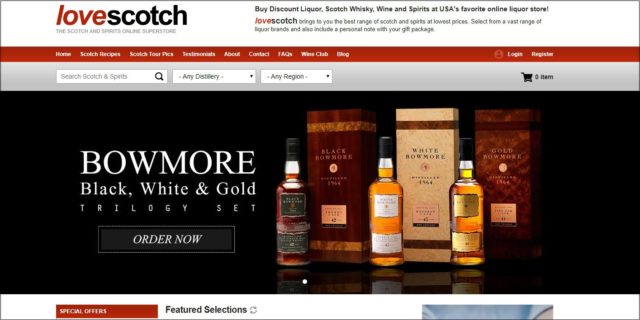 Love Scotch may not be the best online whiskey retailer in the world, but it gets our nod as a solid online retailer in the United States.
Aside from a wide range of great whiskeys from around the globe, Love Scotch has a fascinating gallery of photos showing tours the staff have taken of various whiskey distilleries. That's right, the folks at Love Scotch have heart. Most importantly: being an American-based company, you can expect to spend a lot less in shipping and customs fees on your favorite drinks than you would from one of our top two choices.
Ships to: Alabama, Alaska, Arizona, Arkansas, California, Colorado, Connecticut, Delaware, Florida, Hawaii, Idaho, Indiana, Iowa, Kansas, Kentucky, Louisiana, Maryland, Massachusetts, Minnesota, Missouri, Montana, Nebraska, Nevada, New Jersey, New Mexico, New York, North Carolina, North Dakota, Oklahoma, Pennsylvania, Rhode Island, South Carolina, South Dakota, Tennessee, Texas, Vermont, Virginia, Washington, West Virginia, Wisconsin, Wyoming
The Worst
Whisky Shop USA (USA)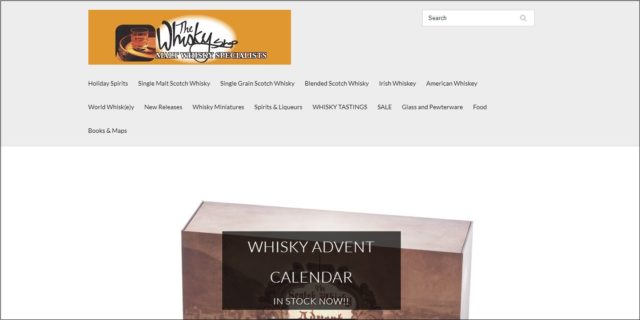 Whisky Shop USA is an interesting one. Customer testimonials for the San Francisco based brick and mortar location are very positive. Why then did the company decide to create a website that is so difficult to navigate or even at times read? The UI  is pretty uninteresting, and there are several whiskey entries which don't have an image attached.
There are few things I find more unappealing in an e-store than the "image coming soon" placeholder.
But let's be honest, these aren't the most devastating critiques of an online store. It's a fact of God's goodness that, unlike the online cigar retail world, we whiskey drinkers don't have whiskey websites flat out ripping people off.
Final Thoughts
When it comes to enjoying the pleasure of a smooth and soothing glass of whiskey, there have never been more options available. Whether your budget is in the tens or thousands of dollars, there's a wide range of liquor out there ready to be shipped to keep your cabinet well stocked.
Do you have a favorite online whiskey retailer that should be on this list but isn't? Let us know in the comments.
Disclaimer: affiliate links may be included in this post at no cost to you. As always, all thoughts and opinions are my own!