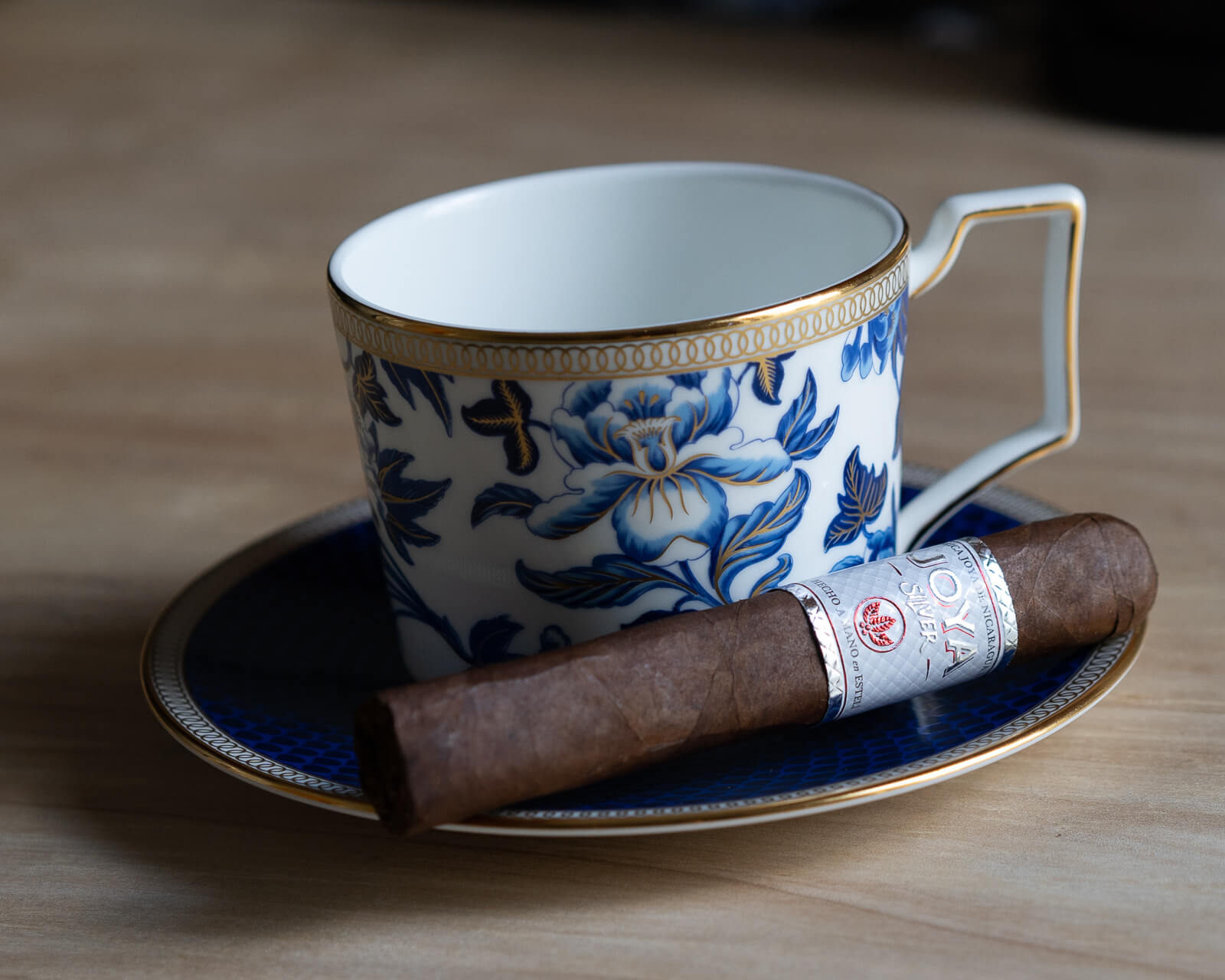 Joya de Nicaragua is on a bit of a tear this year with new releases. The company released a new size of the Antaño Gran Reserva, Clasico, Cinco Decadas, and Joya Silver. The Cinco Decadas Diadema received an enviable score of 93 from us for it's stellar complexity, balance, and flavor.
The Joya Silver is one of the company's less expensive releases, with prices ranging from $6.30 – $7.80 per cigar depending on size. The company describes the cigar on the website saying:
The national release of Joya Silver is a shining representation in the Joya family of our continuous quest for a truly unforgettable, yet quotidian, smoke. Silver is a box pressed cigar that delivers a dynamic complexity of fresh spice, chocolate and cherry notes. Its oscuro upper-priming wrapper showcases the perfect complement between the richness of the Nicaraguan fillers and the refined sweetness of the Ecuador grown wrapper and Mexican binder. The result is a medium to full body smoke that achieves an indulging matching of flavors.
Product Specifics
Cigar Reviewed: Joya de Nicaragua Silver / Joya Silver
Wrapper: Ecuadorian Oscuro
Binder: Mexican
Filler: Nicaraguan
Size: box pressed 5 x 50 robusto
Appearance & Construction
The box-pressed Joya Silver features a dark brown Oscuro wrapper with minimal veins and just a bit of toothiness. When squeezed, it is clear that it is packed firmly and consistently the length of the cigar.
Off of the foot, the aroma is strong and intensely woody. Quite a complex smell actually, with something resembling wet mulch and almonds layered in the background. Testing the draw, it's perfect, with 7/10 restrictiveness. On the cold draw, I get a lot of finely ground black pepper and lingering spice on the tongue, along with some leather and natural tobacco notes.

Flavor & Smoke Characteristics
First of all, it's clear after lighting that Joya Silver has excellent smoke production. The cigar kicks off with plumes of lush, medium to full strength smoke. The flavor profile is is dark, with dominant leather, ground black pepper, and oak. Beneath that core profile are some sweeter supporting notes, with some dark cherry and slightly creamy espresso. Every couple of puffs I also pick up something that reminds me of wine that's just about to turn a touch vineagery.
At an inch in, strength and body settle at a notch above medium. The salt and pepper burn is flawless, and the cigar maintains great smoke production. As the cigar burns into the second third, the flavor profile begins shifting rapidly, some puffs featuring notes of bitter chocolate and leather, other puffs favoring notes of milk chocolate, cream, nuttiness, and dark fruits. Initially, the alternation between flavors is enjoyable, but after a while I find myself wanting a bit more steadiness to the experience. The retrohale is smooth but flavorful, with light black pepper and charcoal.
At halfway, the body and strength both jump to medium plus. Black pepper becomes a much more dominant feature of the smoke, with cocoa, peanuts and dry wood as supporting characters. Quite nice.
In the final third, the Joya Silver ramps way up to full strength. The smoke, though still smooth, is much heavier and more flavorful. Sweet and bitter achieve an better balance, with loads of black pepper, fresh espresso, cedar, toasted bread, and cocoa.
Conclusion
I enjoyed Joya Silver. For a cigar priced in the $6 – $7 range, it's a great value. Still, the cigar had a lot of trouble settling on a flavor profile. Extremely complex cigars have a lot of change throughout the smoke, but the changes are measured and deliberate. In the case of Joya Silver, the flavors change so quickly that the smoke experience often feels disjointed.
Regardless, Joya Silver is a cigar to pick up, especially if you are a fan of full-bodied smokes and enjoy richer, darker profiles.
Final Score: 88