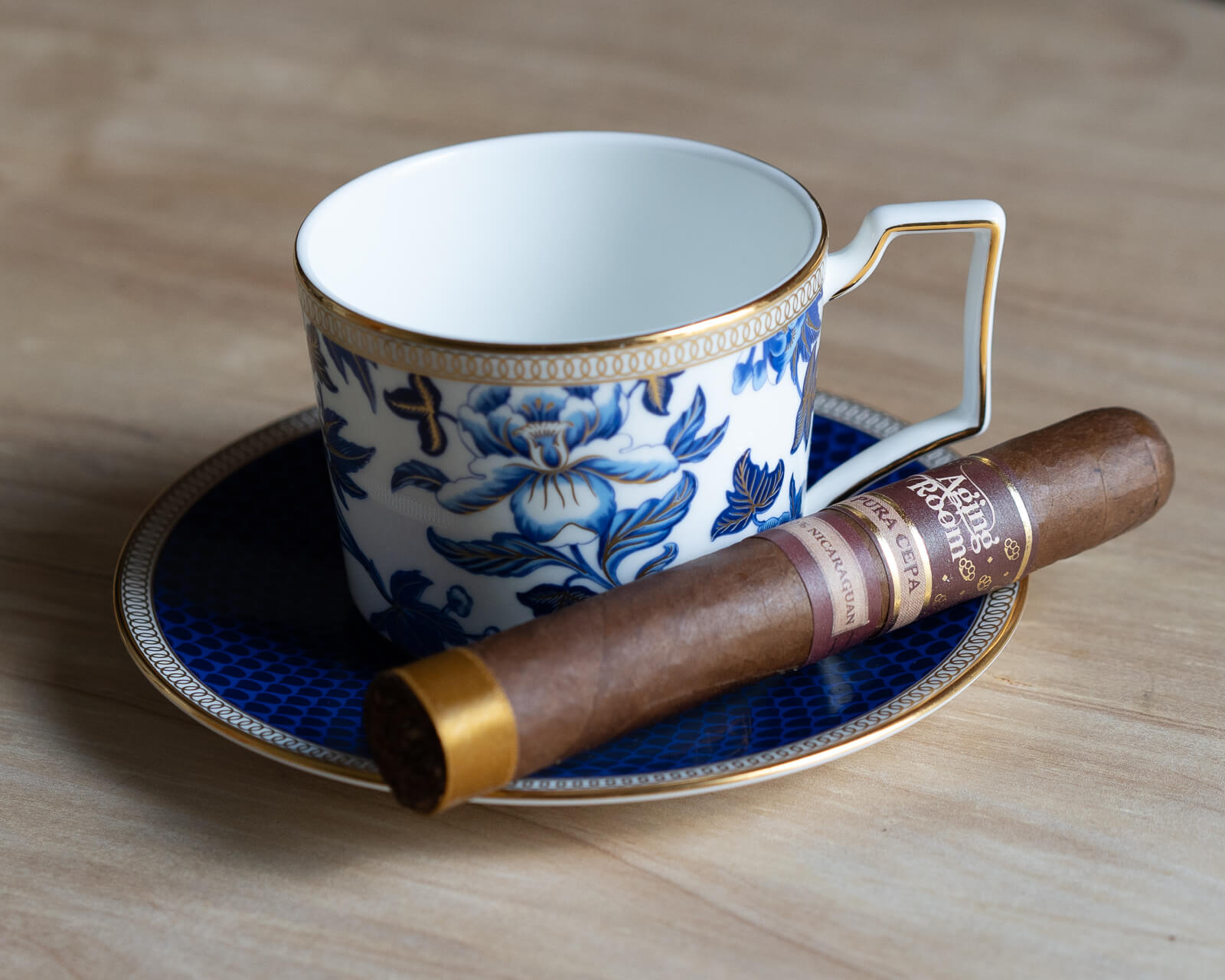 2018 has been a big year for Rafael Nodal and Aging Room Cigars. First, 2018 was Nodal's first full year as Head of Product Capability for Tabacalera USA, which owns Altadis, JR Cigar, and Casa de Montecristo cigars. Second, Aging Room has rebranded their famous Quattro line, introduced the Quattro Nicaragua (which we're debuting for New York on Sept. 27th at The Carnegie Club), and also introduced the Aging Room Pura Cepa ("Pure Bred"), which features a Nicaraguan Maduro wrapper and Nicaraguan binder and filler tobaccos.
We were lucky enough to debut the Aging Room Pura Cepa in New York City with Rafael Nodal at The Carnegie Club, with the event being picked up by Cigar Aficionado. At the event, I heard great feedback about the Pura Cepa, but didn't have the chance myself to really sit down and experience the cigar. Thankfully, Nodal provided me with a few for review, and I've had the chance to sit down in quiet time to evaluate the cigar. See below the Final Score for photos from our event (courtesy of John DeMato photography).
Product Specifics
Cigar Reviewed: Aging Room Pura Cepa
Producer: Aging Room Cigars
Wrapper: Nicaraguan Maduro
Binder: Nicaragua
Filler: Nicaragua
Size: 6 x 54 Mezza
Appearance and Construction
The Aging Room Pura Cepa features solid, sturdy construction. It's packed fairly tightly and the pack seems consistent down the length of the cigar. The branding on the cigar is nice, but the Aging room logo doesn't really pop at all which won't help it stand out on the shelves. What does stand out is the outer maduro wrapper, which has a leathery feel.
After cutting the cigar using a straight cut, I test the draw. It's decently restrictive, probably about a 7.5/10 in terms of amount of restrictiveness. The cold draw is wood forward, with some natural tobacco, caramel, light spice and leather as supporting characters. The smell off of the foot is quite unique. It has a variation on dry wood that I've never smelled before and light sweetness.

Flavor and Smoke Characteristics
First light and I can already tell… this is gonna be a good one.
The Aging Room Pura Cepa opens with medium bodied, complex smoke. Seriously, there's a lot going on. The cigar is hitting all sorts of flavor categories, notably sweet, bitter, salty, and savory. That's the definition of a complex flavor profile. On the palate, a smoked wood is dominant. An array of secondary flavors augments it well, including light chocolate, creaminess, floral, leather, and something salty akin to pinto beans. The retrohale is full but not overly aggressive, with lots of spice, sweet grass, and some earth. Thankfully, smoke production is generous, and the draw almost immediately opens up a bit.
At about half an inch into the cigar, the profile shifts dramatically, with the wood moving to back seat, letting cream, sweet chocolate, and slight white pepper take the fore. Body and strength are now settled just below medium. Not quite as much complexity as the kickoff, but delicious nonetheless, with a nice, full pepper on the retro. One quick side note: just beautiful construction on this cigar. It's got a nice, solid white ash that holds for over an inch and a half.
The Pura Cepa remains mostly unchanged until about halfway, when a few additional flavors edge their way into the profile. It's still mostly sweet, but adds an intreresting mushroom and cafe au lait note. Strength is now in mild territory, though body remains at medium, providing for a smoking experience that is opulent but not overwhelming at all.
The final third sees the flavor profile from the beginning come roaring back, with dry wood and spice at the fore. What makes the ending great though is that the subtleties from the middle thirds remain, bringing the whole smoke together. A great ending.
Conclusion
The Aging Room Pura Cepa smokes a bit like the Pelo de Oro (one of my favorites from Aging Room) but with a bit more finesse and elegance. It has solid complexity and the flavors interweave expertly. It doesn't matter if you're an Aging Room fan or not, this is a smoke to pursue. As a side note, I've found Pura Cepa pairs quite well with rum – I'd suggest either Diplomatico or John Drew Dove Tale Florida Rum.
Final Score: 91
And as promised, some photos from the New York launch of Aging Room Pura Cepa which we were lucky enough to host with Mr. Nodal.