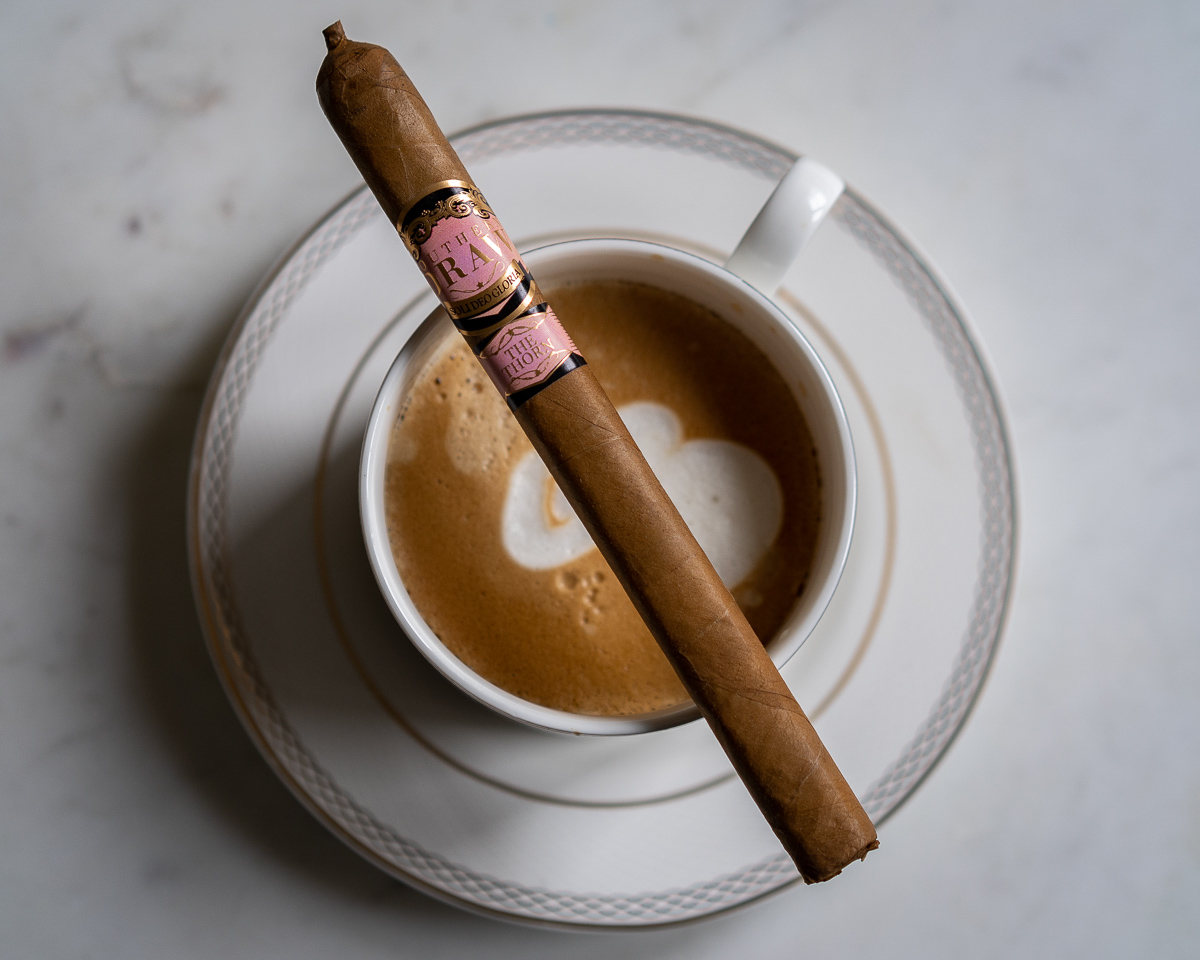 Up for review today is "The Thorn" from Southern Draw Cigars. It's a member of the Rose of Sharon brand from Southern Draw, and Robert Holt told me via Instagram that this is his personal favorite size of the Rose of Sharon.  As you'll read below, this cigar is very good. It's also a downright gorgeously presented cigar, and I hope I captured some of it in the photos here. Read on.
Product Specifics
Cigar Reviewed: Southern Draw Rose of Sharon "The Thorn" Review
Wrapper: Ecuadorian Sun Grown Connecticut
Binder: Nicaraguan Habano
Filler: Nicaraguan Viso/Seco, Dominican Ligero / Piloto Cubano
Size: 6 1/2 x 40
Appearance & Construction
Well what can I say. The Thorn is just a magnificently presented cigar. Everything about it, from the pink, gold, and black double bands, to the semi closed foot and the strange pig tail-like cap is done flawlessly. It really creates the feeling that this is a special, well thought-out cigar.
The outer Ecuadorian Sun Grown Connecticut wrapper is a light, golden brown with a few small veins and rolling seams. The cigar is slightly spongy when squeezed and seems to be packed consistently. A whiff off of the foot showcases notes of cedar, honey, mild spiciness, and baked bread. The cold draw is about a 7.5/10 in terms of amount of restrictiveness, and gives notes of warm bread, light spices, and some sweet woodsiness.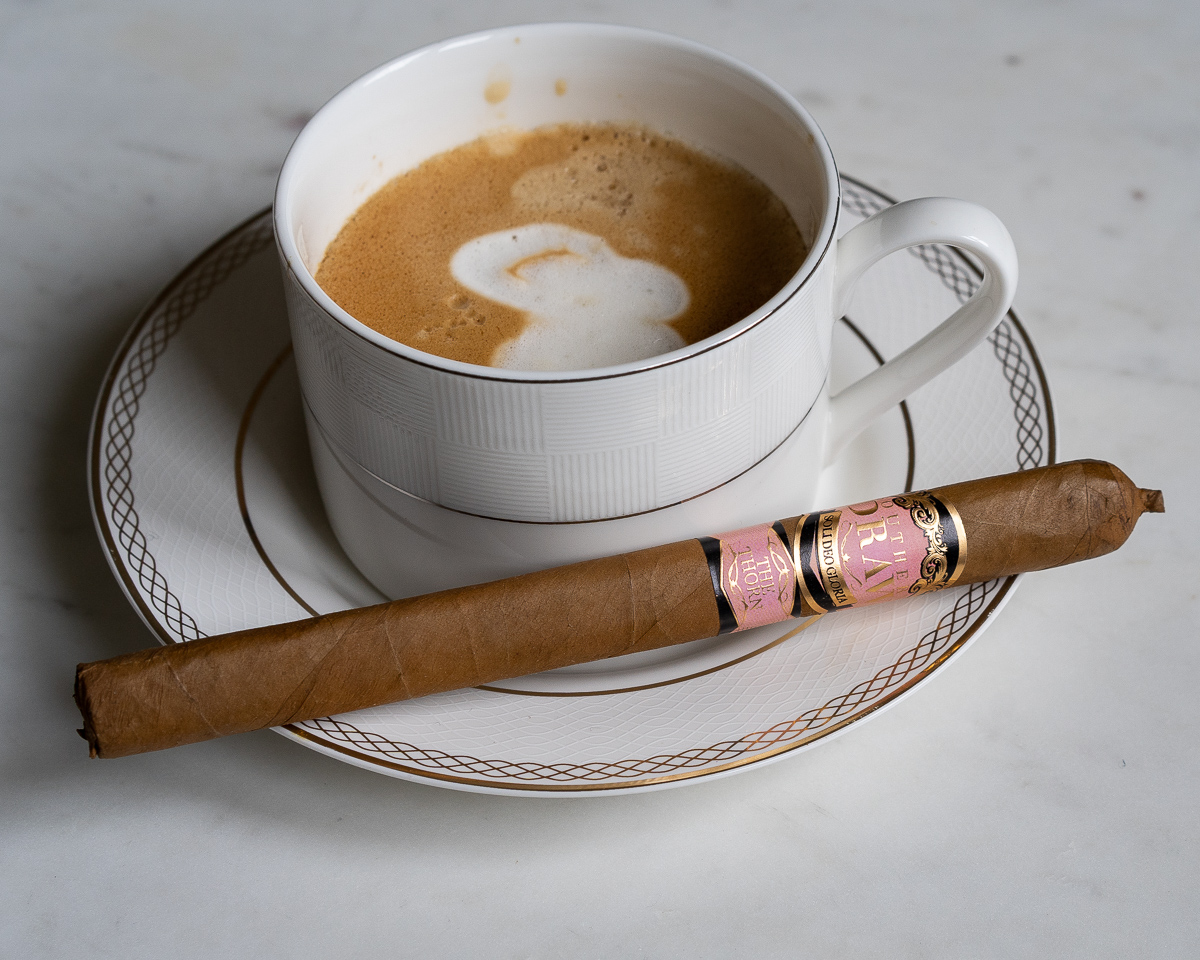 Flavor & Smoke Characteristics
The Thorn opens surprisingly robust, with concentrated flavors that are balanced between sweet, spicy, and creamy. Distinct flavors include buttered bread, spicy cedar, floral bouquet,  vanilla, and a nice finely ground pepper. The retrohale as well is nicely balanced between sweet, toasted bread and light black pepper. Excellent flavor. I'd place The Thorn at mild to medium bodied at kick off. Construction wise, smoke production is excellent, and the burn seems to be progressing evenly.
Things start to change at the end of the first inch, with body and strength both jumping to medium. The character of the smoke has shifted to be a bit less buttery and a bit more dry, and the wood that was just minutes ago a supporting character is now front and center. Thankfully, there are plenty of great secondary flavors, including a stronger floral note, light chocolate, and a touch of citrus. It's always a pleasant surprise when a cigar changes flavors so rapidly.
By midway the second third, The Thorn's construction is still impeccable, with a straight burn and an ash that seems to want to stay on forever. Strength and body have both settled at medium. Flavors are a bit less distinct, with a substantial black pepper and charred oak.
In the final third, The Thorn turns a bit harshness – much to my own heartbreak given how great the cigar has been thus far. The gentler notes of before are replaced with charred oak, lemon peel, and burnt espresso. Construction thankfully is still excellent.
Overall, it's a bit of a disappointing ending given how good the first two thirds of the experience is. Still, a cigar I'm grateful to have smoked.
Conclusion
Though not a perfect cigar, Rose of Sharon "The Thorn" has flavor and style in spades. It's absolutely a cigar to smoke again. I was floored by the presentation, and the complexity and movement of flavors was downright addictive.
That said, the final third developed some harshness that hurt the overall experience. Regardless, this is a cigar to pursue (right now) before supplies are out.
Final Rating: 89