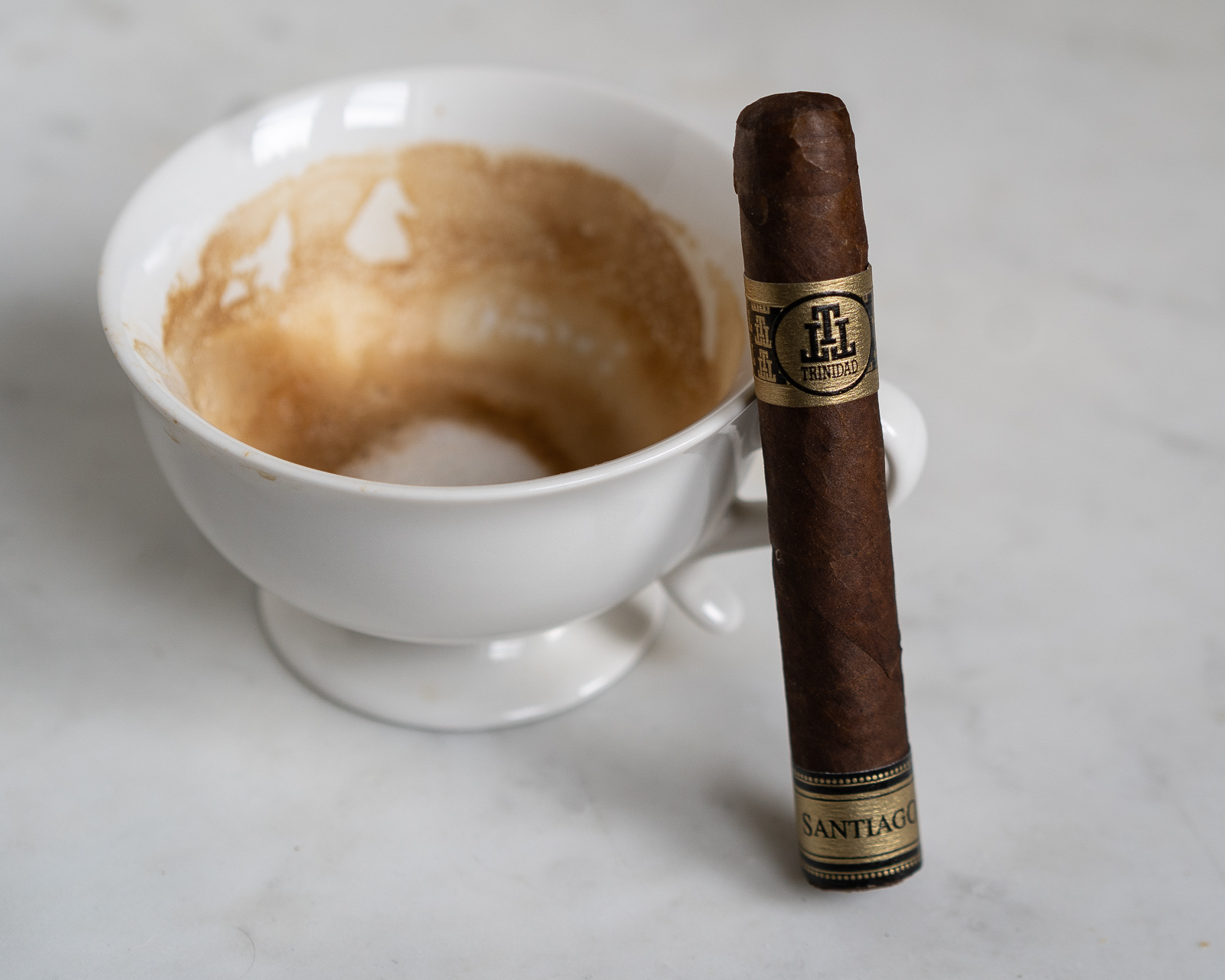 What do you think of when you think about "Trinidad Cigars"?
A Cuban cigar brand? The island?
Until recently, the brand brought up almost nothing in my mind, save a few bad experiences with some Dominican versions in my early years of smoking. So when Eddy Guerra, Sr. Brand Manager at Altadis told me that the company had produced a full bodied Dominican puro using tobaccos from José Blanco's farms, I was intrigued.
Enter Trinidad Santiago. Besides sporting a rough and dark Dominican Habano wrapper, the Santiago is smaller in ring gauge than a typical robusto. It also serves up some serious flavor. So let's get to the review.
Product Specifics
Cigar Reviewed: Trinidad Santiago
Wrapper: Dominican Habano
Binder: Dominican Habano
Filler: Dominican Habano
Size: 5 x 48 (robusto)
Appearance & Construction
No doubt about it, the Trinidad Santiago Robusto is a good looking cigar. The outer Dominican Habano wrapper is a rich, dark chocolate brown – much darker in fact than almost any other photo I've seen online, which I find quite odd. The gold and black double-banding is a nice touch as well – it adds a modern touch to an otherwise classic band.
In any case, the wrapper has just one major vein on the side opposite the band. Otherwise it's flawless, with a bit of toothiness to the texture and an obvious layer of oil. When squeezed, the cigar is just a bit springy and seems to be packed consistently the length of the cigar.
Like an Ardbeg single malt, you can smell the tobacco without even putting the cigar up to your nose – an attribute you just wouldn't find with a milder cigar. Smelling the foot, I pick up notes of leather, tree bark, cinnamon, and a nice sweet array of baking spices. After cutting the cigar, the draw shows itself to be just about perfect (7/10 in terms of amount of restrictiveness). The cold draw has a long lingering spice, some earth, a bit of sweet natural tobacco, and touches of chocolate.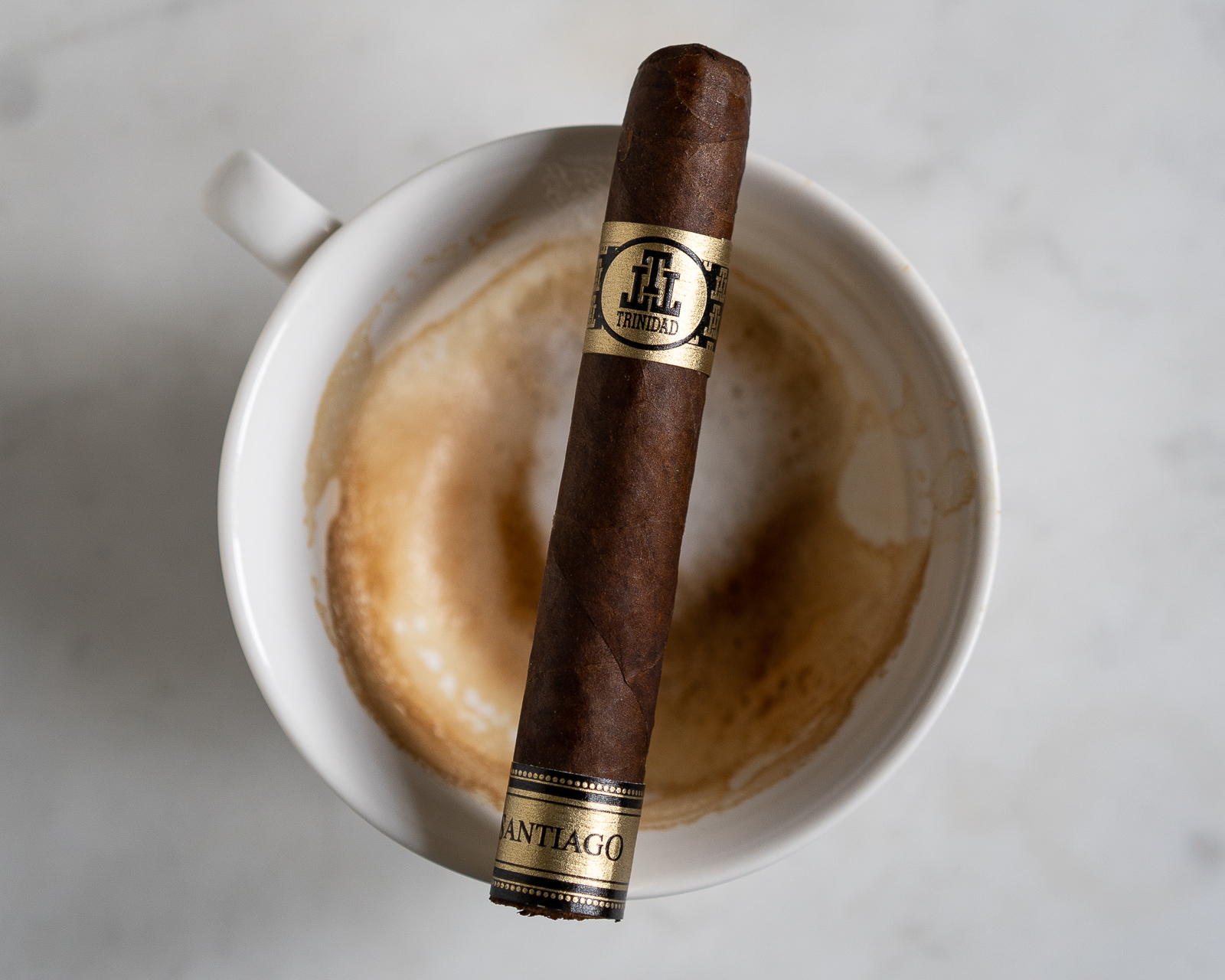 Flavor & Smoke Characteristics
Trinidad Santiago kicks off aggressively, with quite a bit going on. The cigar products more than ample smoke, with a combination of toasty earth and cream for texture. The flavors are dark and assertive, with flavors of charred wood, chocolate, toasted bread, savory spices and a healthy serving of black pepper that lingers on the tip of the tongue. The retrohale is at full strength, with a load of spice, minerality, and a sweet and savory cream that's difficult to describe (very good though).
First impression: lighting up the Trinidad Santiago seems at once familiar and unfamiliar. Which makes sense to me given that Altadis was likely trying to produce a cigar that carries on a more traditional Dominican taste while offering something new. And this cigar really does deliver on offering something new. It's been a long time since I've smoked a Dominican puro that's so aggressive and spicy out of the gate like this. The question in my mind at about 15 minutes in is: with such a memorable start, can the Santiago keep surprising me?
By the end of the first third, it seems the answer is yes (for now). Smoke production is even better, the burn has remained almost entirely straight, and the flavor is firmly in full territory. Flavor has shifted, balanced between sweet and bitter, with a slight savory influence. I'd describe the flavors as a combination of dark coffee, leather, peppercorn, and cured meats.
The Santiago Robusto stays mostly the same through the halfway mark. Flavor and strength settle down to about medium, and the complexity drops a bit, with just some earth, black pepper, and some sweet stone fruits. Construction is still excellent, with the salt and pepper ash falling in one inch increments.
In the final third of the Santiago, some of the complexity returns, with an interesting spicy vegetable note that's well balanced by cocoa powder and cream. The retrohale tones down as well, offering a finely ground black pepper that is subtle and nicely complementary. It's a great way to close the cigar down.
Conclusion
I read Halfwheel's review of this cigar, and I'm perplexed. They described this cigar as tasting like "sweat", and though I can understand where that impression could come from (the spicy vegetal note I referenced above), the Trinidad Santiagos I've smoked have been viscerally enjoyable. I also disagree with the idea that this branding is boring. Is it simple? Yes. But I think illustrating the logo using the negative space on the gold background is a bold choice and fitting for the cigar.
To me, the Trinidad Santiago is a winner however you slice it. It's the kind of cigar that comes roaring out of the gate with impressive flavor combinations, and, unlike cigars of lesser quality, continues to surprise throughout the course of the smoke. That said, it doesn't score too high on complexity, which knocked off one or two points.
Either way, the team at Altadis got it right here, and it's no surprise they received a Top 25 ranking in Cigar Aficionado for this cigar in 2018.
Final Rating: 91