There are few boutique brands on the market today that carry the kind of reputation for craftsmanship and skill as Dunbarton Tobacco & Trust. In just a few short years, Steve Saka has turned this once-unknown brand into something of a household name among boutique cigar smokers. And, as you'll find out in this review, for good reason.
Blend Specifics
Cigar Reviewed: Dunbarton Tobacco & Trust Sobremesa
Wrapper: Ecuadorian Rosado
Binder: Mexican
Filler: Nicaraguan / Pennsylvania Broadleaf ligero
Size: 5.2″ x 44 Corona Grande

Appearance & Construction
Sobremesa comes wrapped in a beautiful rosado wrapper finished with a golden band resembling a crown. The outer wrapper is smooth to the touch with a slight layer of oil and just one major vein running from the cap to about the second third.
When squeezed, the cigar has a fair amount of give, but it seems packed consistently throughout. The draw is perfect, a 7/10 in terms of restrictiveness, and the cold draw reveals notes of white pepper, spices, earth, and sweet granola.
Flavor & Smoke Characteristics
Once lit, the Sobremesa Corona Grande produces plumes of thick, mild-bodied, white smoke. The first word that comes to my mind after a few puffs is finesse. The smoke is light, incredibly smooth, but quite flavorful. And a unique flavor profile it is. Lots of almonds, light baking spices, paper, a touch of saltiness, and a slight bitterness on the palate. The retrohale mimics the palate, with an almost imperceptible strength and flavors of almonds, cinnamon, and oats. As the white ash develops past the first half inch, the burn is razor sharp.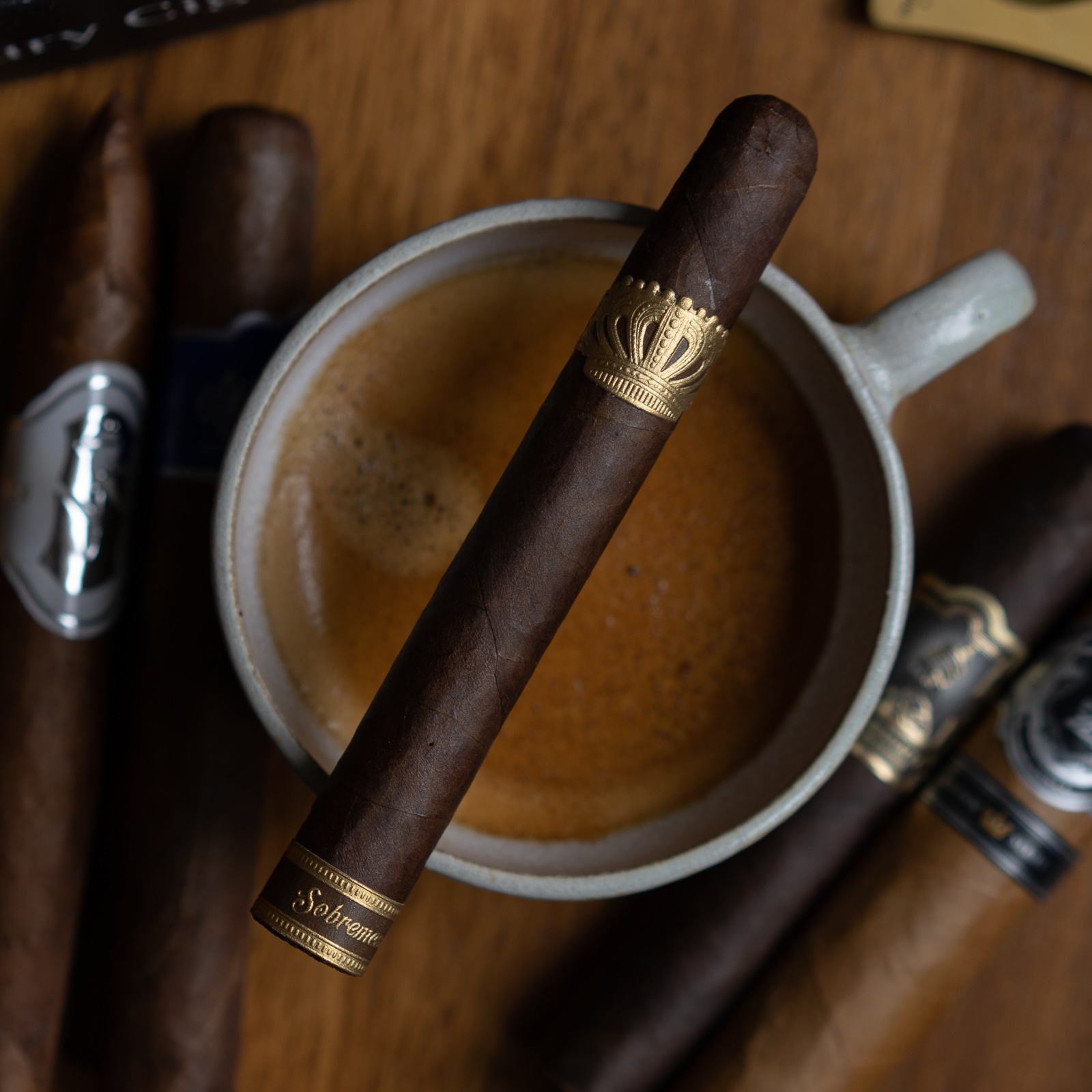 The flavors on the Sobremesa Corona Grande begin developing more at about an inch or more in. Strength and body are now solidly at mild, and the profile is moving away from soft bitterness on the palate and more toward sweetness, something akin to snickerdoodle cookies. Some wood sneaks its way in as well, along with some faint vegetal notes that are barely perceptible. Lastly, there's also a bit of spice that comes in and out on the palate but is felt more consistently on the retrohale, giving a bit more dimension to the smoking experience. It's an excellent continuation of the story, but I'm ready for a bit more strength and body to this smoke.
While the Sobremesa does indeed continue its slow climb in strength for most of the second third, it only barely makes it above medium by the beginning of the final third. That said, it retains its almost unbelievable amount of smoothness with each puff, which in and of itself is quite a feat.
As the cigar burns into the final third, the strength finally kicks in, moving up to just below medium. The palate gets a bit rougher, but adds more flavors, including charred wood, bitter dark chocolate, and a well-defined black pepper on the tip of the tongue that's also quite evident on the retrohale. As the strength increases, there are times that a bit of harshness enters the smoke, but by and large it's a well-integrated conclusion to the cigar.
Conclusion
To me, Sobremesa Corona Grande is the kind of cigar that's creates such an elegant sensation on the palate that, once experienced, it's really quite impossible to buy the whole "Cubans are best" party line that I see touted so often on platforms like Instagram. The cigar puts together a well-crafted, compelling flavor story. The only thing holding this cigar back from a higher score is its overall mildness which I wish would have ramped up a bit earlier. Of course, that's a subjective note, but it's my honest opinion. I'd be curious to see how other sizes perform with respect to this observation.
Either way, this is a cigar to seek out.
Final Rating; 92