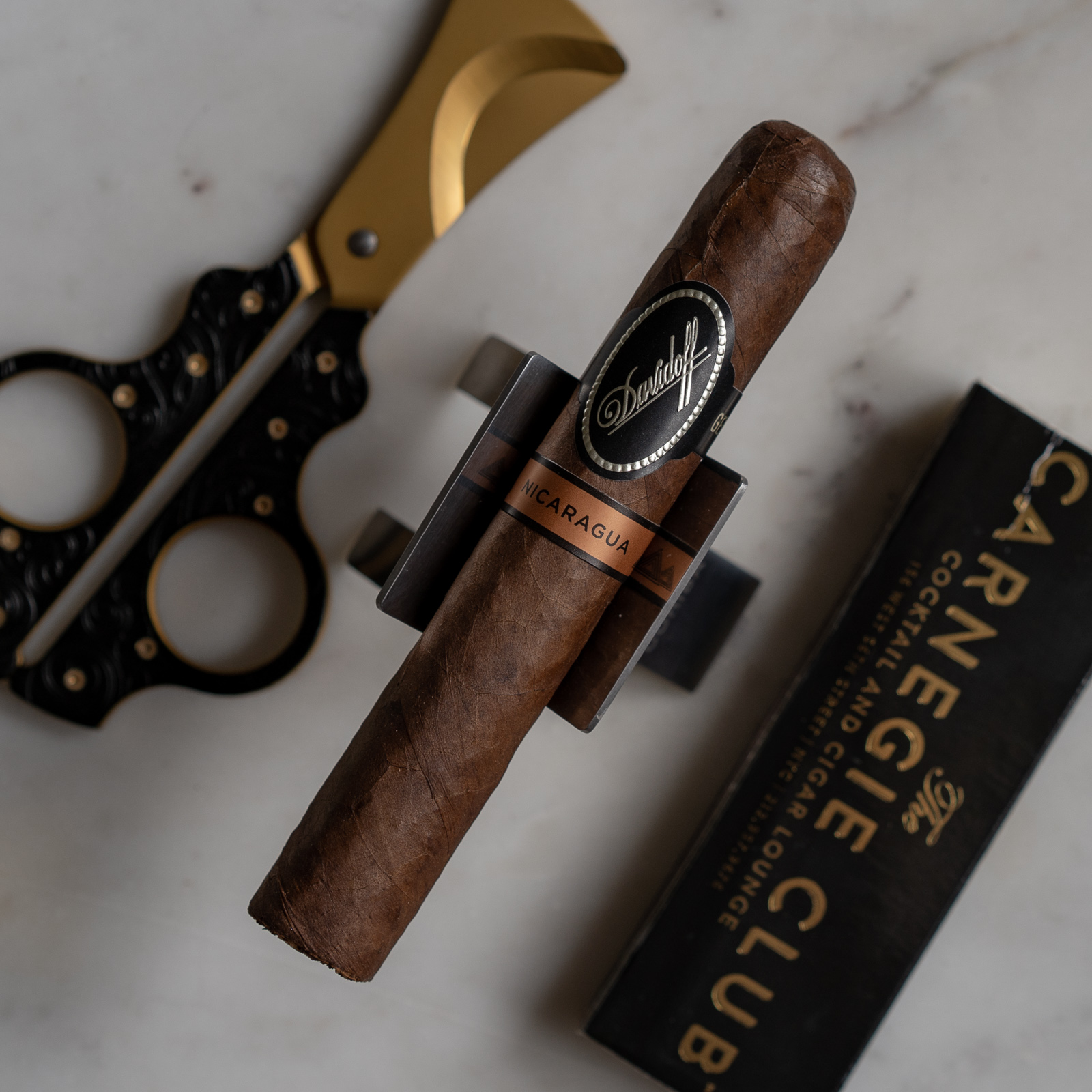 Up for review today is the Davidoff Nicaragua, a blend that when I first smoked it after its initial release I found to be about what I expected, but still underwhelming. I decided to give the cigar another chance and give it a formal review, and I'm glad I did because the experience this time around was a complete reversal of what I experienced my first few times smoking the cigar.
Here's some background info on the cigar from the Davidoff website:
Inspired by Zino Davidoff's pioneering spirit, Davidoff Master Blenders went on an exploration for a new type of blend that would stimulate both the bitter and sweet taste buds. Finally, they found it in Nicaragua, where the earth is infused by the fiery activity of some of the country's forty volcanoes. The elegant Nicaragua Toro is spicy and peppery at the beginning, before evolving into a pleasant smoke with the familiar delight of the dual Davidoff sweet and dark bitter chocolate notes.

The 100% Puro Nicaraguan blend combines a 10-year-old Habano Seed Nicaragua Rosado wrapper in a beautiful colour, with a binder from Jalapa and a filler blend of tobaccos from Esteli, Condega and Ometepe. The range comes in three sizes: Toro (5 1⁄2 inches; 54 RG); Robusto (5 inches; 50 RG) and Short Corona (3 3⁄4 inches; 46 RG).
Blend Specifics
Cigar Reviewed: Davidoff Nicaragua Robusto
Wrapper: Nicaraguan Habano Rosado
Binder: Jalapa
Filler: Esteli, Condega, and Ometepe
Size: 5 x 50 Robusto
Retail Price: ~#20
Appearance & Construction
The outer wrapper of the Davidoff Nicaragua is marbled dark brown and rugged, with some very noticeable seams and veins running the length of the cigar. 
When squeezed, the cigar has a moderate amount of give, more than I'm used to on most Davidoff cigars. In addition, the softness seems most substantial at about halfway down the cigar. The aroma off of the foot is very gentle and unassuming, a mix of light earth, mixed berries, and slight spice that tingles the nose. The draw is good, though a bit loose (about a 6.5/10 in terms of restrictiveness). 
Flavor and Smoke Characteristics 
The Davidoff Nicaragua Robusto opens much stronger than I remember it being. Body and strength are both at medium on lift off, though there is a spice that's surprisingly strong and frankly out of character for Davidoff. Flavors on the palate and aroma include toasted oak, black pepper, bitter sweet espresso, granola and grilling spices. The overall balance is between sweet, savory, and spicy, and, true to Davidoff form, it's all balanced expertly. This gives the Davidoff Nicaragua an elegance that is rare on Nicaraguan blends with similar flavor profiles. The first ash holds well past the inch, and the cigar continues producing an excellent amount of cool (though spicy) smoke. 
By the second third, I'm picking up some distinctive cocoa on the draw, followed by toasted wood, black pepper, and savory grilling spices. The retrohale is full of hot spices and peppers, but isn't overly aggressive. This adds a great additional layer to the experience, and I'm loving this cigar so far. 
At halfway, that great chocolate note gives way to a semi sweet, dry wood. Although the body of the smoke remains at medium, the strength of flavor (and the spice) settles below medium. This is reflected on the retrohale as well, which is now very smooth and woody. The construction of the cigar remains almost perfect, with a nearly straight burn and great smoke production. 
This doesn't last long, because in the final third, the pepper and charred wood come roaring back, unencumbered by almost any other flavors. It's not the most enjoyable end, but it does seem to be somehow fitting given what came before. A thoroughly enjoyable smoke. 
Conclusion 
An altogether different experience than when I first smoked this cigar in 2014. So different that it may as well be a different blend (though of course in reality it is not).  The Davidoff Nicaragua is a wonderfully crafted medium to full bodied smoke that combines sweet, spicy, and savory flavors expertly. If you're a fan of Davidoff or of Nicaraguan tobacco, this is a must smoke cigar. 
Final Rating: 93