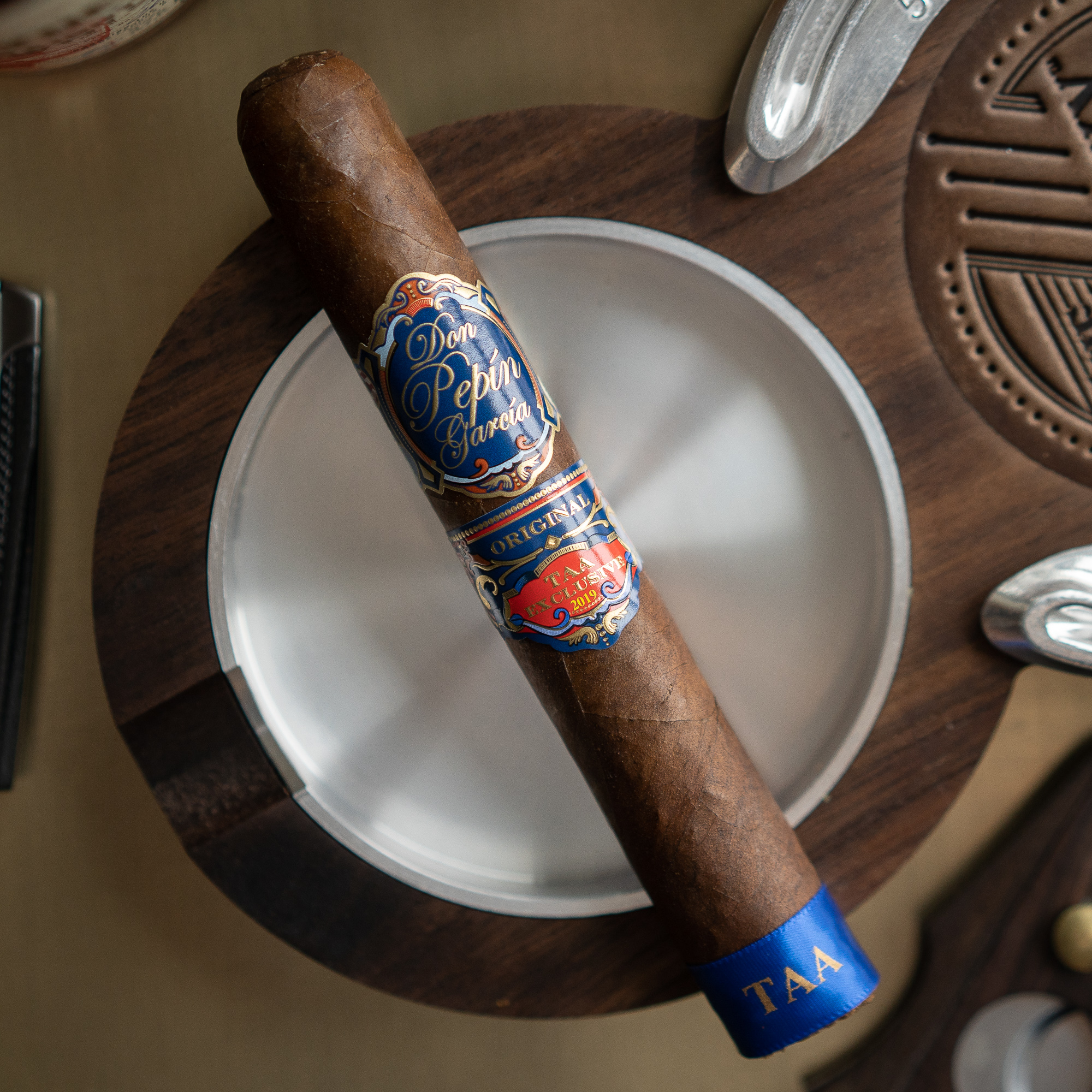 If you've been reading our reviews for the last six months, you've noticed we haven't reviewed that many new cigars in 2019. That's partially because we have a huge backlog of other cigars to get through, and also because the lion's share of new cigars are released at or after IPCPR, the largest annual cigar tradeshow in North America (going on as I write this, in fact).
All that to say, I'm excited to finally be digging in to some of the new 2019 product, starting with the Don Pepin Garcia Original TAA Exclusive 2019. As you can see, it's a beautiful cigar and carries all the hallmarks of Don Pepin Garcia branding.
Blend Specifics
Cigar Reviewed: Don Pepin Garcia Original TAA Exclusive 2019
Wrapper: Nicaragua
Binder: Nicaragua
Filler: Nicaragua
Size: 6 x 54 Toro Extra
Price: ~$10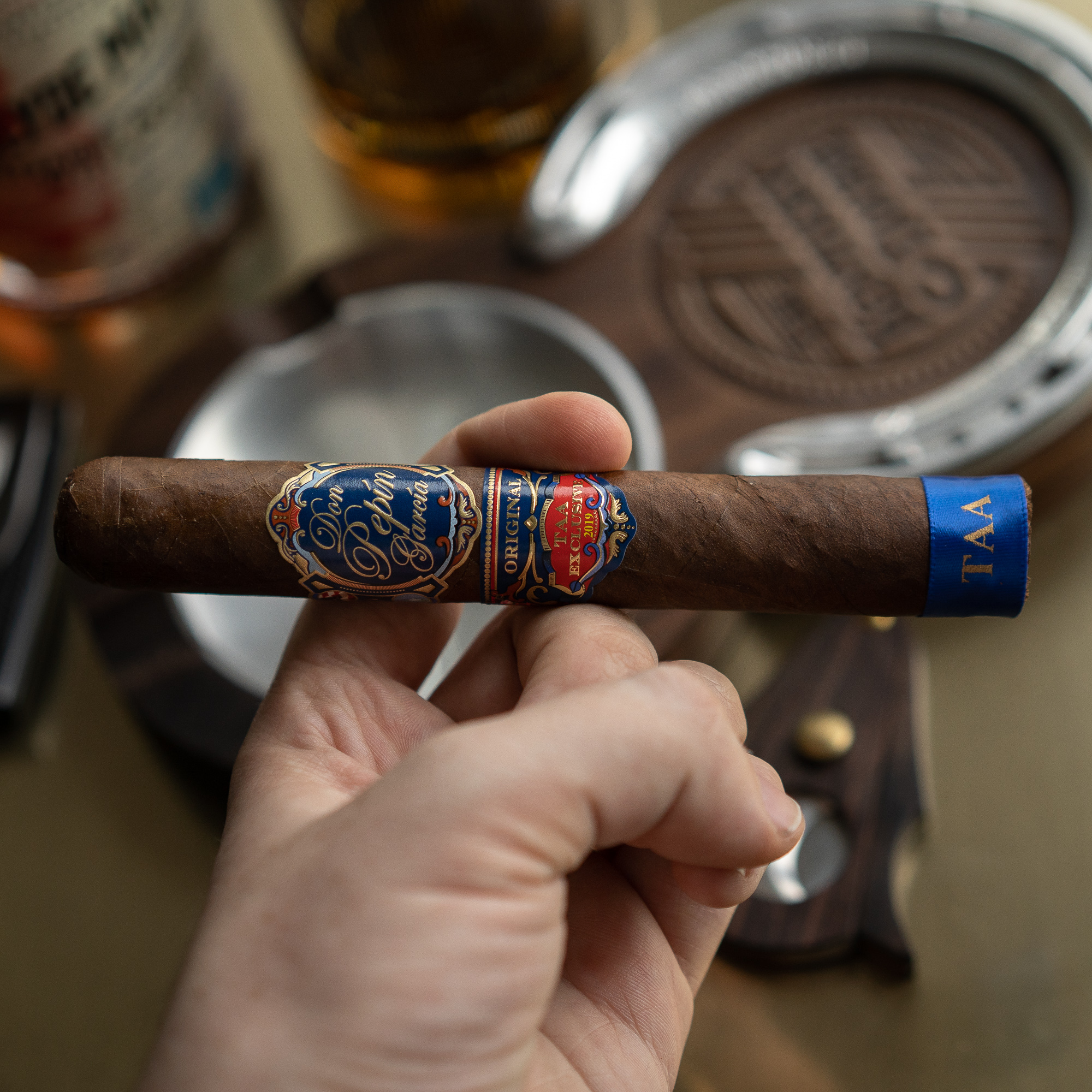 Appearance & Construction
The first thing that strikes me about this cigar, besides the ornate blue and gold banding, is just how soft the cigar is. It seems packed sufficiently, but has a lot more give than I'm used to, with the most discernible soft spot under the secondary band.
The cigar is wrapped in a beautiful, nearly flawless wrapper that has just a few very minor tears that shouldn't cause any problems in the smoking experience. Off of the foot, I take a whiff and pick up bright, nearly sneeze-inducing aromas of cedar, barnyard, and savory grilling spices. Very typical for what I know from other experiences with the Don Pepin Garcia Original.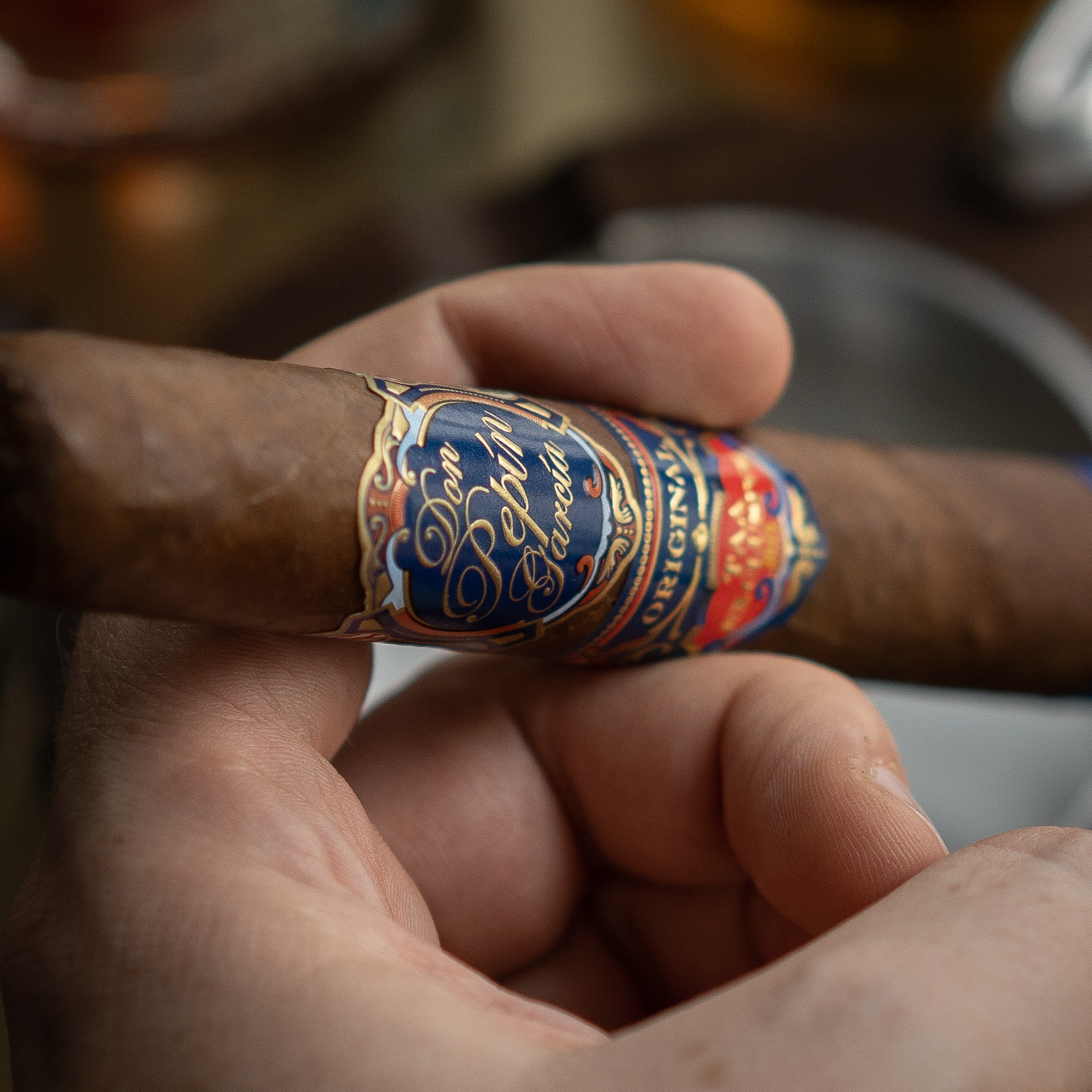 Flavor & Smoke Characteristics
The Don Pepin Garcia Original TAA Exclusive 2019 opens up with copious amounts of sandy textured, medium bodied smoke. It's got a bit of pepper kick off the bat, but not as much as I've expect from other Don Pepin blends—in this case that's a good thing. 
For the most part, in the first third the flavors of the Don Pepin Garcia TAA 2019 are balanced between savory notes of grilling spices, cedar, and pepper, and sweeter notes of berries and a light vanilla. The retrohale is a mix of pepper and wood, thankfully not overwhelming. The ash that develops is solid and holds strong for about an inch and a half. 
As the ember nears the second third, notes of leather, white and red pepper begin to emerge, though they don't manage to unseat the now dominant notes of espresso and black pepper. Construction remains mostly good on the burn though it does stray from time to time. So far, an enjoyable experience, but nothing groundbreaking (which let's be honest, probably isn't the point for this cigar). 
The next real change in pace for the Don Pepin Garcia TAA 2019 comes at the final third mark, and they are significant changes. First, the strength and body of the smoke climb to medium-full. Second, most of the sweetness that balanced the cigar out dissipates, leaving a mix of black pepper and grilling spices vying for center stage and mostly hitting the tip of the tongue. The retrohale on the other hand loses its peppery edge, leaving smooth charcoal and light toast to define the experience.
Overall, the final third is probably the least enjoyable part of the overall experience, which is too bad because I love cigars that conclude better than they begin. 
Conclusion 
I haven't smoked the Don Pepin Original in quite a while so I'm not sure how this limited edition blend compares, but I do think I enjoyed this cigar more. Its certainly got more complexity than its regular production sibling. That said, complexity isn't everything and the overall profile doesn't land it at top tier status. 
Final Rating: 87