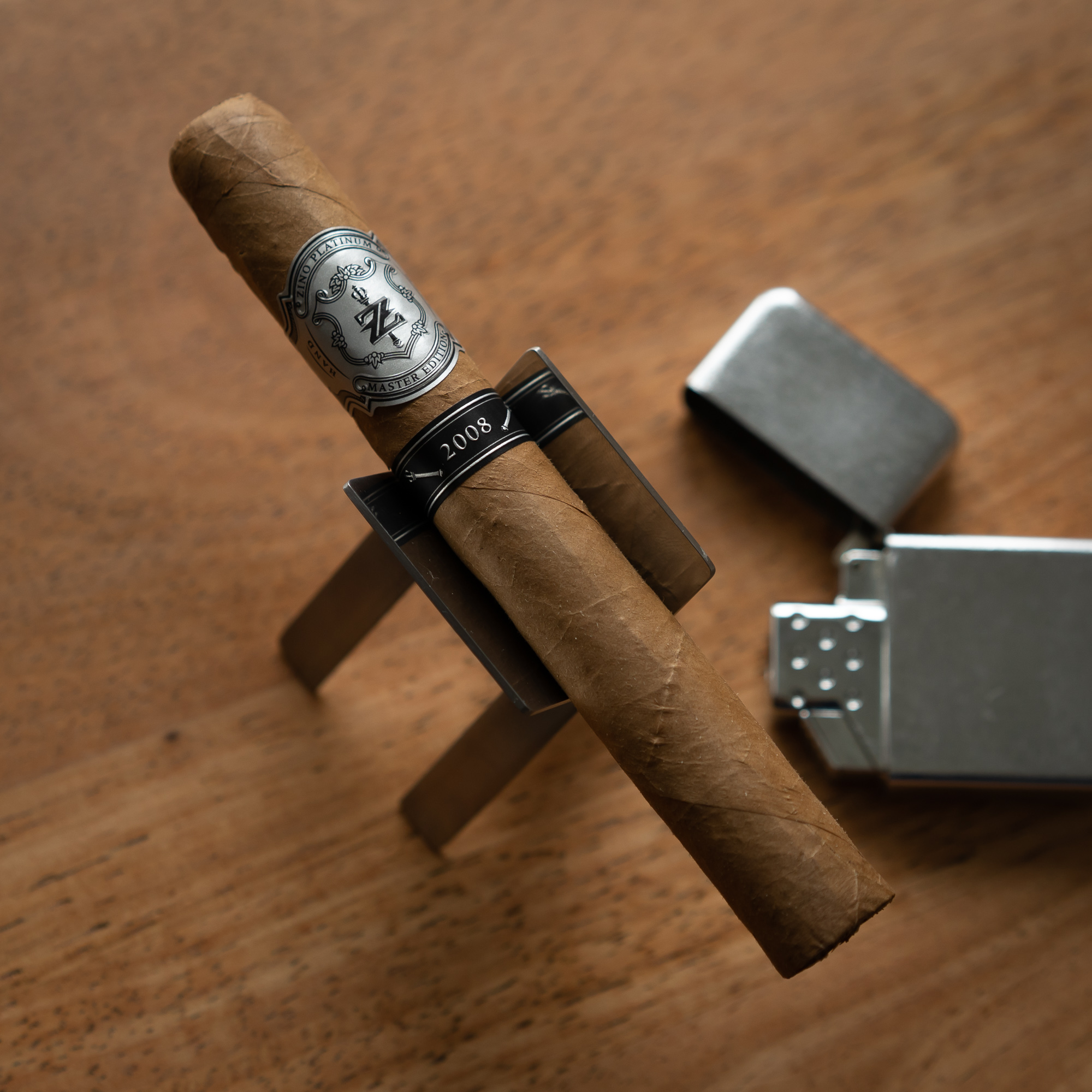 Up for review today is the Zino Platinum Specter Series Master Edition Throwback 2008. I can't say that I've smoked much Zino Platinum product in my twelve years of smoking, but the cigars I have had haven't normally justified the high price point. So I was excited to receive this cigar in one of my monthly shipments from Luxury Cigar Club, a really excellent service that any aficionado looking for new cigars should take a look at.
Blend Specifics
Cigar Reviewed: Zino Platinum Specter Series Master Edition Throwback 2008
Wrapper: Ecuadorian Connecticut
Binder: Dominican Olor
Filler: DR, Honduras, Nicaragua, Peru
Size: 5 5/8 x 46 Corona Gorda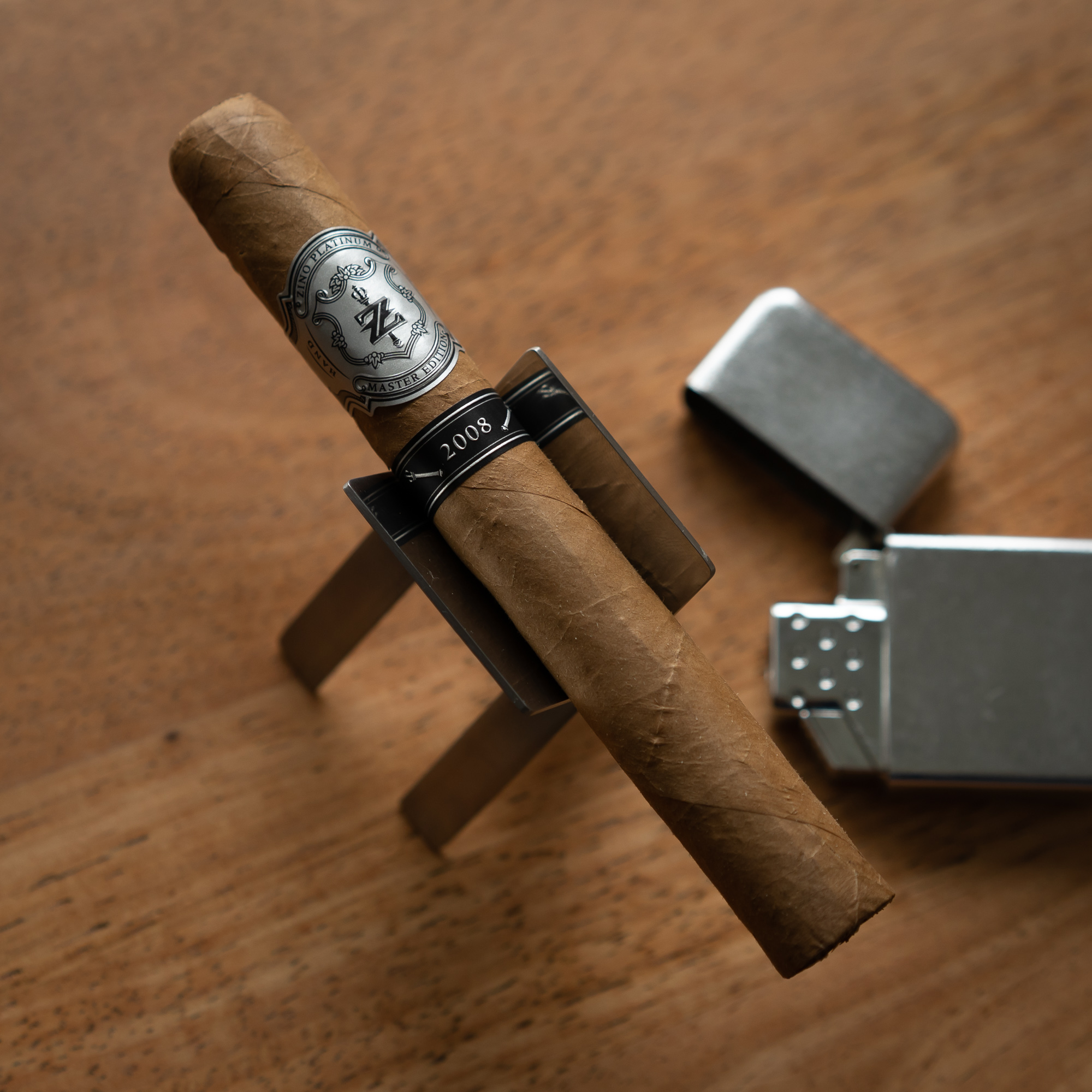 Appearance & Construction
Visually, the Zino Platinum Specter Master Edition Throwback 2008 is attractive, with the standard silver and black Zino Platinum primary band and a secondary "2008" band below. The cigar's Ecuadorian Connecticut wrapper is a light peanut-butter brown color, with a silky texture and few veins. The cigar seems to be packed consistently its entire length.
After cutting the cigar and testing the draw, it's about an 8/10 in terms of amount of restrictiveness, so maybe just a touch tight. We'll see what that means for smoke production. The cold draw is gentle and difficult to discern, with just some oak and mixed fruit notes.
Flavor & Smoke Characteristics
Once the Zino Platinum Specter Series Master Edition Throwback 2008 gets started, the smoke seems to sit right at about mild body and mild-medium strength. The flavor palette is a mix of fairly standard Zino stuff: fresh cut grass, light cedar, light floral and a bit of lemongrass. Every now and again there are some nice flourishes of vanilla bean in the aroma. The retrohale is strong by comparison, with that fresh grass note and some white pepper that tickles the nasal passages.
Not much changes for the rest of the first third, and it isn't until nearly halfway in to the smoke that real changes begin. First, the strength increases up to about medium, with bitter grass taking up quite a bit of space, followed by a mix of cooking spices, lemongrass and white pepper. Construction up to this point has been flawless, with a great burn, sturdy ash and excellent smoke production. The only problem is the cigar itself just hasn't been captivating, so I'm hoping to see some real flavor movement in the final third.
While there is some movement in the final third, it isn't enough to take the Master Edition Thrownback 2018 from a good cigar to a great cigar (or even a 'very good' cigar). Some black pepper becomes evident, but just as it is coming in to balance with the rest of the flavors, the heat of the smoke picks up substantially, and I end up putting the cigar with an inch and a half of the cigar left.
Conclusion
I joked on Instagram that if this cigar was as good as its name is long, it would be the best cigar I ever smoked. If only that were the case. The Zino Platinum Specter Series Master Edition Throwback 2008 is a good example of a limited edition cigar that doesn't bring anything new or surprising to the table. And unfortunately, that tends to be the case with most Zino Platinum cigars that I've had. It has some decent qualities, but at the price point that these cigars come in at (~$15, which is cheap for Zino Platinum), there are much better cigars for the money out there.
Final Rating: 82