If you're a cigar smoker on Instagram, you've probably seen some of Billy Rothwell's (@bk23xxiii) photos on your feed. He's grown a large Instagram following by capturing an essence of luxury that is hard to find elsewhere.
I had the pleasure of meeting Billy at Davidoff Brookfield Place at an event put together by Eric of @scotchandtime. We didn't get to chat much, but Billy struck me as a down to earth guy and someone most anyone would enjoy smoking a cigar with. At the event, he also showed off a prototype of his new ultra-luxury cigar ash tray, the W.R. Roth Avant-Garde II. Just holding it my hands was quite the experience–it felt solid and had a great look to it.
In the months since, the world has obviously turned upside down. So I've reached out to friends in the cigar world like Billy to chat so that our readers can discover interesting new personalities to follow online.
So without further ado, let's get to know Billy and take a look behind-the-scenes at W.R. Roth.
Matthias: Let's start with the obvious. Where is your head at right as far as Corona Virus goes? I know you're safe and given your posts you are continuing to enjoy life, but what are you feeling when it comes to the pandemic, the economy, social distancing, etc?
Billy: Perspective. Life is truly all about the way a person sees things. Me, I try to look for the silver lining in every situation. Many of us are so blessed to be at home with a pantry full of food, internet, tv, cell phones and video games. This is a unique environment that most people reading this have never seen before unless you were around in 1918 for the last major global pandemic (Virus related… I think hunger, homelessness, mental health and more qualify as global pandemics as well) All that said, its also an eye opening experience to human behavior, trust in our government, emergency preparedness and so much more. I could go on for hours about change and the future but I will just say we are resilient, we have been through wars, famine, plague and more…yet here we are. This too shall pass…
Matthias: I hear you – this topic could certainly span an entire interview. But let's get to know you a bit more, and not in the typical "what do you do for work" kind of way. What were some of the formative experiences you had when you were younger that shaped the kind of person you are today?
Billy: I grew up in an environment much different than most assume. My father was in prison for 23 years and my Mom wasn't around at all until my adult years. My Moms parents raised me and my sisters until my Grandfather passed away when I was in 4th grade. My Grandmother then took on the burden of raising us alone. So when you ask what shaped me, the answer is multifaceted. I was smart enough to learn from other peoples mistakes so I avoided making too many of my own. I was also lucky to have a woman in my life like my Grandmother (Nonnie) who showed me what a true work ethic was.
I started working in Banking with the company she worked for almost full time in 10th grade to help her pay the rent and I always dreamed of being successful to put myself in a position to provide for her the way she provided for us. Christmas and birthdays were limited to a single gift and at the time I was a HUGE Michael Jordan fan (still am) so that was almost always a pair of the newest Jordan sneakers. Between the work ethic she instilled and the competitive nature and desire to win Jordan embodied, I had 2 people I really looked up to that helped shape the person I became.
Matthias: That's pretty inspiring. I'm also a huge fan of Jordan and 23 was my favorite number growing up. Outside of an interest in quality and craftsmanship, what do you care about in life? What do you value—personally—and why?
Billy: I value my family, my friendships (I keep a very small circle) and my memories and experiences, new and old. Money is cool. Having "stuff" is fun, but I would give all that up if it gave me unlimited access to creating incredible experiences and memories with the people I love. I came from nothing, so I remember what having nothing felt like…and it was fine… as long as I had the people around me that I loved.
My fondest memories in life to this day aren't about the things I have now, they are of the experiences I went through and things I learned from the people that meant the most to me. Those are the things that allowed me the opportunity, skills and drive to work so hard for the things I am grateful to possess today.
Matthias: I hear you on that. That is what seems to separate the annoying luxury personalities from the genuinely interesting ones: values that transcend owning expensive things or having status.
This all begs the question, outside of luxury products like cigars, drinks, accessories, and fashion, what are your hobbies?
Billy: Those are certainly the majority of my passions but in regards to hobbies otherwise, I love to be outdoors and in the woods. Hiking, camping, motorcycles… anything in nature or outside. I also love to travel. Creating memories and experiences that last a lifetime. I am blessed to have done some pretty cool things in my life and each of them are far more valuable to me than anything I own physically.
Matthias: Speaking of experiences, tell us about the best cigar experience you've ever had. Where were you, who were you with, what were you smoking/drinking?
Billy: Picking one is impossible as I have so many amazing experiences involving cigars. One that stands out was 3 years ago in Georgia at the Masters. I was staying at a gorgeous resort in Lake Okonee, had a great friend come visit that night after the first round of the tournament and we sat by the lake in a private area next to a firepit drinking great wine and smoking some aged regional Cubans talking about everything and nothing. Between the INCREDIBLE scenery, the conversation, the beautiful wine and cigars, it was truly the perfect end to a wonderful day. Almost something out of a movie honestly…
Matthias: Yeah that sounds pretty incredible. So stepping back from favorite memories for a second, what would you consider your favorite cigar?
Billy: Such a hard question to answer because I smoke cigars based on my mood, what I am pairing them with, where I am, what the weather is like… And that changes daily. If I had to pick a cigar that I could possibly smoke regardless of those factors, or that could compliment an aspect of each of them, I would probably say the Partagas Lusitania Gran Reserva. It may be the perfect cigar.
Matthias: So let's switch gears a bit and talk about W.R. Roth. First of all, tell us a bit about the name. (For readers, you can browse W.R. Roth products here)
Billy: W.R. Roth is actually an abbreviated version of my name, William Rothwell. I wanted to create a classic brand. Something that stood the test of time, like Chanel. I wanted it to "be the new black" lol. I wanted an incredible logo that could look great anywhere, from a tee shirt to cufflinks to a forged carbon ashtray or humidor. But most important, I wanted it to be an homage to a time of true craftsmanship and pride in what was being created… The only way I could think to fully commit and give my personal quality guarantee was to put my name on it…Literally…Nobody would ever want to put out a product that isn't the best quality it could be if it had their name on it.
Matthias: That's a great point. Naming a brand after yourself is certainly one way to motivate yourself to put your best products forward.
What makes your ash trays special, and what is your favorite part of your ash trays?
Billy: I think the quality and craftsmanship make it special. The limited production makes it something that only 50 people in the world can say they own (python was limited to 50 pieces and 100 forged carbon pieces) and as someone who enjoys exclusivity, I thought that was appealing. My favorite part though was seeing an idea in my head translate so well to paper via my original drawing and then finally come to fruition as a production-ready product…and sell out in a few weeks. That helped solidify the concept of building a luxury brand as being worthwhile in a market full of inexpensive, low quality pieces. A $400 ashtray isn't for everyone, but 150 of them, between the forged carbon and python pieces were a must have for somebody…and that's what mattered to me.
Matthias: Why did you name the ash tray the "Avante-Gard"?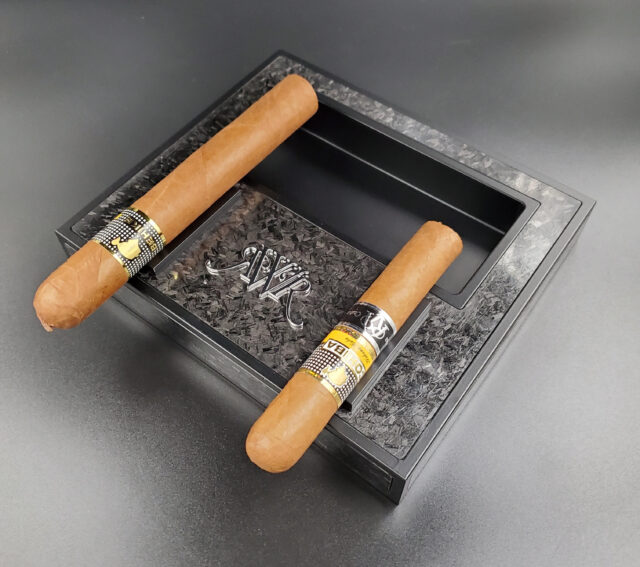 Billy: The definition of "Avante-Gard" is new and innovative in style or method, which I truly felt these pieces were. The II (2) symbolized the number of cigars it accommodated with the intention of doing a single and possibly 4 cigar version in the future in new materials.
Matthias: Love it. I remember holding the prototype and being so impressed with the weight in my hand and how solid the whole product felt. It's a tremendously striking and original ash tray so hats off to you for putting it together. Why did you go in the direction of producing an ash tray for your first product?
Billy: I wanted to create something that would appeal to my followers who enjoy the pictures I post. I needed to create something unique, but also a necessity item so people saw value. There are hundreds of lighters and cutters available, tons of cases, etc. The Avant-Garde II ashtray was the perfect expression of what I wanted to portray to my clientele. A new twist on something they used out of necessity that reflected my style and eye for design but in a way that they had never seen before. The sleek lines, but no hard edges, each micro beveled to precision. The cigar posts instead of the traditional finger grooves. The solid, symmetrical aluminum base with the contrast of the warm, textured, soft feel of the Indonesian python (a material that has always screamed luxury to me) and then the ultra limited production of only 50 individually numbered pieces. Then, to touch each piece for final inspection before they were mailed out and ensure it met my quality standards before hand laying the wax seal on the packaging as my final assurance that the piece they were getting was perfectly crafted… That meant a lot to me.
Matthias: That's awesome. Thanks for sharing in such depth on your life and brand philosophy. I'm always excited when new cigar accessory products come on to the market, and doubly so when they are quality products vs. the garbage that so many bigger brands produce. Thanks for doing this interview with me.
Billy: My pleasure Matthias, it's been great talking.