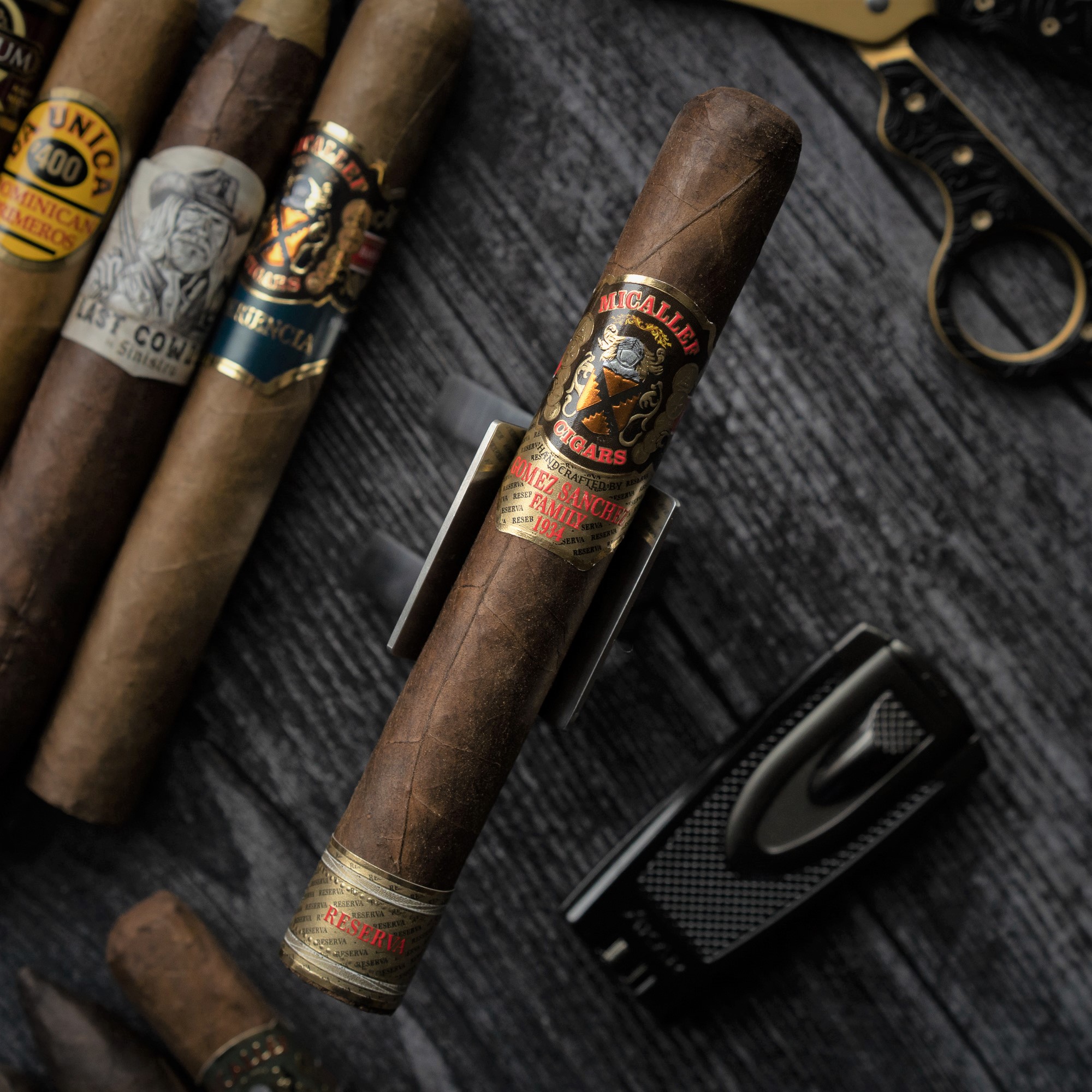 It all started with a fateful meeting between Al Micallef and the Gomez Sanchez brothers at a Texas lounge. By 2016, Micallef Cigars joined the fray of the cigar industry. Fast forward to IPCPR 2019, Micallef unveiled the newest toro size for their top of the line Reserva Limitada Privada. As Rob and Bryant from 'Cigar Talk Podcast' would boast;
"Micallef Cigar offers cigars priced from $4 to $42."
I was lucky enough to do a blind review of the $42.
Blend Specifics
Cigar Reviewed: Micallef Reserva Limitada Privada
Wrapper: 8 Year Old Mexican San Andres Habano
Binder: 8 Year Old Nicaraguan
Filler: 8 Year Old Honduran, Dominican and Peruvian
Size: Toro (6 x 52)
Appearance & Construction
While not knowing the cigar I am looking at, I can tell from the construction that quality is involved. The wrapper is very smooth and the cigar evenly packed with no soft spots and no major veins visible.
The wrapper smells like candy and chrysanthemum tea leaves just from a quick whiff. As I trace my nose down to the foot of the cigar, the white pepper scent becomes more prominent. I sneeze a few times, which get me weird and concerning looks from the people in my vicinity. Once the pepper smell scattered, it leaves behind a sweet scent of lavender and green tea leaves. The cold draw is mouthwatering with the taste of dry cherries, raisins and tea leaves and an aftermath of warm red pepper spice that teases the back of my throat.
Flavor and Smoke Characteristics
Once ignited, the Reserva blasts off with a perfume of leather. There's notes of light brown leather accompanied with roasted coffee beans, dry apricot and plentiful of red pepper spice. Retrohaling gives off a mixture of red and white pepper, and oven fresh warm bread. Overall, the Micallef Reserva is a pepper bomb at the start.
As the ash burns its way past one inch, a taste of buttery cream creeps up. While still flavorful, all the flavors turn down a notch and defined the saying "sometimes less is more". Now there's black coffee, dry apricot and dry rice straw which I can't get enough of. On retrohale, the spices tone down into more of a baking spice with an aroma I can only describe as a pie crust dusted with cocoa powder.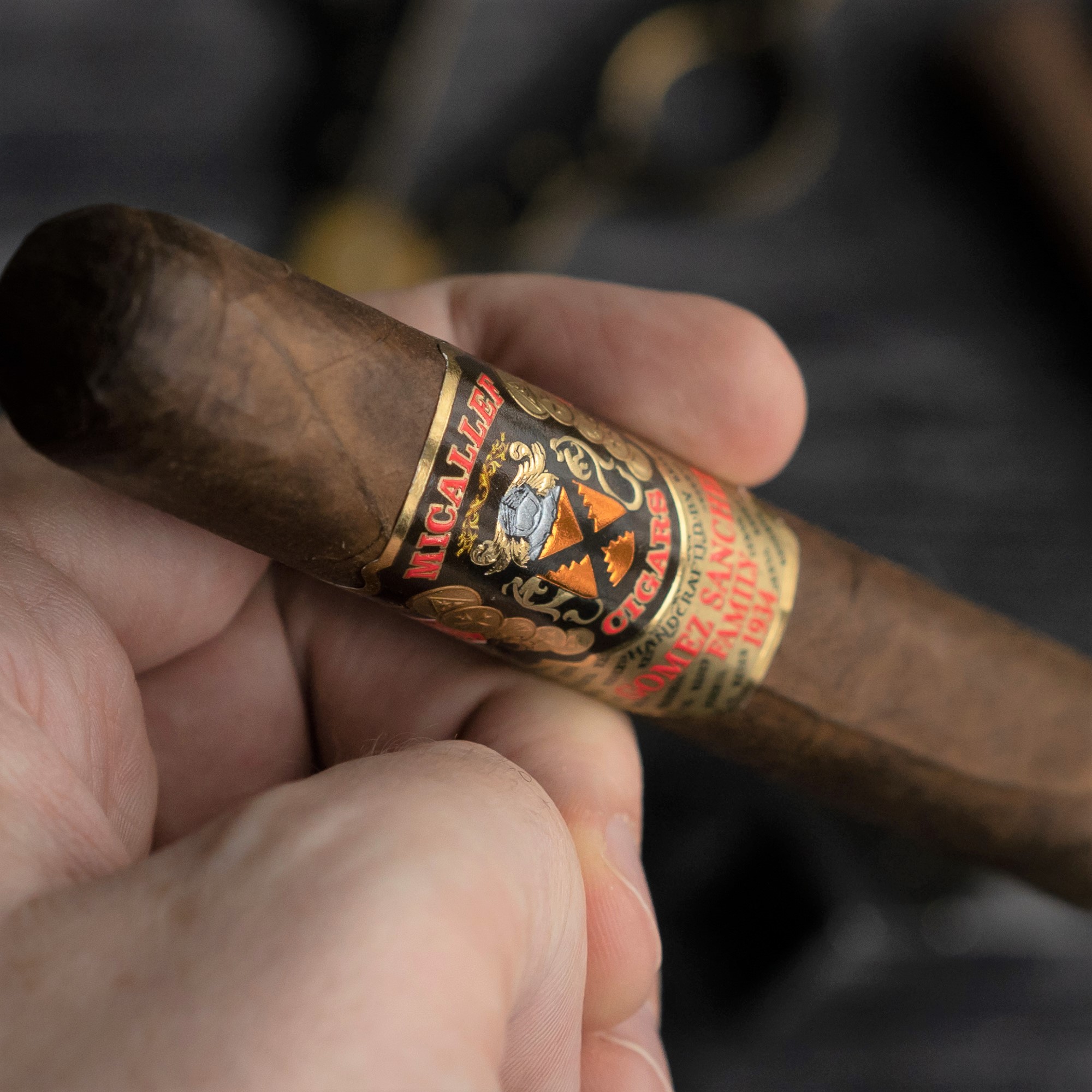 On a side note, this cigar is packed with nicotine, even after a meal.
As we enter the second third, the flavors evolve to fresh baked bread, toasted nuts, cocoa powder and sweet hay with a lingering tingle in the mouth from the red pepper spice. These flavors are pretty consistent until the beginning of the final third. A milky texture slowly fuses itself with the present flavors, and the smoking experience slowly evolves from puffing on a cigar to sipping a cup of a mocha latte. The ending of the Reserva becomes raw sugar, sweet and creamy. I can't think of a better way to end this smoke.
Conclusion
I nubbed this cigar to the very end of the cap. The Micallef Reserva Limitada Privada was enjoyable from the beginning until the very last puff. The only critique I have about this cigar is that, as great as the flavors are, I could have used a touch more complexity at times.
Final Rating 90